Growing Aloe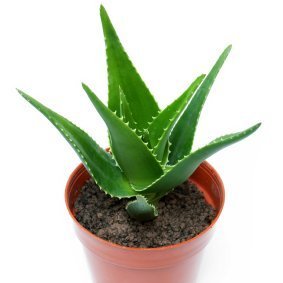 Not only is aloe a neat looking plant, it has medicinal uses too. It is easy to grow aloe at home and have access to its soothing qualities the next time you get sunburned. This is a guide about growing aloe.
Solutions
Share on ThriftyFunThis guide contains the following solutions. Have something to add? Please share your solution!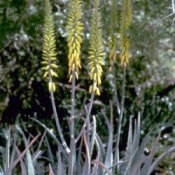 Botanical Name:
Aloe Vera, Aloe Barbados
Common names:
Aloe, Barbados Aloe, Curacao Aloe, Indian Aloe, Ghi Kunvar
Description:
Aloes are succulent plants belonging to the lily family, indigenous to East and South Africa. They have thick, fibrous roots and numerous, fleshy narrow leaves with toothy edges that protrude out from all sides of the root.
Life Cycle:
perennial
Exposure:
sun
Cultivation:
Aloe can be grown year-round in warm climates or indoors.
Propagation:
division and offsets
Parts Used:
leaves, roots
Harvesting and Storage:
Cut off leaves as needed and discard when finished.
Medicinal Uses:
Gel from the leaf blades can be applied directly to skin ulcers, burns, sunburns and fungal infections. Aloe is also used in veterinary medicine as an equine purgative. It is usually prescribed in combination with other herbal remedies to aid in digestive ailments.
Culinary Uses:
none
Other Uses:
decorative houseplant
Notes:
related species are used as antidotes to arrow poison.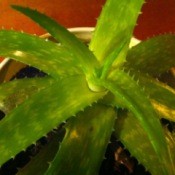 Aloe plants make for very thoughtful, pretty and frugal gifts. I received one a couple years ago and I have been regrowing new ones from it's shoots to give to people. Everyone is thrilled to have them for it's medicinal purposes. Who doesn't love a new plant in the house?
By attosa from Los Angeles, CA
April 8, 2013
3

found this helpful
Buy an Aloe Vera plant from the store or get one from a friend. Plant it in your garden. It will multiply and grow many baby plants. When you need a gift, just take an coffee can or plastic milk bottle cut in half and fill with soil. Plant the small Aloe Vera plant in it and put a bow on the font. The container can also be decorated by wrapping it with wrapping paper and putting a bow on it. I also do this with herbs from the garden. It makes a great gift for the mom that has everything and is also the gift that keeps on giving.
The Aloe Vera can be used for burns, sunburns, as well as softening of dry skin. Many of my friends still have the ones I gave them and love the fact that when someone gets a burn or sunburn, they just have to run outside and pick a few leaves thus saving them time and money and instantly they think of me.
I have grown aloe vera for many years now. It likes lots of sunshine and likes to get dry completely before being watered again. Also, it likes light, sandy soil, not heavily fertilized, rich soil. If your plant turns yellow, it is telling you it is either not getting enough sun, is too wet, or it is too cold. Remedy these, and your plant will green right back up. Aloe is tough, similar to a cactus, when growing.
Source: I got my info from 2 cousins in Texas who grow aloe in their yards. They both live near the coastal part of Texas, where it is hot, sunny, and basically dry. The aloe stays out in their yard year round. In South Carolina, though, it has to be brought in, as freezing temperatures will kill it.
By Jacketbacker from Greer, SC
Questions
Ask a QuestionHere are the questions asked by community members. Read on to see the answers provided by the ThriftyFun community or ask a new question.
I have one plant and I'm afraid I've over-watered it since it is a semi-desert plant. It just kept on getting browner and browner. One of the leaves has fallen off, so I immediately took it outside and put it into a bigger pot with rocks in the bottom, then sand mixed with fertile dirt, then some of that Vermiculite stuff on top. I transplanted it into that new pot and am about to put a plate or tray underneath it and keep it in the house for now.
How long do you think I should let it go without water? It was dying, but when I cut open the paper planter-cup that it came in the dirt seemed bone-dry. What shall I do? To water, or not to water?
What about taking it outside? Right now it is still getting down into the 60s at night. Is it safe outside or should I keep it in a windowsill?
Hardiness Zone: 6a
Thanks
May 2, 2008
0

found this helpful
I want to grow and process aloe vera by planting aloe vera plants. For this purpose, kindly guide me accordingly.

Naveed
May 5, 2008
0

found this helpful
(submitted via email)
Thanks all of your for a quick response. My Basic intention is to grow aloe plant in a professional way and process the gel mechanically.
For this I need a proper guide line for some body so i can start in coming spring season.
regards
Naveed
May 8, 2008
0

found this helpful
I can't tell you anything about processing the gel, but rest assured, there's nothing hard about growing the plants! If you live in the south - anywhere that it will grow (catalogs should tell you its hardiness zone), you can stick it in the ground, water if the ground gets too dry, and watch it grow.
When we moved to a home in southern California, the side yard was a mass of Spanish bayonet (aptly named!). We cleared it all out, and found that under the Spanish bayonet was hiding a solid mass of aloe vera. We transplanted some of it to edge our front sidewalk, and it thrived quite beautifully. We had neighbors coming over all the time to ask for a leaf, and we would reply, "no, take a plant - please!"
By guest (Guest Post)
June 13, 2008
0

found this helpful
I am interested to grow aloe vera, in my fram, at yavatmal, India, Pl. send me detailes project report at Email : girishdharamshi AT yahoo.com, or post at: Girish Dharamshi, Dhankunj, Rajendra Nagar, Dhamangaon Road, Yavatmal - 445001, M.S., india
I have two small aloe plants that I left outside overnight when temperatures reached into the 20s. Now they seem so limp, and their coloring has changed.
My grandmother gave them to me and they flourished this summer, with me doing very little to them. So I am wondering how to help them bounce back from a possible freeze or at the very least a shock. Advice? Thank you in advance.
By April from SC
January 10, 2010
0

found this helpful
My aloe plant has been outside in the ground for 10 years now. I live in Southern California but at an elevation >1000 feet, there are a couple <20 nights/year. My plants just grow back from the center. The root structure is not compromised.
I think if you fear another frosty night, the rule is to spray them with water and the ice formed around the plant insulates them. Don't give up the ghost. These succulents endure freezing nights in their natural desert state and they flourish the rest of the year.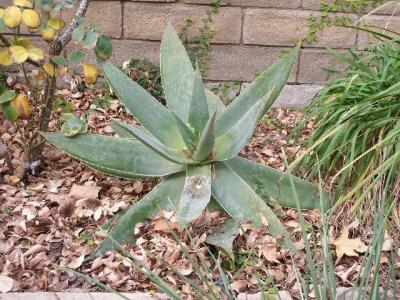 January 10, 2010
0

found this helpful
We have this at home so you just care it the same way as other plants. It works for me.
I have an aloe plant that is really big and has a yellow stripe on the leaves. What type of aloe plant is that?

Thanks,
Harry from Silver Springs, FL
February 4, 2007
0

found this helpful
Do a google search. Aloe with yellow stripe. It brings up a lot of different types of Aloe.
Photos
Share on ThriftyFunCheck out these photos. Click at right to share your own photo in this guide.
Here is that same aloe plant after the January freeze we had in Southern California. It is recovering.

Hugs,
Great Granny Vi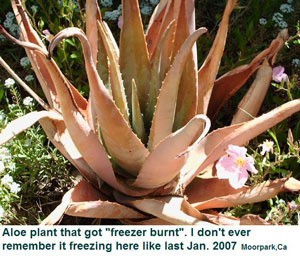 Archives
ThriftyFun is one of the longest running frugal living communities on the Internet. These are archives of older discussions.
May 2, 2008
0

found this helpful
Grow a pot of Aloe Vera in your kitchen. Break off a piece for a burn, rash, or scrape. Pat some gel on your face for a moisturizer. Use some as a hair gel. They reproduce quickly so repot and give as gifts!
By Holly Dawson
Growing Aloe Vera
Aloe is a Miracle Plant used medicinallyfor hundreds of years. My daughter has a web site where she sells Aloe products. Aloe being the 1st ingredient. It can be used for hundreds of things. There are some good articles about Aloe Vera on her site. www.aloetherapy.com (03/18/2005)

By Joy Luster
Growing Aloe Vera
The best way to spread aloe plants is to wait until the spring when it makes off shoots of babies buy itself. They will grow from the roots into a new plant, just cut it free from the mother plant when it is about 4 inches tall. I have heard you can break off a leaf, then stick it up in the dirt by itself and it will make a new plant. I haven't tried that so don't quote me. (05/26/2005)

By Eric
Related Content