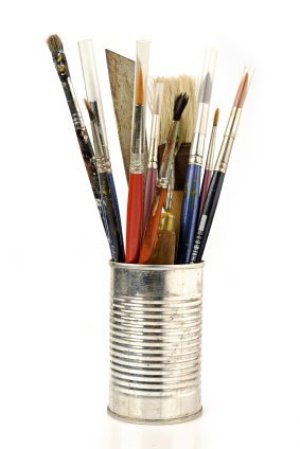 Reusing cans is another option to recycling them; there are many creative new uses for these containers. This is a guide about reusing tin (steel) cans.
Ad
---
Solutions: Reusing Tin Cans
Read and rate the best solutions below by giving them a "thumbs up".
I just made a discovery and have got to share it. I have been wishing for a gadget to hold my Zip Lock Freezer Bag open while I fill it. I thought about the tin can and went to my recycling bin and pulled out a 28 oz. Hunt's Tomato can.
I cut the bottom out, washed it good and gave it a try. It works great and makes putting stuff in the bag much easier. It fits perfectly down into the quart size bag and can be used on the gallon size bag also. This can will go in my utility drawer now.
By Betty from NC
I keep all my food cans for recycling. Some I keep and decorate with paint, stickers, ribbons, and etc. I use them for organizing small items. Recently I cleaned out my medicine cabinet. I put small tubes like burn creams and antibiotic creams in them. I also keep band-aids, cotton balls, q-tips, my thermometer and sleeves in them.
Any small items that I can to keep things from falling out of the cabinet. You could also just paint them the colors of your choice and label the cans. Either way, whenever you open your cabinet, it is pretty and cheerful to look at. I use them for my make-up items too. It's a great way to store eyeliner, lip liners, mascaras, eye shadow wands, lip glosses, and like.
It just makes things easier for me to find what I am looking for.
By Tricia M. from Ridgeway, VA
I needed small cake pans, but didn't have any, so I grabbed some empty tuna cans. They are just the right size for mini cake pans.
By duckie-do from Cortez, CO
One of the ways I recycle is by burying my steel cans in my garden, I leave the bottoms on and I bury them about 12 in. deep open side up. I fill the canned with compost and then plant above it. If I'm doing row planting, I will bury a roll of cans and plant above them. The cans will eventually rust away after a couple of years and in the process add much-needed iron to my clay soil.
I also take 1 gallon cans cut off the bottom and put them on the surface of the ground between my tomato plants, I push them in about an inch or so, then I fill them about half full with fresh compost and use this for watering. I fill it up with water and it slowly trickles through. We're in another drought here in Southern California.
When using the coffee plastic cans or even the metal ones, I make cookie cottages out of them, and give them as gifts, with home made goodies inside. I crochet the cottage with windows and a door, even steps and some green for grass. I punch some holes in the lid with a big needle and crochet house tops on them. I use several different styles of roof tops. I then stuff the roof and stitch it onto the plastic lid with the holes.
I have several different types of houses I use and I change the styles all the time, changing the colors, windows, and doors. They are a big hit and look great in anyone's kitchen. They come off easy and can be washed and the lids can be hand washed and dried. I crochet a large rubber band around the top of the cottage so it stays on, nice and tight.
Source: I got the pattern for one cookie cottage years ago from somewhere. Since then, I have used my imagination to create my own patterns.
By Peggy8650 from Tunkhannock, PA
Call or go to any tennis club and ask then to save the empty tennis ball containers for you. Wash them out and use for almost anything. I use them for leftover cereal. They are air tight and have a good seal so they keep out bugs. They can hold small amounts of refrigerated items or you can drink out of them. They can be stacked or laid on their side. They're also good for small craft items.
Note: Be careful of the lip. It's sharp
By shirl from Houston, TX
I would just like to have you post the following in response to the recipes I have seen here that call for using empty food cans that are on this site:
Please don't re-use empty cans to cook or heat anything in. Most cans nowadays have a toxic plastic material called Bisphenol A (BPA) inside them to keep the metal from affecting the taste of the food. Unfortunately the BPA is the same as has been used to make baby bottles and many other hard plastic water bottles. BPA has been linked to breast cancer and early puberty in women and when they tested very low doses on mice and rats they found the same plus diabetes, enlarged prostate and prostate cells prone to cancerous changes among the many health problems it can cause. The food that is in these cans is also contaminated by the BPA but then if you reuse the container by cooking or heating anything in them you release up to 50 times more of the BPA into the food.
Google BPA or check out Wikipedia's BPA page and it will make you not want to eat anything in cans anymore, period. Of course the chemical companies all say that the fears are unjustified just because a few rats and mice get sick doesn't mean anything. Sound like Big Tobacco some 20-30 years ago, huh? My sis-in-law who is a real pessimist says "Oh, well, these days everything is being found to give us cancer so why fight it?" I choose to fight it however and whenever I can, thank you very much.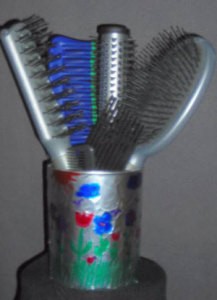 The photo does not do this project justice, but it's an organizer that is very easy to make, uses materials you already have on hand, is very nice to look at, and best of all will help your kids keep their things in order.
Crafting Time: 15 - 30 minutes
What You Need:
Washed out can from vegetables or fruit, with label removed
Aluminum foil
Permanent markers
Cellophane tape (optional)
Directions:
1. Cut off a piece of aluminum foil large enough to cover your can.
2. Use permanent markers to draw and color a picture or design on the shiny side of the foil. You'll find the permanent marker colors are extremely vibrant on the foil. Please note that with the sample in the photo I colored on the back (dull) side of the foil in the hopes that the photo would come out without a reflection. Bottom line - the picture still did not come out that great.
3. Wrap the foil picture around your can. The foil will extend under the can and down into the can so it is completely covered. If you like, you can tape the foil in place with cellophane tape.
4. Use the can to keep hair brushes and combs together in the bedroom or bathroom, or to keep pens, pencils, and markers together on your desk.
By Marie E. Cecchini from West Dundee, IL
Editor's Note: This would be a great Mother's Day Gift that children could make for their mothers and grandmothers.
Make storage cans with empty cans. This one shown was made to be a pencil can. I always lose my pens.
Take your empty can and rinse it out with soap and water. Let air dry. Find anything you're not using and cover the front. For the second one, I used juice pouches to match the purse. :) Be careful, the hot glue is very hot. Trim with your favorite decals and go.
Thanks for reading this.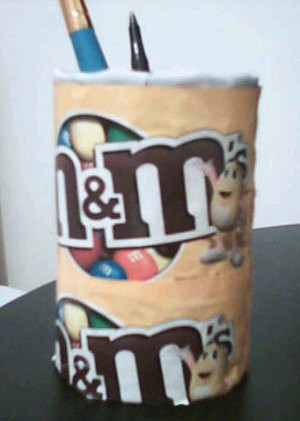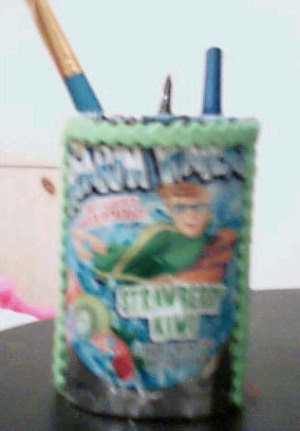 Remember making these when we were young? This is a great indoor craft to do when it's too cold or raining outside for the little ones to play.
2 large coffee cans
plastic clothesline or rope
Have a grown up punch two holes near the unopened end of each can. Thread plastic clothesline through the holes and tie the ends together. Pull on strings as you walk on your tin can stilts.
By Laurie from NV
Give a "thumbs up" to the solution that worked the best! Do you have a better solution? Click here to share it!
Questions
Here are questions related to Reusing Tin Cans.
How do you use tin cans other than recycling them. Ideas can include craft ideas or anything else you can think of. Please specify type or size of can.
Ad
---
---
Most Recent Answer

By Vickey (Guest Post)12/30/2008
Hi, I sell at local bazaars every year. And this year I decided to try something different for selling my fudges.
I bought Christmas tins at the dollar store and put 1 pound of fudge in each tin, wrapped it in plastic wrap and sold it for $5.00 a pound. Sold like hot cakes. I sold about 45 of them at 3 bazaars. They loved that it was in a decorative tin can, saved from having to figure out what to put the fudges in for gift giving. Now what I'd like to find out is: can I bake breads in the same tins? If anyone has ever done this can you please let me know...Thanks
What are some frugal, creative and/or crafty uses for tin cans?
Ad
---
---
Most Recent Answer

By Cheri (Guest Post)08/27/2004
Peel the labels off and wash real good in hot sudsy water. When dry, spray the inside with a vegetable coating such as Pam, fill about two-thirds full with banana nut bread batter and bake. After removing from oven, let cool in the can. Take a knife and slide around the inside of the perimeter of the can to release the little round loaf of banana nut bread. Can be wrapped in saran wrap and tied with a bow to be given away. Clever little pans they are!
I am going to be using tin cans from veggies and such for some crafts, and I can't seem to get the glue from the wrappers off, I was wondering if anyone had any ideas on what to use that is very inexpensive to buy?

Cali in GA
---
Most Recent Answer

By lewaretoole02/06/2015
Use a mixture of cooking oil and baking soda as an alternative to Goo Gone.
I remember making bread in cans years ago. I've been trying to remember how to do it. Can you use frozen bread dough?

IowaLady from IA
---
Most Recent Answer

By JR, Moultrie (Guest Post)11/24/2005
I remember it, to. That was when Pumpkin Bread first came out, and it is the same as the current recipes as far as I can tell.