Uses for Wire Hangers
Solutions
Share on ThriftyFunThis guide contains the following solutions. Have something to add? Please share your solution!
To hold your cookbook open and slightly upward to read it easier, you'll need a wire coat hanger. Bend the two arms of the hanger toward each other until they form at least at a 90 degree angle from each other (I like mine wider than that, depends on the book). Now bend the top hook to about a 90 degree angle from the body of the hanger and flip the whole thing over, to rest on the tips of its two arms and it's hook, like a tripod.
You can slide your open book between the top and bottom sides of the legs (just behind the base of the original hanger that is now an angle). Just slide the book in there. You can bend your holder outward if it is a larger book or bend the hook if you want a different reading angle. Make it comfortable to your eyes!
Note: Because wire hangers are so hard to find nowadays, be sure to keep the holder after you make yours!
Source: My grandma taught me this when I was a little girl.
By Lisa from Prineville, OR
September 5, 2011
0

found this helpful
I agree with popet above, a picture would be nice to see how its supposed to look like. :)
Read More Comments
January 4, 2017
0

found this helpful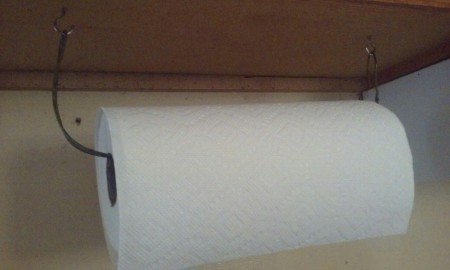 This is a guide about making a paper towel holder from a clothes hanger . A creative upcycle for a basic wire clothes hanger.
Read More...
December 10, 2015
1

found this helpful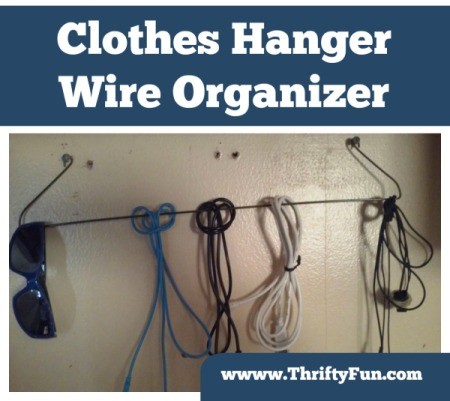 This is a guide about wire hanging shelf. Wire coat hangers have so many organizational uses. This tip will help you keep wires and cords untangled and organized.
Read More...
I had a couple of them in my house, and I was going to throw them out. Then I thought "wait, you recycle other things, think up something for these wire hangers!" So I walked through the house and it hit me, how about using them for hanging up your wreaths, or electric cords in storage? I also use them for hanging my plastic grocery bags, you know the big one. Just hang it up on a nail or hook, and bend the outer part in toward the middle, and there you have it. Simple!
A great use for wire hangers is to bend each end up toward the top so that you can insert belt loops of jeans and hang them.

Carol S.
July 18, 2012
0

found this helpful
I'm a little slow on this, would love to see a pic of how you did this!
Read More Comments
September 23, 2008
1

found this helpful
When my son was younger I loved the small kid-sized hangers to hang up his clothes. When he grew out of the small hangers and into the larger hangers, I didn't know what to do with them.
Read More...
Re-use old coathangers by twisting to desired shape to hold climbing plants, like roses, in place on lattice or wire structures. Once the cane is trained, you can remove and use elsewhere.
Read More...
I like to reuse dry cleaners hangers by saving them up all year. Then when we go on vacation for a week at a hotel, I'll bring them with me and I'm able to hang up all our clothes to keep them wrinkle free and give us more room in the drawers.
Read More...
A pal came through for some items I was giving away. One item he was overly joyed with was a stack of wire coat hangers. I inquired if his closets needed some. He said "no, they make really nice, inexpensive welding rods."
Read More...
April 22, 2012
0

found this helpful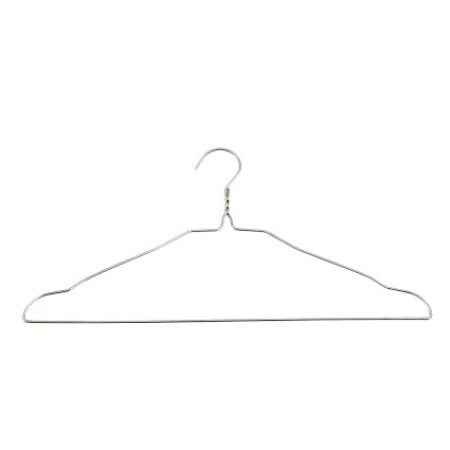 This is a guide about crafts using wire hangers. Try adding projects using wire coat hangers to your crafting pursuits.
Read More...
Questions
Ask a QuestionHere are the questions asked by community members. Read on to see the answers provided by the ThriftyFun community or ask a new question.
I have lots (over 90) wire clothes hangars. What can I do with them? I don't want to make crafts with them, Goodwill won't take them and the school Sculpture class doesn't want them. I hate to throw them away. Any suggestions as to whom could use them? My son will be getting 5 more each week when his uniforms are cleaned.

Cheryl from Peculiar, MO
By guest (Guest Post)
January 2, 2008
0

found this helpful
as a landscaper I am always looking for these (wire hangers) to cut my own landscape cloth staples or to use to pin down drip irrigation lines. Use them as supports for flimsy flower stalks both in the garden or in cut flower arrangements. countrycowgirl~603~@yahoo.com
By guest (Guest Post)
June 9, 2008
0

found this helpful
I know this post re WIRE HANGERS was some time back but to anyone who sees this they make great Christmas door garlands. Bend the hanger into a circle and use this as a base wire. Keep the hook as is, but ensure it is also covered with(for example) 2-inch wide green crepe paper to wind tightly all round the wire (leftover decorations from last year?) and then decorate with recycled fake greenery, or cheaper still, use holly and cones from the garden.
2nd TIP: keep one or two in the closet for when that darn vacuum cleaner tube gets blocked and the instructions say "bend a length of fine wire...." (remember when that happens and you think, where do I get a length of fine wire!
June 4, 2012
0

found this helpful
The company my husband gets his uniforms from takes them back. Every week when he drops off his dirty uniforms, they have a box for the hangers too.
Read More Answers
December 18, 2013
0

found this helpful
Does anyone have any ideas on what I can do with a ton of wire and plastic hangers (all in good shape). I was planning on donating them, but Goodwill doesn't take them
By Nikki
February 9, 2016
0

found this helpful
Those of us who wear sweaters, especially the thinner ones which show fold marks, like to hang these garments. Instead of buying expensive hangers for this purpose, I use wire hangers and dollar store yarns; one basic of any colour and the second a prettier colour and texture. Use single crochet to cover the hanger with the basic and hot glue the end to the wire hook. Cover the first layer with the prettier yarn, again with single crochet.
I find the two layers of yarn ensure no shoulder marks in my hung sweaters. These also make great gifts when dressed up a bit with a fabric ribbon bow (again from the dollar store): sets of three are quick and easy to make.
Related Content