Can you reuse Ziploc freezer bags after you have defrosted what was already in it? It seems like a lot of money to keep throwing them away.

Joyce from Danvers, MA
August 17, 2008
0

found this helpful
Keep something in mind about plastic zip lock bags...THEY ARE NOT JUST FOR FOOD!! Here are just a few things I use mine for. The sandwich are great for...
Photos
Craft supplies
CD's (in the case or in a paper sleeve to prevent static)
Sewing and First Aid kits
Buck Wheat Ice Packs
Stationary supplies
The little snack size are perfect for...
Make up
Waterproof matches
Medicines (clearly marked or still in bottles)
Camping toothbrushes and mini pastes
Color swatches on your way to the paint store
Mini facial tissues
Hide A Key's
Gallon Sized ones are great for...
Undies and personal things in your suitcase
Folded right, tee's go in their great
Some shoes will fit in these nice big ones
Several packages of nylons
Hair curlers and products you think might leak
Important papers and books
And anything you want to keep clean, sanitary and be able to see and get to fast. And yes, I have used all of these ideas in used, washed bags. I sit mine over the handle, spout, or entire tea pot to dry overnight.
NOTE:
1. I don't turn mine inside out, as I think it stretches the edges of the zipper and defeats the purpose. That's just me.
2. If you put in spaghetti sauce or bbq chicken and then want to use it for a rare book, then yes, please use a new one. I get 20 for 1.00 and believe me, they are worth every penny! When they are ready to throw out, I donate them to the animal shelter for dog trainers to use for scooping.
If you look closely, you can see that at one time, I used this bag for lace.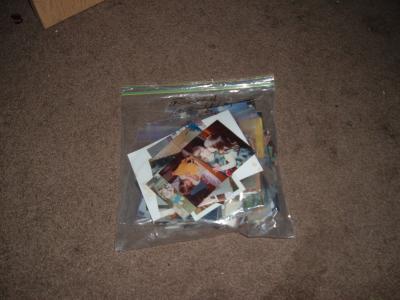 By guest (Guest Post)
September 8, 2008
0

found this helpful
Here's another good tip for using zip bags that I didn't see mentioned yet.
When you are in the kitchen cooking and need to refer to the recipe card, (like a 3"x5", etc.), place it in a sandwich size zipper bag to keep it clean when handling. You can still pick it up and read it, even if your hands are greasy, sticky, sweaty, or whatever!
My 50-year old recipe index cards still look brand new! Hee-Hee! Now, isn't that a smart & easy tip!:o)