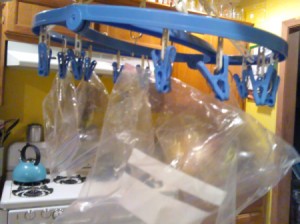 I have been washing and reusing baggies for years. I just don't see the reason to throw one out after its been used, unless it contained meat. I use Tupperware and glass containers for my lunch, but my husband works outside and this works best for him, as he doesn't have to worry about not losing my Tupperware or leaving it behind at a work site. Washing baggies out is easy, but drying them can take up space.
I use a small clothes dryer that I found at the RV show for my baggie dryer. When I am using it, I hang it from my pot and pan rack. When not in use, it folds up and goes into a kitchen drawer. I put a towel underneath to catch drips. When you dry your baggies, make sure they are open so air can get in, or else they will mildew.
I would say over the past 30 years that I have been washing out my baggies, I have probably saved several hundred dollars over buying new ones each time.