I use the net onion bags for trips to the farmers market to carry home our veggies. Also some I cut up to use in the bottom of pots when planting to hold the dirt in.
And hang one for garden tools. After a day of digging, wash them off and hang in the bag to dry, so they don't have dried mud/dirt on them the next time you need to use them.
By Great Granny Vi from Moorpark, Ca.
June 20, 2009
0

found this helpful
That is a great idea! Thanks
Read More Comments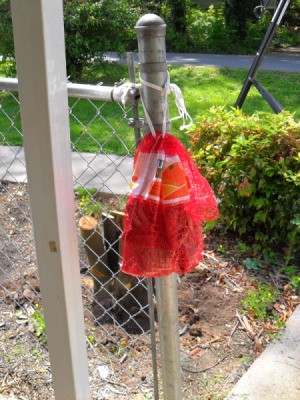 DH has been working on a shed for our back yard. He is making it from repurposed fence lumber. I was watching him work today since I'm not allowed to play with his power toys. I noticed 2 or 3 pairs of garden gloves just lying about waiting to be lost. I came into the kitchen and retrieved a mesh bag from our last purchase of oranges. I snooped around in my sewing stash and came up with a pair of white shoe strings, strung them through the mesh with a small safety pin and voila! a hanging bag for gloves. It cost practically no money or time. At minimum wage, maybe it would have cost 11 cents.
By Marty from Knoxville, TN
April 18, 2012
0

found this helpful
I use garden gloves a lot especially when picking up litter with the reach extender. Being right handed, I have accumulated a bunch of left handed gloves because over time I wear holes in the right hand glove. Last week, I decided to turn a left hand glove inside out and immediately, I had a right hand glove. I cut all the loose strings off and have used it several times and it works great.
When I buy 3 pounds of onions, they come in a mesh kind of bag. But as time rolls along, the onions' skins come off, fall out of the bag and make a mess. I found that using a 8 pound naval orange mesh bag seems to keep the skins from going everywhere. I don't know if the holes are a different size but I no longer have the mess.
Works great for me and I wanted to share.
By Becky from Madison, OH
May 6, 2012
0

found this helpful
The mess bags come in handy with many reuses; collecting things of nature, like small rocks,leaves twigs, perhaps picking wild fruits like berries maybe cherries. How about more humane for your fish catch, instead of a stinger. Maybe catched and release crabs salamanders, and even bugs.
At the beach? Collecting shells or how about keeping sunscreen soaps cleaning things? Camping? Small things you might need fast bags can easily be identified. Home? Hang a bunch of citronella leaves to keep insects away. Trip Pack a few of those bags in your suitcases with things like soaps toothpaste, deodorants all together. Vehicle? Clean rags, how about a first aid kit. So many ways these bags can be reuse.
June 19, 2009
0

found this helpful
How do you reuse onion and orange mesh bags?
Answers:
Reusing Onion and Orange Mesh Bags
For quite sometime I have used the orange mesh bags to make kitchen scrubbies. Use about three and fold and stack and using a long weaving needle, do a running stitch down the center of the folded mesh bags and draw up tightly and place a plastic zip tie in the center ... pull tight and trim the excess zip tie, then fluff it out. The orange mesh bags work the best for this. My daughters really like them. Best of all they are FREE.The onion bags I use to put fresh garlic in or maybe a few special onions and store in a wire three-level wire hanging basket along with a sweet potato or a few baking potatoes. (06/04/2002)
By sydfred
Reusing Onion and Orange Mesh Bags
I spray painted it gold; drew it up over a gold Legs pantyhose container and tied and trimmed at the top. Added a head, hair and wings to make a Christmas Angel. I also used a copper scrubber for the hair on the angel. (06/04/2002)

By longfarm
Reusing Onion and Orange Mesh Bags
We use mesh bags to put at the bottom of pots when we put plants in pots. It helps to hold the soil together, and assists in keeping the soil from draining out of the drainage holes in the bottom of the pot. In winter, you can double these bags (depending on the size of the mesh), put suet in them, and hang them in the trees for the birds to eat from. -Tom (06/05/2002)

By admin
Reusing Onion and Orange Mesh Bags
I use the mesh bags to hang suet in for the birds in the wintertime. - Marna (06/05/2002)

By admin
Reusing Onion and Orange Mesh Bags
The plastic mesh bags that oranges come in can be used in camping. When you wash your dishes, you put the wet dishes in the bags and hang them to dry. In big groups like Scouts, this works great. It keeps each persons dishes separate and kids are more likely to wash their dishes if they don't have to dry them.- Kathy (06/05/2002)

By admin
Reusing Onion and Orange Mesh Bags
I use the mesh bags to hold the "Moss" that is put around my ivy in a hanging basket, so it won't get on my carpet in the winter when I have to bring my plants in. - Sheila (06/06/2002)

By admin
Reusing Onion and Orange Mesh Bags
I use them for hanging wet bath tub toys from the shower head. - Susan (06/06/2002)

By admin
Reusing Onion and Orange Mesh Bags
Please, please, if using mesh bags to hang suet, etc. from trees for the birds, be careful and watch them closely. I used to use the bags for this until one cold day 2 years ago, I saw a little wren hanging upside down, on the bag, with wings flapping wildly! On closer inspection, I found that it's feet got entangled in the netting; and had I not been here to set it free, it would have broken it's legs or worse, frozen to death! I don't use them for this purpose anymore.- Nellie (06/08/2002)

By admin
Reusing Onion and Orange Mesh Bags
Stuff it with batting or I suppose even panty hose and seal/tie off the end. Kids have a very soft (and light) ball that can be used inside. Great for the under 2 crowd (09/24/2002)

By ldyblunh
Reusing Onion and Orange Mesh Bags
I use the onion bags to store my metal and plastic lids in, I have several on 1 hook leaving enough of an opening to add or remove the different sizes. I also have a bar soap in 1 in the Garden for easy cleanup it's tied on a branch close to the faucet this way I don't lose it. (07/04/2007)

By BABBIE
Reusing Onion and Orange Mesh Bags
I use them for hanging shark chum off the stern. They love it and if they tear it up, no big deal. (05/17/2008)

By Erik