You can develop a cough in conjunction with a cold or flu or even as the result of allergies. There are a plethora of medicines you can buy at the pharmacy, but often a homemade remedy will work just as well. This is a guide about homemade cough remedies.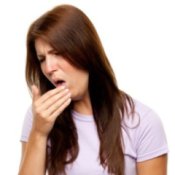 Colds, coughs and sore throats are among the most common seasonal complaints. Although coughing sounds unhealthy, it is actually the body's highly effective way of keeping our lungs and airways clear. Coughing flushes out mucus when we've caught colds and helps us to catch our breath when food or drink goes down the wrong pipe. Unfortunately, many of today's over-the-counter cough medications serve to hinder our body's natural ability to eliminate toxins. For example, nose drops dry up nasal secretions - our body's way of excreting germ-laden mucus. Cough syrups suppress our cough - another natural way of getting rid of toxins and clearing air passages. Homemade cough remedies are designed to offer short-term relief of uncomfortable symptoms, without interfering with your body's natural ability to heal itself. They should always be used in conjunction with medical care and with your doctor's approval.
When to See Your Doctor:
Because coughs can also be a sign of a more serious underlying condition, you should seek medical attention immediately if:
Your cough is accompanied by shortness of breath.
You cough up phlegm tinged with blood.
Your phlegm is very thick and won't come up easily.
A persistent, hacking cough is accompanied by fever, wheezing sounds, weakness and lethargy, difficulty breathing, and/or chest pain develops.
Your cough lasts for more than one week.
Avoid Mucus Producing Foods:
Certain foods can aggravate your cough by stimulating mucus production. If you are suffering from a cough, avoid the following foods:
Cow's milk, cream, butter and cheese.
Roasted peanuts.
Excessive amounts of oranges and orange juice (more than 1 per week for children).
Bananas.
Foods high in sugar and fat.
Foods that help with the reduction of mucus include garlic, onions, watercress, horseradish, and mustard.
Home Remedies:
Acupressure:
The application of pressure on specific points on the body can help control certain symptoms. Acupressure (similar to the concept of acupuncture, but without needles) on the chest can help relax the body and relieve coughing. Just below your throat, there are two protrusions of the left and right sides of your collar bone. Using the middle fingers of both hands, apply pressure to depression points directly below these protrusions. Continue pressing on these points for a few minutes until your cough subsides.
Ayurveda:
Ayurveda is India's traditional, natural system of medicine. Practiced for over 5,000 years, it provides an integrated approach to preventing illness through natural therapies. If your cough is accompanied by a hoarse voice, mix 1/4 teaspoon of black pepper into 1 teaspoon of ghee of clarified butter (see recipe below), and take the mixture on a full stomach. For a cough without hoarseness, mix 1/4 teaspoon of black pepper with 1 teaspoon of honey instead, also taking the mixture on a full stomach. Take the mixture appropriate for your symptoms, 3 times a day for 3 to 5 days.
Recipe for ghee:
Melt two pounds of unsalted butter in a heavy saucepan over medium heat.
As soon as the butter begins to boil and foam, reduce the heat to a simmer. Keep the heated butter at a steady simmer until it is golden in color and no foam remains on top.
Stir occasionally after the whitish curds sink to the bottom. When these curds turn light tan, the ghee is ready.
Cool the mixture and strain it into a sterile quart jar. Discard the curds from the bottom, as they are almost pure cholesterol.
Herbal therapy:
Certain herbal teas, including eucalyptus, fenugreek, peppermint, anise and fennel, stop coughing by increasing saliva production, causing you to swallow more frequently and suppressing the cough reflex. To make a tea from one of these herbs, steep one to two teaspoons of the herb in a cup of boiling water for the appropriate amount of time:
Roots: steep for 15 minutes
Seeds: steep for 10 to 15 minutes
Leaves: steep for 3 to 10 minutes
After steeping for the appropriate time, strain the mixture to remove the dried herb, and let the tea cool to a drinkable temperature. Drink 3 to 4 cups a day, or if using a tea bag, follow the dosage recommended on the product.
Slippery elm is another anti-cough herb that stops the cough reflex by forming a protective and soothing layer around the irritated mucous membranes of your throat. Another remedy for dry coughs is to combine the juice from 3 garlic cloves with some honey and milk, and warm the mixture on the stove (do not boil). Take two teaspoons of the liquid in morning and evening. A few other anti-cough herbs, like horehound, are what herbalists call expectorants - herbs that thin the cough-causing mucus so that you can expectorate (spit) it out. You can find slippery elm teas and horehound lozenges, as well as the herbs listed above, in most health food stores.
Hydrotherapy:
Inhaling steam can help relieve throat irritation and loosens mucus in the lungs. Boil a pot of water on the stove and remove it from the heat. Let it cool long enough so active boiling is no longer taking place, plus an additional 1 to 2 minutes. (Caution: If the water is boiling or still too hot, you can scald your face and respiratory tract.) Hold your face 12 to 18 inches above the pot, and cover your head and shoulders with a towel to trap the stream. Inhale for up to 30 minutes. For a soothing effect, add a few drop of eucalyptus oil to the water. Other options include sleeping with a warm humidifier running or taking a steamy sauna.