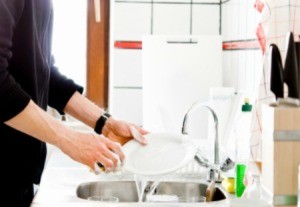 Making your own dish soap can be a great way to save money. You will also be reducing the amount of chemicals and dyes you utilize in your household. This is a guide about homemade dish soap recipes.
Ad
---
Solutions: Homemade Dish Soap Recipes
Read and rate the best solutions below by giving them a "thumbs up".
How many of you use vinegar to augment your ordinary dish soap? The idea is simple. Find a large pump squirt bottle and fill it half and half with vinegar and water. Add in a squirt of your favorite store bought bio-degradable dish soap and use your new pump bottle mixture to wash your dishes in cold water. Yup, you read me correctly, cold water!
Save on hot water bills and also on store bought dish soap. Try it and and see for yourselves!
Source: I tried mixing a few products together and vinegar mixed with water and ordinary bio-degradable dish soap proved to be a winner. That makes me the source of this tip.
By Joseph R. from Laval, Quebec, Canada
I am trying to eliminate unwanted toxins and chemicals from our home. I decided to begin with products that we use and breathe in on a daily basis and go from there. Since dishes are being washed 24-7 by yours truly, it seemed like a logical thing to tackle next. Plus I was all out, I needed it.
This is easy to make and much less expensive than the all natural type products available at health food stores. Not only that, and much more importantly, it works really well! I tried making dish soap a long time ago and was very unhappy. But this recipe lathers wonderfully. I plan on getting one of those cute Mason jars with a pump, till then, my old plastic bottle will do. Hope you enjoy trying your hand at this!
Approximate Time: 10 minutes
Yield: About 1 1/2 cups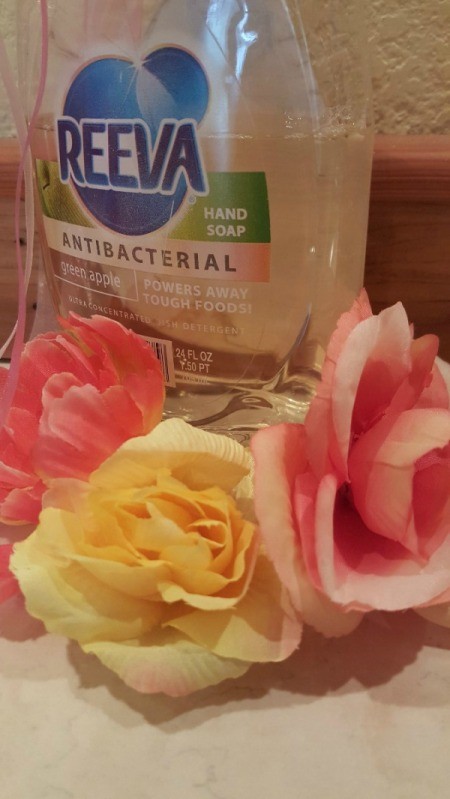 Supplies:
1 1/2 cup very hot water
1/2 cup liquid castile soap
1 Tbsp baking soda
1 Tbsp grated bar soap, I used Ivory
38 drops rosemary essential oil
cheese grater
empty container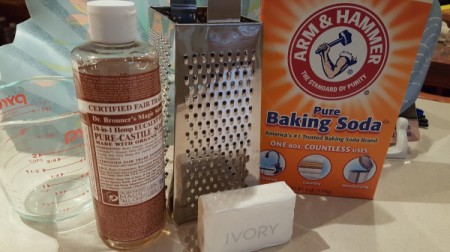 Ad
---
Steps:
Begin by grating your bar soap. I chose Ivory because it is pretty pure and free of dyes and artificial perfumes. Store the remaining soap in an airtight container, clearly labeled, for future batches.
In a large bowl, add your castile soap, baking soda, bar soap and oil. I added 38 drops. You may want to add less. I really enjoy the strong smell. I like the whole kitchen to smell of rosemary when I'm washing dishes. You may want to use only half the amount of drops.
Pour your hot water slowly over your mixture, whisking gently.
I ended up transferring the mixture to a small pot and gently whisking over medium heat for only about 2 minutes in order to melt the remaining soap bits.
Pour back into your bowl and allow to cool for about an hour. Using a funnel, transfer to your container.
Enjoy! Don't be fooled by how "watery" this is. It lathers very well and a little goes a long way!
Source: Pinterest inspired
After looking on many sites to find homemade hand dish detergent, I finally decided to make my own.
2 bars of shredded Octagon soap
1 cup baking soda
1/4 cup washing soda
1/4 cup lemon juice
Put shredded soap in 4 1/2 - 5 quarts of water and stir and melt. After melted turn stove off and add the other ingredients. Stir and wait till it cools before pouring into containers with lids.
Use as you would use other dish detergents. This doesn't suds very well, but it sure does clean. I also keep a scrap piece of Octagon by the sink for really tough jobs.
Another tip I use is 1/8 cup of vinegar in the rinse water.
I hope others will enjoy this recipe and also save money!
Give a "thumbs up" to the solution that worked the best! Do you have a better solution? Click here to share it!
Questions
Here are questions related to Homemade Dish Soap Recipes.
I have trouble with dry skin. What can I use in my dishwashing soap to make my hands softer?
By Patricia K.
AnswerWas this interesting? Yes No
Ad
---
---
Most Recent Answer
By Carol Swanson 35 211 06/25/20120 people found this helpful
Use rubber gloves. Keep your hands out of water. Good luck
---
How do you make homemade dish soap? I know it involves baking powder but I don't know what the other ingredients are. Please let me know
By Loleini
AnswerWas this interesting? Yes No
---
Most Recent Answer
By ellienc 3 08/03/20130 people found this helpful
Here is a recipe I found on Google for it. For recipes requiring home made lye soap, I substitute Ivory. If things need the benefit of baking soda, I just rinse whatever it is and sprinkle a bit on there. Wait a while and then rinse if off and wash as usual. Most recipes with the dish washing detergent are for dishwashers.

http://frugallysustainable.com/2011 ... memade-liquid-dish-soap-that-really/
---
I would like to know how to make dish washing soap.
By mgramasah from Malaysia
AnswerWas this interesting? Yes No
---
Most Recent Answer
By SAT 2 75 02/04/20130 people found this helpful
For dry hands-wear thin cotton gloves under rubber gloves to avoid the sweating that causes moisture and strips oils. Williams and Sonoma, a store that is found many places or has a catalog, sells cotton lined gloves for $12.99, but they last longer than regular unlined gloves that get finger punctures. they are great for dry skin.

I also put lotion and vaseline or coconut oil on top of the lotion on my hands and wear cotton gloves at night. Keep a bottle of your favorite lotion fortified with olive oil or almond oil on a shelf and frequently rub a bit on your hands throughout the day.

I also wash my hands in this lotion when they are dirty except of course for food prep or after the toilet. The lotion is good enough for these purposes except as stated. Also wear gloves for all wet work and use disposable gloves for cutting up vegetables or cooking with wet foods-all this contributes to dry hands. I buy the disposable gloves at Amazon.com. you can buy 500 or more real cheap.
---
Where do I find Octagon soap for "homemade hand dishwashing soap recipe"? Is it in the bath soap section or the laundry soap section at Wal-Mart?
By Yvonne
AnswerWas this interesting? Yes No
---
Most Recent Answer
By shawn 1 11/18/20100 people found this helpful
I made my mom laugh when I showed her my new "discovery". I found it in my local grocery store, I buy no less than 10 bars at a time (at 79 cents ea.). I grate it into a glass jar then add boiling water. Let cool then shake and pour. Wonder and grease free.
---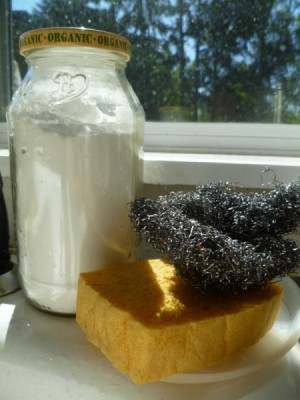 Do you have a recipe for powdered dish soap for hand washing dishes? I'm looking for a frugal dish soap that is in the form of a powder. I love DIY powdered dishwasher soap and powdered laundry soap! I live in a small apartment and storage is at a premium and having powdered soap would be very convenient.
By Vicki W.
Are you talking about "distilled white" vinegar? I would only assume you don't mean "apple cider" vinegar.
By TB