Organizing Your Laundry Room
Solutions
Share on ThriftyFunThis guide contains the following solutions. Have something to add? Please share your solution!
I have just experienced the best thing in my life; the family closet. I turned my laundry room into a laundry room/family closet. Now, I can wash, dry, fold and put away all in one room. No more lugging laundry baskets or keeping kids closets organized. A winter hanging closet and a summer hanging closet and a cubby for each person in the family. I have now converted the kids closets into shelves for all their toys, games, etc. This keeps it up off of their floor. My laundry time has decreased by more than half.
By BarwickJ from Ottumwa, IA
March 10, 2012
0

found this helpful
I am also with Pixie. I wany my clothes in my bedroom where I can dress in privacy. And I do not want to have to go to another room to get my clothes. It doesn't take that much effort to transfer clothes from the laundry room to the bedroom.
Read More Comments
This may never be an issue with most of you but it was with me. The laundry room doesn't have any standard doors that would support a hanger hook. And had we had any, they were all where we would go around the corner and run into the hangers, even us short people.
The breaker box door was the perfect location as it was out of the way. Problem was the hook hung down and so all the hangers slid to the front. I didn't have a 1x2 or even a scrap piece of wood or plastic to use so I came up with this. Just an old measuring scoop and some tape and it works perfectly. You could also use the wood scrap, jar lid, tiny cat treat can, old cassette holder or anything that brings it up level.
Hope this helps! PBP
Source: Just needed an unusual solution to an unusual problem.
Link: N/A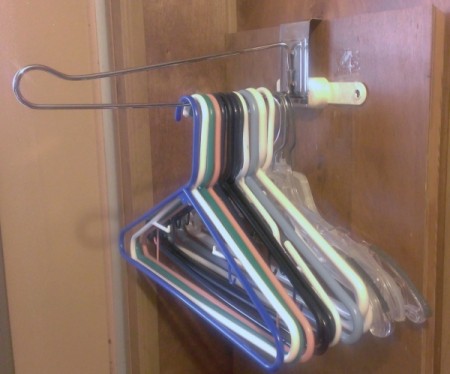 December 6, 2016
0

found this helpful
I have a shower curtain rod stuck between the 2 doors leading into laundry room-I hang empty hangers or hang-dry wet things.
December 16, 2004
2

found this helpful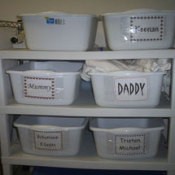 I use a small plastic 3-tier shelf lined with plastic dishpans to separate clean laundry. Each dishpan is labeled with each person's name and one labeled "upstairs." 2 of my kids are old enough to put up their laundry and they know to check their bins each day. It keeps everything neat and organized, teaches them responsibility, and saves me from having to put up five people's laundry.
By Kayla
October 14, 2013
0

found this helpful
Try U.S. Plastics, they are in Ohio. I have gotten good stuff from them.
Read More Comments
I had a white, metal cabinet that I used in my kitchen years ago. I've moved it to the laundry room. I was able to add two shelves to it by disassembling the white, metal unit I had that stood over the commode in the bathroom.
Read More...
September 11, 2008
2

found this helpful
On the wall in my laundry room, I put some of the removable 3M Command hooks, the large size. I keep hangers on them so when I pull laundry out of the dryer, I can hang it up right away.
Read More...
With 5 in our family and a small laundry room, this can be a challenge for us. The kids each have a basket in their rooms. Then there's a 'general' basket in the bathroom.
Read More...
I found a great time-saving tip for laundry day. I use different colored baskets for different loads of laundry, ie: white basket-white clothes, red basket-bright clothes, blue for dark clothes, and green for hubby's work clothes...
Read More...
August 26, 2008
0

found this helpful
I went to an estate sale and purchased two very rough bathroom spacesavers. They were only $5.00 for both and I thought if nothing else I could use them for shelving.
Read More...
I like clothes baskets and I used to buy them all in white. To make it easier on my family and me, I bought different colored baskets for each person in the house. No more guessing which basket is mine.
Read More...
Questions
Ask a QuestionHere are the questions asked by community members. Read on to see the answers provided by the ThriftyFun community or ask a new question.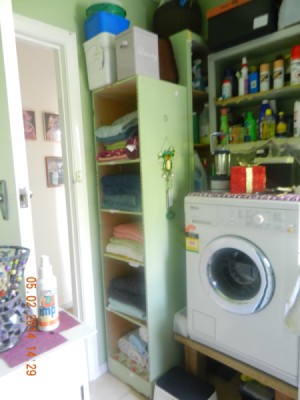 I need help designing a linen cupboard and storage for other laundry items. The photo is of the over all area, and to the left side is where the new cupboard will be. The measurements of this space are: 440mm wide by 2020mm length and 820mm in depth. Thank you.
By Bevy M. from Melbourne, Victoria
February 6, 2014
0

found this helpful
Wish I could help but I, probably like most people, don't know what the mm measurements are. I would not know how to convert the mm's to feet, yard, etc.
February 2, 2017
0

found this helpful
I think your mm measurements equal to:
440 = 1 ft 5>"
2020 = 6 ft 7.5"
820 = 2 ft 8"
Is this correct: 6'7.5" tall x 1'5" wide x 2' 8" deep?
Or are you referring the 6'7.5" length be horizontal instead of height?
Either way it would be better to know a little bit more about what type of items you wish to store. You mentioned linens but if this is your laundry room then there may be too much moisture for storing this unless you plan to make tight fitting doors.
Mainly I would think you would measure the height and width of any of your potential items and make your shelves accordingly (distance in height if cabinet is tall).
Your unit is not going to be very wide (1'5") so keep this in mind when planning contents. It seems you already have a lot of storage space but maybe you plan to make changes there also?
Your shelves now accommodate linens so maybe the moisture is low in this area. Someone will probably give you some better ideas as Thrift has a lot of "space" conscious responders.
February 2, 2017
0

found this helpful
Check at Home Depot and Lowes. I got a similar cabinet for my basement that someone had ordered, paid for, and never pick up. I got it for just a few dollars--cheaper than what I could have made it for.
February 4, 2017
0

found this helpful
There are many converters online that will convert mm to inches. Make sure your cabinets have adjustable shelves that pull out.
May 16, 2005
0

found this helpful
Tips for organizing your laundry area. Post your ideas.
May 16, 2005
0

found this helpful
Set empty Kleenex box near dryer and toss lint from the dryer's lint catcher in to it.
By Lori Goldstein
By guest (Guest Post)
May 16, 2005
0

found this helpful
I have my laundry basket sitting on a small table. It sure saves on my back .
edie
By guest (Guest Post)
August 8, 2005
0

found this helpful
We collect our dryer lint in a Kleenex box as Lori Goldstein recommends. We use it when we camp out to get fires going quickly. We also throw the lint outside in the early spring months and the birds will use it to line their nests.
By guest (Guest Post)
January 1, 2006
0

found this helpful
I had my husband install a wooden rod over my washer and dryer. As I take the shirts and pants out of the drier I immediately hang them on hangers that are on the rod. This keeps them wrinkle free and makes it easier to put them away later. I can also hang clothes to dry.
Read More Answers
Related Content