Organizing Your Laundry Room
Solutions: Organizing Your Laundry Room
Read and rate the best solutions below by giving them a "thumbs up".
On the wall in my laundry room, I put some of the removable 3M Command hooks, the large size. I keep hangers on them so when I pull laundry out of the dryer, I can hang it up right away.
By Pam from Port Allen, LA
I have just experienced the best thing in my life; the family closet. I turned my laundry room into a laundry room/family closet. Now, I can wash, dry, fold and put away all in one room. No more lugging laundry baskets or keeping kids closets organized. A winter hanging closet and a summer hanging closet and a cubby for each person in the family. I have now converted the kids closets into shelves for all their toys, games, etc. This keeps it up off of their floor. My laundry time has decreased by more than half.
By BarwickJ from Ottumwa, IA
I had a white, metal cabinet that I used in my kitchen years ago. I've moved it to the laundry room. I was able to add two shelves to it by disassembling the white, metal unit I had that stood over the commode in the bathroom. It had two shelves on the top. When I took them off, I was able to set them on top of the other metal cabinet. They look like they're meant to be that way.
It holds everything I need for doing laundry and more. I also store flower pots and items used for gardening in that room. It's perfect for my needs and it didn't cost me any money!
We must always try to repurpose our furniture and shelving units. Shelving or stand-alone pantries are good not only in the laundry room, but also in the garage.
By Carol from Wyoming, PA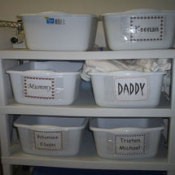 I use a small plastic 3-tier shelf lined with plastic dishpans to separate clean laundry. Each dishpan is labeled with each person's name and one labeled "upstairs." 2 of my kids are old enough to put up their laundry and they know to check their bins each day. It keeps everything neat and organized, teaches them responsibility, and saves me from having to put up five people's laundry.
By Kayla
With 5 in our family and a small laundry room, this can be a challenge for us. The kids each have a basket in their rooms. Then there's a 'general' basket in the bathroom. Everyone brings their baskets down on certain days (Mondays and Fridays). When I do the laundry, I hang it outside. The trick that I have might take a bit longer but it cuts out a step for me.
When laundry is dry, I take it off the line, person by person. I'll take "A" laundry all down and fold it as I do it, then "B" and so on. This way I can get some extra exercise walking from one area of lines to another. Then when I get back in the house each person's basket is placed with their clean laundry in it for them to put away. This has worked for me for several years and it keeps my tiny area free.
I only use my homemade soap so I don't have a bunch of other bottles sitting around. If I need something extra, it's close by in the kitchen. Having 2 football players, I do have to let their white pants soak overnight in a bucket but that gets put out of the way. Hope this helps some.
By Nancy from Troy, OH
I found a great time-saving tip for laundry day. I use different colored baskets for different loads of laundry, ie: white basket-white clothes, red basket-bright clothes, blue for dark clothes, and green for hubby's work clothes. This is so easy my 4 year old can sort her own dirty clothes, and on laundry day I do not have to sort before throwing the clothes into the washer.

By jz2005 from Oregon, IL
Share Your Feedback:
Once you try any of the above solutions, be sure to come back and give a "thumbs up" to the solution that worked the best for you. Do you have a better solution? Click "Share a Solution" above!
Questions
Here are questions related to Organizing Your Laundry Room.
Organizing The Laundry Room
Tips for organizing your laundry area. Post your ideas.
---
Most Recent Answer

By Shannon (Guest Post)
06/16/2008
When we moved into the house where we live now I was lucky enough to have a good size laundry room, however it was not set up very well. We have a small closet which we use for keeping our vacuum, brooms, mops, ect. off that there is a large cubby which holds a small water heater. I asked my husband if it would be possible for us to put extra selfs in and after checking to make sure it would be safe he agreed.

Above the water heater he built a large shelf that allows me to store things like my Christmas tree) next to the water heater (allowing 3 ft clearance each way) he put four large shelfs that each hold a laundry basket. White's, Lights, Darks and Linen... since they all have their own place it is easy keeping the clothes off the floor, once the basket reaches half full I toss it is the washer and work my way up the shelf system until all the laundry is done.

I also keep a small hand vacuum in my laundry room to vacuum up the lint that gets everywhere while cleaning the lint trap. This makes keeping the laundry room clean a lot easier, which helps me keep up on the laundry.