Cats think differently than dogs. Dogs want to please us. Cats, by instinct, solve their own problems. Any attempt to change what a cat wants to do is seen by them as an obstacle to overcome. The only way to thwart a cat's plan is to make it so the cat no longer wants to do the thing that is annoying you.
The solution of laying your head on the cat when it tries to lay on you is a good one. You might also wear a glove (if you cat has claws) and grab her paw and not let go until she panics. You must do this every time. Shortly she will stop. My aunt cured a cat from getting on her counters by putting the cat on the counter and not letting it down. She did this several times and the cat avoided the counter.
By Lilac from Springfield, MA
November 17, 2011
0

found this helpful
I have been cat lover all my life and would never hurt a cat. I did not mean hurt the cat but she won't like it if you hold her paw. Some cats are more persistent than others. I have a actually had cats that could dodge a squirt bottle faster than I could use it.
Read More Comments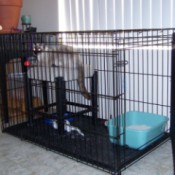 My cat tried this as a kitten, as well as, waking us to play at all hours of the night.
What I did was get a large (Great Dane sized) dog cage and put a small litter box on one end, a padded stool for him to sleep on on the other end, with water and a bit of dry food under that. I kept it as far from the bedrooms as possible. When he would wake us, I put him in the cage. If I woke again, I would let him out. If he tried to play, I would put him back. This went on for approximately a couple of weeks. Then he got the idea that if he woke us, he would go into the cage. He stopped. When the lights went out, he would curl up at my feet and sleep from then on.
It was an exhausting couple of weeks, but 9 years later he still sleeps at my feet in the summer and at my side in the winter (under a blanket, I guess he gets chilly), but no more waking us.
By Compltlyme from Sammamish, WA
November 10, 2011
0

found this helpful
Haha - this is an awesome tip! I think any and all cat owners understand the annoyance of cats wishing to sleep on your head (or your book, newspaper, etc.) This is a wonderful idea you had! Practical, logical, and humane! Love it!
One of my cats keeps trying to sleep across my neck. She does it several times a night. I immediately wake up and put her on the floor, but she's not taking the hint. Does anyone have any suggestions? If I shut her out of the room, she tries to get in by clawing through the carpet. There's already a hole in the carpet outside the door, so keeping her out of the room isn't a good option. She's really interfering with my sleep. Help!
By Stephanie from Hillsboro, OR
May 9, 2011
0

found this helpful
Best Answer
Have you heard the old saying "If you can't beat them, join them."? (as in 'defeat' not 'beat them physically', LOL). My cat started trying to sleep on the top of my head just this past Winter (who knows why when she's eight years old and never did that before) so what I tried was slowly lifting my head up until she rolled off of it, then scooted myself up and laid my head (gently and without full weight on top of her of course) like she was my new pillow instead of my head being her pillow. She fairly quickly decided that wasn't comfortable nor suitable and moved. It only took a few shorts nights for her to choose to sleep next to the top of my head instead of on it. ;-)
May 6, 2011
0

found this helpful
What if you kept a spray bottle (with water) nearby and you give her a squirt whenever she tries to lie on you? Two of my three cats respond very well to the water bottle. The third cat is the youngest, and the one with the hardest head . . . it takes a lot longer for him to learn! :-) I hope you're sleeping better soon!
May 9, 2011
0

found this helpful
Here's a method I used to teach my stubborn cat to stay off of or away from things I didn't want him around. I went to the dollar store and picked up some spray bottles that spray a good stream. I filled them up with water and placed them in strategic places around the house for easy access for me. Whenever he did something wrong, I sprayed him.
It's just water so it donen't hurt him. But being a cat he doens't like getting wet, so he immediately gets away from whatever he was doing.
If you keep one of these next to your bed and squirt him every time you wake up with him on the bed it should teach him. It'll take a while, because cats are stubborn, but it should work after a while.
Good luck!
May 9, 2011
0

found this helpful
Ha! I have a different sort of cat. She does not mind getting sprayed and will jump into tub with water running to play. Have never seen such a kitty. What I do is take an empty clean soda can or plastic jars with covers, put in a few pennies and shake it them hard while saying a loud "No!" when she is doing something such as jumping on counters. She is getting to the point now that she will jump down fast if I say "No!" She hates the noise so will get down before the shake of can.
I keep them all over the house and one under my pillow for when she attacks the window blinds when I am sleeping to get me up to give her treats.
A naughty kitty for sure but I do love her.
May 9, 2011
0

found this helpful
I watched a TV program on a kitty that was disturbing his owners sleep. He clawed at the door when it was closed. the "trainer" placed a can of compressed air in front of the closed door that was activated by motion when the cat walked up to the door. After about 3 blasts of air the cat gave up approaching the door. I thought it was brilliant, but I have not seen it in local pet stores either. I have one kitty who is very active at night and she sleeps in the guest room with her food water and litter box, and the door closed. That has worked for us.
May 11, 2011
0

found this helpful
I'm guessing the offender is one of the "obnoxious kittens"? This is funny to me, because my cat Snickers comes up & lies across my neck at night, like a fat, furry neck wrap. He purrs & waves his paws in the air & is just so cute & cuddly. He doesn't stay too long though, I think it gets too hot for him. It amuses me, & I know he won't stay, so I let him do it. I want to take a picture of him doing this & send it in soon.
However, he won't come in my room when I am putting Vicks VapoRub on my toenails (to fight toenail fungus - not sure if it's working yet), because he doesn't like the scent. He also doesn't like perfumes or deodorants or other toiletry scents, so I am guessing that if you spray your hair at night with hairspray or perfume, perhaps your cat will learn to stay off your head.
Don't feel too bad, I have another cat, a calico named Candy, who sometimes tries to sit on my face! LOL! When she comes up, I always have my hands ready to push her away before she can do this.
June 27, 2011
0

found this helpful
Thanks all. I had the best success putting my head on top of her when she tried to sleep on my head - only took a couple tries. She's still a pest at night, but at least Izzy isn't sleeping on my head anymore.