A crockpot can help you make a well blended, delicious, Italian style sauce for spaghetti. This page contains crockpot spaghetti sauce recipes.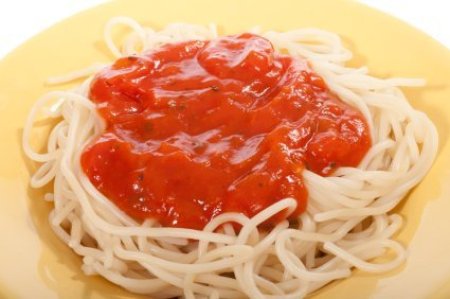 By ms. carmen 16 42
It is always very hot where I live when the tomatoes and peppers are ripe, so I constantly seek out crock pot recipes. Here is one I use for spaghetti sauce.
Ingredients:
4 onions, chopped
2 Tbsp. dried basil
4 minced garlic cloves
2 chopped, seeded bell peppers
1/2 cup olive oil
16 cups (5 lbs.) chopped tomatoes
2 Tbsp. dried oregano
1/4 cup chopped parsley
1/4 cup white sugar
2 Tbsp. salt
3/4 tsp. black pepper
Directions:
Dump and stir! I use a 6 quart pot. Low for 7 1/2 hours. If it needs thickening, I add 1 small tomato paste towards the end.
Source: I found this at allrecipes.com and have played with the recipe several times, but this is the basic version that I love.
By Ms. Carmen
By Barbara 1
Does anyone have the crockpot spaghetti sauce recipe that was in the booklet packed with the Crockpot in the mid-1970s?

Barbara from Brighton, MA
---
Most Recent Answer
---
Probably the very best I ever tasted... and I've tasted lots of spaghetti!
Sauce
Ingredients:
4 cups tomatoes
1 cup water
12 oz. tomato paste
1 large clove garlic
2 Tbsp. parsley
1 Tbsp. oregano
1 tsp. salt
1/2 tsp. anise seed
1 Tbsp. sugar
Directions:
Place all ingredients in crock pot and add prepared meat balls.
Meat Balls
(important to include these in this recipe)
Ingredients:
1 1/2 lb ground beef
1 egg
1/4 cup water
1 1/2 salt
1/2 tsp. basil
1/4 tsp. pepper
1/2 cup soft bread crumbs
1/4 cup Parmesan cheese
Directions:
Mix all together and use 1/4 cup measure to scoop mixture to form balls. Place on cookie sheet and bake for 10 minutes at 350 degrees F to firm up and add to sauce. Cook on low for 6-8 hours. Can be doubled in a 6 quart crock pot. This also freezes very well.
By Margie M.
By Maya Lee 14 172
I love using crock pots and developed this way of cooking Italian food when I was working. I put a can of spaghetti sauce in a crock pot and then add either Italian sausage, chicken (particularly legs and thighs), or beef such as London broil. This could be used for sandwiches with Italian bread, on top of spaghetti, or just as it is with a salad or other vegetables. The house smells great, too.
Ingredients:
1 can spaghetti sauce, your favorite
1 lb. Italian sausage or pieces of chicken or pieces of beef
Directions:
Empty the can of spaghetti sauce in the crock pot. Set it on low if you will be gone all day. Add the protein. I don't usually cook the chicken or sausage before hand. The beef is usually already cooked.
Cooking Time:
7 or 8 Hours
By Maya from Redlands, CA
By Connie 362
I've tried so many other recipes for this spaghetti sauce and always return to this old recipe I've used for years.
Ingredients:
1 lb. lean ground beef
4 cans (14-1/2 oz. ea.) diced tomatoes, undrained (I use my homecanned tomatoes, chopped)
6 cans (6 oz.ea.) tomato paste
1 cup beef broth
1/4 cup packed brown sugar
3 Tbsp. garlic powder
2 Tbsp. minced fresh basil or 2 tsp. dried basil
2 Tbsp. minced fresh oregano or 2 tsp. dried oregano
2 Tbsp. minced fresh parsley
1 tsp. salt
1 bay leaf
1/4 to 1/2 cup red wine, if desired.
Directions:
Hot cooked spaghetti.
1. In a large skillet, saute beef over medium heat until no longer pink, drain.
2. Transfer to a 5 quart crockpot or slow cooker. Stir in tomatoes, tomato paste, broth brown sugar, seasonings and wine; mix well.
3. Cover and cook on LOW heat setting for 6 to 8 hours or until bubbly. Discard bay leaf. Serve over hot cooked spaghetti. Yield: 12 to 14 servings
By Connie from Cotter, AR