I needed a safe and readily available storage spot for a kitchen knife with a 6 1/2-inch blade. All the slots on my wood knife block were full. I used a padded eyeglass pouch-type case/holder and glued it to the side of the knife block. It was a perfect fit on the knife block. The padding inside the pouch kept the sharp knife blade protected plus it did not take up that much space.
Do not glue the entire case/holder onto the block. Keep in mind to allow for expansion once the knife is inserted when gluing the eyeglass holder to the knife block. I used ordinary craft glue. I could also glue these type eyeglass cases/holders on the top and the other side of the block if I ever need more storage for more small kitchen knives.
These are the eyeglass cases/holders that most eye doctors give you when you purchase eyeglasses. For safety sake, make sure the knife blade is completely inside the eyeglass case. The case can be removed if you use ordinary craft glue that is not water-proof.
I also use these type eyeglass holders for other items. I have one in my purse to hold store receipts. I keep one in my car to hold pencils and paper. I use one that I glued to the side of our desk for holding a pen and 'scratch' paper for notes. You could also glue magnets on these to use on a refrigerator or other metal surfaces to hold various items.
There are many uses for these eyeglass cases/holders. You have to think 'outside the box' and you will be surprised at what other uses and ideas you will have for using these besides holding eyeglasses.
By Nana from NE PA / USA
April 10, 2012
0

found this helpful
I recently obtained a rather large and colorful leather eyeglass case with no closure (my glasses were way too small for the case and would slip out easily) but I accepted it, not knowing how I would actually use it. Turned out to be a classy "cozy" and the perfect size for my LG phone... so the glasses lost out on this one!
Read More Comments
Such a perfectly simple way to build a cheap knife-rack and you can size it to fit anywhere on any counter top.Plan the size you wish. You can have the lumber pieces sawed to size at Lowe's or Home Depot cheaply. Consider the length of the skewers in your plan when determining height then buy enough of them to fill up the 'box'. Any knife you own can be inserted in it so easily. Never a worry about blades getting dull. I'd say it's pretty much a perfect design.
By tomatohanger from Canton, OH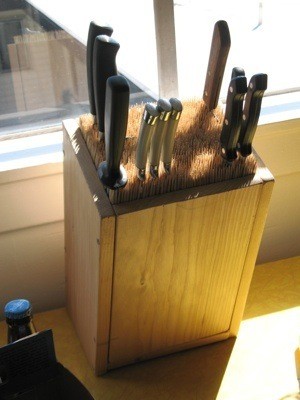 April 3, 2011
0

found this helpful
Tomatohanger, you rock! What a great idea! I admired a knife block in a catalog (or maybe online) that was the same idea but used thin wires, I believe, where you used skewers; the thing was around $100 or more. I bought bamboo skewers recently for $2 per 100 & I bet they can be found even cheaper than that. Now I know I can have a knife block like the one I saw, for just a few bucks. Good thinking! Thanks for sharing your idea.
Read More Comments