Did you just discover the hole where your flowers used to be? There are many reasons a dog likes to dig including breed, exploration, attention seeking, or wildlife in your garden. This is a guide about training a dog to stop digging.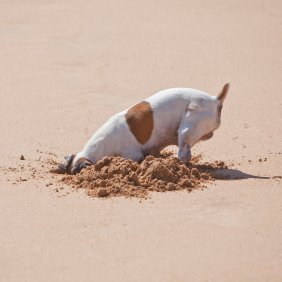 Filter

: All Articles
Sort

: Relevance
To stop your dog digging in your garden beds, put citronella oil into a spray bottle and spray the area. Dogs hate it.
By Lorimay from Perth Western Australia
I have 3 dogs and when I planted a shrub or a tree, the dogs would go to the new plantings and start digging it up. I started to leave the dogs indoors while I planted, so they could not see what I was doing. This did help some. But I still got holes next to the big planted items.
I still plant my shrubs and trees the recommended way, but now when I get the hole 3/4 of the way filled, I put dog poop in the hole (you don't need much) and then continue to fill the hole the rest of the way up. The dogs leave it alone. They don't like digging up their own poop. If dogs dig along a fence line put poop in before you fill the hole and they will leave that spot alone.
By xintexas from San Antonio, TX
I have mentioned this before and it does work. This is will not keep a dog from digging, but it will keep them from digging in the same spot or spots. It sounds a little unorthodox, but it is a quick and simple solution.
When you find holes that your dog has been digging in, drop some of their own poo into the hole, and then fill it up with dirt. Dogs don't like digging up their own poo. I have been doing this for years with all the dogs I have owned, and it has always worked for me.
By xintexas from San Antonio, TX
I would like to know how to stop my dog from digging in my flower bed.
By Don
June 6, 2010
0

found this helpful
<em>Sunday
June 6th, 2010</em>
<dd>The decorative garden fences you can purchase at places like Home Depot or Lowes can sometimes help. If you set them up around the flowerbeds with stones or edging to keep it safe from being dug up.</dd>
<center>Solti</center>
June 7, 2010
0

found this helpful
Put his poop in the holes. Black pepper sometimes works too.
Pat
June 8, 2010
0

found this helpful
I put a fence up around my garden, but around trees I have put pinecones and chili pepper on top of them. I don't know that the pepper had much effect, but they have avoided the pinecones religiously. My mother-in-law put some pavers around hers, and just separating her garden from the rest of the yard helped a little. I recommend the pinecones, though.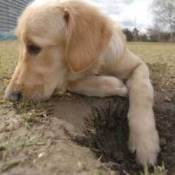 Question:
How do I get my 3 month old Rottweiler puppy to stop digging up my flower beds?
Heather from South Africa
Answer:
Heather,
This young age is the perfect time to start teaching your puppy that you're the "leader of the pack" and as such, you have certain expectations regarding the behavior of pack members. Rule #1: digging is only done in designated areas! For these first few months, you're going to have to supervise your puppy while out in the yard. Use his/her digging as an opportunity to modify behavior. I'm a huge fan of Cesar Millan-a.k.a The Dog Whisperer. He uses what he describes as calm, assertive energy to direct a dog's mind and body away from undesirable behaviors. It's all about energy. Control the mind and body and you control the behavior. Cesar maintains that in the wild, dogs need rules, boundaries and limitations in order to survive as a stable and organized pack. Every dog knows its position within the pack and what is expected of him. This pack mentality is one of the strongest natural motivators in dogs and is an effective training tool for humans.
In the wild, members of the pack learn early on that there are undesirable consequences for certain behaviors. These consequences usually come (swiftly) in the form of a bite from pack leaders. Since you are your puppy's pack leader, when your puppy starts digging, you can mimic this "bite" by turning your hand into a "teeth-like" claw and firmly touching the side of your puppy's neck while directing him away from your flowerbeds. You can use your voice to emphasize your point, but asserting yourself with a firm, physical touch is more important. Consistency is key, but this form of dog psychology really works. Don't punish him/her, just assert your authority. If you have the room, set aside a sandy spot in the corner of the yard just for puppy play and direct him/her to this area. Other physical deterrents include laying down wire mesh or plastic soda bottles filled with water or inserting wire coat hangers into the soil to create a physical barrier. Whatever you do, don't use any chemical deterrents-especially those formulated to keep out wildlife. They seldom work and they can be harmful to young animals if ingested. Some gardeners have also had luck temporarily "poopy trapping" the area with the dog's own feces. For more information on Cesar Millan and his Dog Psychology Center, visit www.dogpsychologycenter.com
Good luck!
Ellen
My outside dog is digging up my yard. What can I do to stop this?
By oldladyrules from Hampton, IA
May 8, 2009
0

found this helpful
Bury some of the dog's poop in the holes where he digs. That very often stops it cold.
May 12, 2009
0

found this helpful
You have an 'outside dog' in Iowa? Your dog is bored, so wear him out with exercise and he'll be good. I put my dog in the back of my pickup truck in the canopy and run up and down the highway, and she works herself into a frenzy back there 'chasing' cars in the oncoming lane. that is, when I'm not walking her! You do bring this dog indoors at night? into a crate maybe? I'm imagining this dog in winter, how could any dog survive it?
May 13, 2009
0

found this helpful
My shih tzu started digging like crazy every time he was outside. I did ALL of the "tricks" others have listed, absolutely no success. That's because there were moles/voles in the ground! Once I trapped the critters (6 in one day), no more digging. At one time, I had a Pomeranian that did the same thing, and yes there were moles at that place too. These are not aggressive/mean dogs, they just don't like critters underground!
The poop in the digging area may work for some dogs, but also remember, your pet licks its paws!
I have two large dogs; one digs out and runs off and the other stays home. The one that runs off is a Lab mix. She digs out under the fence and runs away. I am afraid that she is going to get hit by a car or picked up by the dog catcher, but we walk the fence line fix all the holes and she still always gets out.
I don't want to have to get rid of her, but she will dig under any fence and training does not matter. We have tried to train her to stay in the yard and not dig out over and over again and nothing works. Iis there anything else we can do?
By Megan from FL
October 18, 2010
0

found this helpful
Try laying chicken wire along the bottom of the fence. We folded it into a 90 degree angle so that we could attach it to the bottom and put the other part on the ground. You can either let the grass grow over or dig the soil up and over the bottom part. Dogs do not like to drag their claws over that stuff so they give up.
My dog is obsessed with one particular corner of our carpet. She won't stop digging. No cat has ever been here. Is there something I can spray to keep her away from it?
By Kathy from Grand Junction, CO
I have a four month old puppy that has started digging holes in the lawn. He's not digging a lot but he does have about six small ones now. Any help will be appreciated.

Thanks,
Betty from Fond du Lac, WI
Answers:
Training a Dog To Not Dig
Some breeds are natural diggers. For example, Terriers. (03/27/2006)

Training a Dog To Not Dig
I am an obedience instructor at a dog club in Australia and one of the methods we teach is to bury a blown up balloon in the hole and cover it with the loose dirt. When the pup goes to dig there again, the balloon pops and gives him a start. Works well with most dogs. Another idea is to bury some of his own droppings in the hole. Good luck. (03/29/2006)

By Dog lover
Training a Dog To Not Dig
Found this through ArcaMax email newsletters.

How To Stop A Dog From Digging
Whenever you are trying to change any behavior in your dog the golden rule is be consistent! Make it very clear to your dog what is, and is not acceptable behavior.

Depending on the reason you believe your dog to be digging, you can apply some of these proven techniques:
Give your dog lots of exercise, including heaps of physical and mental stimulation.

If your dog is always digging in order to bury a bone, don't give bones! Substitute with chewing toys like rawhide bones.

Confine your dog when you can't supervise him. Place him in a crate or kennel run whenever you aren't around to spy on him. You'll need to do this until you have fixed the digging problem.

Blow up some balloons and bury them in the area your dog likes to dig. When he strikes a balloon, the noise of it popping startles your dog. In some cases the negative association this produces is enough to stop your dog from digging in the future.

If you are able to be around your dog for a couple of days, you could achieve some success with this method. Whenever your dog starts to dig, reprimand him and spray him with the hose. Again this method produces a negative association to your dog each time he digs. You must be perform this reprimand every time your dog starts digging holes.

If your dog has a favorite spot he likes to dig you can bury some chicken wire just under the surface of this area. When your dog starts to dig he won't like the feeling of his paws scraping along the wire. I've used this method myself and found that it worked well for my dalmation puppy.

This one doesn't sound very nice but is a very popular and effective way to stop your dog from digging. What you do is fill up the holes your dog has created, adding some of his poop (feces) to the filling. Most dogs are really put off by this and won't attempt to dig again. Some trainers advocate feeding your dog pineapple before performing this technique. Apparently the pineapple smells terrible when mixed with the poop.

Some dogs just copy what they see their owners doing. So if you're working away in the garden, suddenly your dog may be interested in doing the same! Such dogs may need to be confined while you are working in the garden.

If you've got the room a great solution for both you and your dogs is to provide them with a digging area. You can actually encourage your dog to dig in this designated area. Fill it with nice soft sand and bury some of your dogs favorite treats in it. Most dogs figure out that if they want to dig, they must go to this area.

If your dog is digging under the fence it may be worth filling in all the holes in and under the fence. This takes away the visual temptation your dog may be trying to get at.

If none of the above methods work for you and your dogs, you may wish to try a remote electronic training collar or e-collar. This method does work, although I realize many dog owners don't like the sound of using such a device. In reality it works the same way as many of the other techniques in that it provides a negative association to the act of digging.

If you take a trip down to your local Pet Shop you will find many commercial products that claim to help digging problems. They are effective for some dogs and may be worth a try.
Good luck with stopping your dog from digging, and remember that basic dog obedience training is the key to correcting any dog behavioral problems. If your dog respects and trusts you, he will be eager to please you in all situations.(04/04/2006)
By verue