Any suggestions on how to keep my miniature schnauzer from digging in the yard? It looks likes the moon, all craters! Thank you.
Karen from Charleston, SC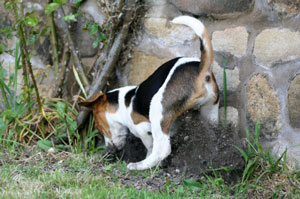 Answers:
Keeping Dogs from Digging
We use the dog poop theory too. It does work but when it rains they start back up. We even have a place set up for him to dig at. We hide treats there sometimes and toys to keep him going there. We just keep filling in the holes and putting poop there. (11/09/2008)
By Angela
Keeping Dogs from Digging
The dog poop idea does work, but only if it doesn't rain. LOL. We also have a spot for our dog to dig at. We hide treats, bones and toys there to keep him interested. (11/09/2008)

By Angela74
Keeping Dogs from Digging
Use critter ritter from Home Depot. It works great. (11/09/2008)

By mark m
Keeping Dogs from Digging
My daughter had a beagle and a black lab! Jeez, those dogs made a mess!

Then, we finally gave them their own yard. She got a spot that was off the porch, cool under the deck in the summer and with dog houses and inside shelter in the winter. They had about 20' by 20' to run, dig, make a mess and have fun. They couldn't see anyone on the street or in the neighbors places, so the barking was reduced greatly.
The fencing was recycled from a house being torn down, and the rest of the yard was transformed into the yard for the humans. If you have the room, this might help. Good Luck! (11/10/2008)

Keeping Dogs from Digging
Purchase ALUM (not aluminum). Spread it in digging area.
It's got a nasty taste, but harmless. Good luck! (11/11/2008)

By eviesav
Keeping Dogs from Digging
Give your pet a stout kennel of 6' x 4' with a rubber mat flooring. These are made for and are tough enough for horses and cattle. Your dog won't get sores and won't harm it with his digging action. Some kennels come with rain-proof covers while others have enough room for a dog house in them.
Dogs also love to sit on top of a dog house. Put the dog house in the middle of the kennel, away from the sides or ends of the kennel to prevent him from using it as a stepping stone to jump over the kennel walls. Better yet, take your dog for a walk on a leash when he has to go out. You'll both get exercise and your garden and yard won't suffer from a bored dog digging. (11/14/2008)
By north790
Keeping Dogs from Digging
If the dog goes back to the same hole(s) to dig, try scooping up some of his poop and putting it in the hole(s). Most dogs are naturally tidy and don't want to soil their paws with "nasty" stuff. (11/15/2008)

By Yogi's Mom