Whether you are making it at home or picking on up at the supermarket, rotisserie chicken is a great addition to many different types of recipes. They are flavorful, inexpensive and you family will love whatever you make with it. This page contains recipes using rotisserie chicken.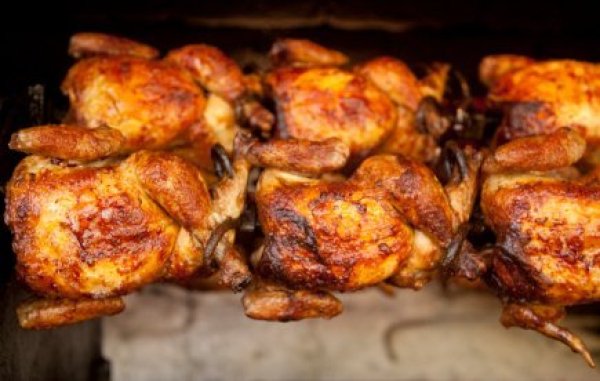 Filter

: All Articles
Sort

: Relevance
Each week I buy an already roasted chicken for $4.98 from Sam's and can put together a different quick meal from it using the following recipes.
I know this is so simple it seems silly to write a recipe for it; however, I've been cooking for a family of 9 for over 25 years now, and I've thrown away many rotisserie chicken carcasses before it dawned on me that I could save $1.50 per quart by just taking a few minutes of my time. It makes the cost of our dinner of roasted chicken almost pay for itself
Ingredients:
Can be prepared in crockpot.
Extremely simple
1 Rotisserie Chicken Carcass ($5.00)
8-10 cups water ($0)
1-2 cup diced carrots, celery/onion ($0)
1-2 tsp salt/pepper ($0)
1 tsp lemon juice/or vinegar ($0)
I let the broth cool just a bit, then strain it and use a funnel to fill quart mason jars, tighten lids, then store for a week or so in my refrigerator.
Steps:
Place all ingredients in a large stock pot, or crockpot.
If cooking on stovetop, bring to boil, then turn down heat, cover, and simmer for 2-3 hours. Or, cook in crockpot on High for 4-6 hours.
Strain broth by using a slotted spoon; store in refrigerator and use within 1 week.
In a pinch for time? Too warm to cook? Instead of grilling chicken after a long day's work, stop by the market deli for a roasted chicken. Whip up a package of mashed potatoes and a second veggie, and feed your family in less than twenty minutes.
I also enjoy adding the chicken to a garden salad with fresh herbs, Monterrey jack cheese, tomatoes, red/yellow pepper, dried cranberries, cucumbers, other favorite fixings, and dressing.
If you find them on sale and your budget allows, buy extras. Slice and peel the meat into a container or bag and freeze. Use the chicken for enchiladas, chicken, and noodles casserole, chicken Alfredo pizza, soup, sandwiches, or any other favorite creation. It's great for extra meals or packing lunches. This works great for our house! Enjoy.
By bzsister from Kalamazoo, MI
Because I keep kosher (organic), everything is much more expensive and I simply can't afford to waste anything. When I purchase a rotisserie chicken, I strip the meat from the bones and use the bones and non-meaty part of the chicken wings to make chicken broth for my next batch of chicken soup, some of which I freeze in ice cube trays for a quick cup-of-soup. I save the skin to add as "seasoning" in my fresh veggies and afterwords, a nice "treat" for my dogs.
By Solartea from Tallahassee, FL
These easy, filling chicken dinners have been a staple at our dinner table since our boys were in their teenage years with voracious appetites. I was a stay-at-home mom with a tight budget. Years later I am still serving this family favorite, now to our grandchildren.

For the first dinner, there is no prep. Just purchase a precooked rotisserie chicken at the deli and add side dishes/salads of your choice. Reserve remaining chicken including juices, skin, and carcass and refrigerate.
Ingredients:
leftovers from rotisserie chicken (may use chicken breasts instead)
2 cups chicken broth
1 stick of margarine, melted
1 can of cream of celery soup-undiluted
1 cup self-rising flour
1 can of mixed vegetables, drained
1 cup buttermilk (may substitute regular or low-fat milk)
1/2 tsp. salt
Directions:
Place leftover chicken and 3 cups of water in a large stock pot and bring to a boil to cook chicken off the bone.
Remove chicken from the bones cut into pieces. Mix 2 cups of the chicken broth with the soup in a saucepan and bring to a boil.
Mix melted margarine, flour, milk, and salt in a separate bowl. Put chicken in bottom of a 9 x 12 inch casserole dish. Pour can of drained mixed vegetables over chicken. Pour broth mixture over the vegetables and chicken.
Spoon dough mixture over top. Bake at 425 degrees F for 25-30 minutes or until lightly browned.
Cooking Time:
25-30 minutes
Source: A combination of different recipes I've used for years. I still play with the recipe by adding fresh rosemary, using different kinds of creamed soups, or fresh or frozen vegetables.
By Sandy from Elon, NC
I often roast twice the vegetables and freeze them with chicken and minced rosemary for a really quick weeknight meal. A rotisserie chicken supplies enough meat for two soups and can be used to make homemade broth too.
Ingredients
2 carrots, coarsely chopped
2 potatoes, coarsely chopped (Yukon Gold are my favorite)
1 each, green and red pepper, coarsely chopped
1 large yellow or sweet onion, coarsely chopped
4-6 garlic cloves, coarsely chopped
2 Tbsp. olive oil
1-2 cups cooked chopped chicken
2 Tbsp. minced fresh rosemary
2 qts. chicken broth
Directions
Roast vegetables in 350 degree F oven, uncovered for 1 hour or until soft and browned. When vegetables are done, add to soup pot with chicken, rosemary and broth. Let simmer for at least 30 minutes, add salt and pepper to taste.
Jess from Portland, OR