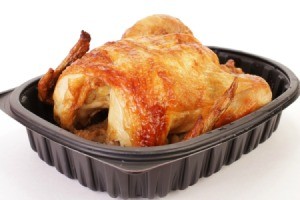 I cook for two people and get 3 meals from a $5 rotisserie chicken. Sometimes I could get a cheaper price on a raw chicken, but this has to do with time. The thigh/drums (2) make the meat part of one meal, sometimes with boiled potatoes.
The two breast halves make chicken salad with the addition of celery, onion, apple or pear, or dried cranberries (something sweetish), mayo (not much) and pickle (less). It's up to you. I've made it with cream cheese, mayo, and marshmallow. It all depends what you or other people want.
The third meal is soup with refrigerator and freezer scraps, usually with leftover rice or pasta and toasted cheese breads. I don't feel extravagant about buying deli because I can stretch it. Those with more eaters might get a pack of drums or quarters and bake them the first night while you get (future) eaters to cut up the stuff for chicken salad.
By susan winship from Bristol, TN
Read More

Comments