The microwave is a great convenience, why not use it to make desserts. This page contains microwave dessert recipes.
Read and rate the best solutions below by giving them a "thumbs up".
This is good when you do not feel like baking, and want a small treat.
Ingredients:
1 Tbsp. butter
1 Tbsp. white sugar
1 Tbsp. brown sugar
3 drops of vanilla extract
pinch of salt
1 egg yolk
1/4 cup flour
2 Tbsp. chocolate chips
Directions:
Melt butter in microwave, add sugars, vanilla and salt. Stir. Add flour then stir. Add chocolate chips and stir. Cook in microwave 40 to 60 seconds. You're done, enjoy!
By coville123 from Brockville, Ontario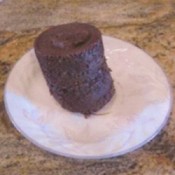 Personal size cake in only 5 minutes.
Ingredients:
4 Tbsp. flour
4 Tbsp. sugar
2 Tbsp. cocoa
1 egg
3 Tbsp. milk
2 Tbsp. oil
dash vanilla
Directions:
Mix dry ingredients in microwave proof coffee mug. Add egg and mix well, add milk, vanilla, and oil, mix well. Bake in 1000 watt microwave oven 3 minutes. Will rise over the top, but don't worry. Let cool a couple of minutes and tip out on a plate or sit down with a cup of coffee and "have your cake and eat it too". Would serve two if you feel like sharing.
Servings: 1
Preparation Time: 1 minute
Cooking Time:3 minutes
By latrtatr from Loup City, NE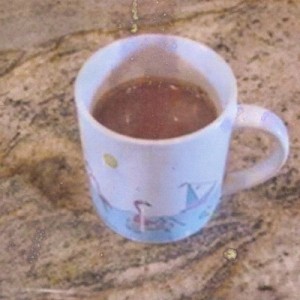 Give a "thumbs up" to the solution that worked the best! Do you have a better solution? Click here to share it!
I have a question about the chocolate cake in a mug. It was really easy to do but it was flat tasting. Not much chocolate flavor at all and I used a new bakers chocolate container. What did I do wrong?

Jamish from Tribune, KS
Feedback:
RE: Trouble With Coffee Mug Chocolate Cake
I had the same result. It was fun to do and to watch baking but the flavor needs some tweaking. I'm going to play with it. Of course I'll have to eat all the "mistakes"! Darn! (09/15/2008)

RE: Trouble Making a Coffee Mug Chocolate Cake
A dash of salt, a splash of vanilla extract, a spoonful of chopped nuts and a spoonful of mini chocolate chips will perk up your mug cake. Trust me! (grin) (09/16/2008)

By Sneezytwo
RE: Trouble Making a Coffee Mug Chocolate Cake
It turned out perfect when I made it. The only thing I did change was to measure the vanilla out to one half teaspoon. Also, I used heaping tablespoons of the cocoa. I sprayed the mug with cooking spray for easy removal and clean up. I sprinkled it with powdered sugar before eating. It was very rich and full of chocolate flavor. Adding extra ingredients as suggested would also add to the flavor. It was big enough to share but since no one was home when I made it, I was forced to eat the whole thing! This is really a dangerous recipe, the name suits it perfectly. (09/17/2008)

By Anne
RE: Trouble Making a Coffee Mug Chocolate Cake
The second time I tried it, I skipped the egg (flavor was too eggy for me), and added about 2 tablespoons raisins. I also found the flavor not very chocolatey. But it's a fun idea that just begs fooling around with until you get it the way you want it. (09/17/2008)

By Jantoo
RE: Trouble Making a Coffee Mug Chocolate Cake
I tried a different recipe that does not use an egg, doesn't boil up while cooking and turned out a better fluffier texture and a smaller serving. Here it is:
Microwave Cake in a cup
A microwave safe cup, 12 oz. or around that.
Cooking spray
Ingredients:
2 Tbsp. flour
1 and 1/2 Tbsp. sugar
1/2 tsp. baking powder
2 tsp. cocoa powder
A pinch of salt
2 Tbsp. milk
1/4 tsp. vanilla extract
3/4 tsp. oil Spray your cup with cooking spray, just enough to coat the cup. In a bowl(I mixed it in the cup), mix together all your ingredients and stir well. Now pour this batter into your cup.


Put the cup in the microwave and cook it on full power for 60 seconds. Depending on the power of your microwave, and your altitude (go figure) you may have to cook the cake longer. Only cook in additional 15 second intervals, because an overcooked cake is no good, and it's even worse because you're microwaving it. Trust me, you think an overcooked cake out of the oven is dry and yucky, try having a solid wedge of dry microwave cake sometime. No fun.


Once your cake is finished, it should be nice and fluffy. Now to serve it.


Take a plate and a butter knife, and gently turn your cup over, letting the cake slide out of the cup. Guide it with soft presses of the butter knife, and once it's out, set the cup aside to be washed. (09/17/2008)


By Jeanie
RE: Trouble Making a Coffee Mug Chocolate Cake
I have another recipe for the chocolate mug cake and it is pretty much the same recipe as the one posted here except that it has 3 tablespoons of chocolate chips in it. That may be just what you need! Good luck! (09/18/2008)

By Squirrley
RE: Trouble Making a Coffee Mug Chocolate Cake
I just made 3 tonight. I found that adding a pinch of salt and a tablespoon more each of sugar and cocoa powder made it much more rich and flavorful. (10/11/2008)

By prairiegirl
RE: Trouble Making a Coffee Mug Chocolate Cake
The recipe doesn't call for salt, and it should. It makes all the difference. (11/29/2008)

By Noel L.
RE: Trouble Making a Coffee Mug Chocolate Cake
I agree, it needs tweaking. I add the chocolate chips too but then my grandchildren put chocolate syrup over cake before eating. This cake is the best when eaten warm. (12/09/2008)

By Mammy
RE: Trouble Making a Coffee Mug Chocolate Cake
I've made several of these mug cakes. I agree that they were flat tasting. I had been using whatever chocolate I had in the house. Then I finally bought Hershey's Cocoa and it has made a big difference.

I haven't done it, but I do agree that a dash of salt and splash of vanilla would probably made it better. It is still a great thing for someone who lives alone and can't eat a whole cake. After the holidays I want to try some variations and if they work, I'll post them. (12/23/2009)

By clynnaltemus