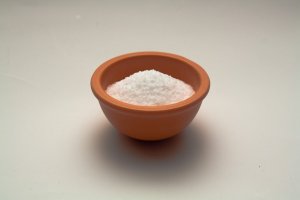 Salt is not just for seasoning or preserving food, it can be used around the house too.This is a guide about using salt.
Ad
---
Solutions: Using Salt
Read and rate the best solutions below by giving them a "thumbs up".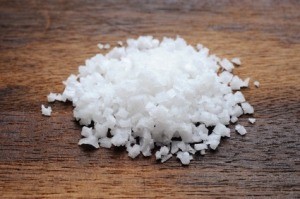 When it comes to one product with the most household uses, vinegar makes a nice showing but table salt comes out on top. From cooking to cleaning, there's a large list of uses for the cheaply priced mineral. It's no wonder wars broke out because of it.
Cleaning
Salt is a versatile and frugal cleaning product. Compared to high priced, abrasive cleaners, salt is easily the better option for removing stains and odors from the house.
If yellowing is a problem with enamel fixtures and coatings, use a salt and turpentine mixture to scrub the surface. It won't damage the enamel the way other cleaners will, and it will remove the yellowing easily. Salt also works as a scrubbing agent for hard water deposits on enamel and sinks. For these applications, it's best to use non-iodized salt and to rinse completely.
If white is the color to erase, salt can do that, too. Before you set out to sand and refinish a wooden table that has white heat marks from hot dishes or mugs, mix salt and salad oil to create a thin paste. Spread the paste on the mark, rub, and wipe away the salt mixture and the white ring.
Add salt to vinegar to form a paste, and you have a copper and brass cleaner that removes tarnish without the harsh chemical smells and dangers of normal cleaners (not to mention their overwhelming prices). Plain non-iodized salt also works as a silver polish.
As a natural grease buster, mix a heavy salt water solution to pour down kitchen drains. It removes grease and smells. Use the same solution to clean any greasy surface.
Laundering heavy fabrics in slightly salty water will bring out their colors, making them appear brighter. This works great for sun-washed curtains. If linens have acquired a yellow look, add a few pinches of salt and baking soda to a pot of boiling water. Then, boil the linen in the water for an hour, and the yellow will have disappeared.
After purchasing new taper candles, soak them in a salt water solution overnight. When they're dry and lit they won't drip and ruin your tablecloth.
To remove the closed up smell associated with thermoses and other sealed containers, add salt to it before sealing it. Just remember to dump it out before filling, or you'll have salty coffee in the morning.
Healthcare
Salt water makes an excellent mouthwash. It disinfects and deodorizes naturally. When a sore throat approaches, gargle with a salt water solution to prevent it from progressing and to soothe the irritation.
This is a garden use, but long-term it's a healthcare tip. Instead of spending $5 or more on a bottle of poison ivy spray, kill the plants with a hearty spritz of salt. Mix 3 pounds of salt per gallon of soapy water and spray it onto the poison's leaves. Your yard will be rid of the poisonous pest in no time.
Cooking
The wives' tale about salt water boiling faster is false. However, salt water does boil at a higher temperature, shortening boiling times for foods. It also adds an extra kick to water vaporizers, pushing more vapor into your air. (It does seem to shorten the life of the vaporizer, however.)
If you're boiling eggs, add a pinch of salt to the water. The salt will make the shell not only come off in larger pieces but it will slide off the egg without tearing the whites and destroying the overall look of the egg.
Salt water eliminates oxidation (browning) of apple and potatoes. Why stock up on expensive lemon juice when a pinch of your table salt and water will do the same thing?
Salt is an excellent option to use to put out a grease fire. Dump handfuls of it onto the flames. Never use water on a grease fire.
Immediately after making a salad for dinner or lunch, add some salt to the lettuce. Immediate light salting goes unnoticed to the tongue but keeps the salad greens from wilting, producing a fresh, crisp salad all day.
Wrap expensive hard cheeses in a salted cloth to prevent molding.
To remove the smell of burned food from ovens and stove burners, heat the elements and then sprinkle a mixture of salt and cinnamon onto them. Let the elements cool, and scrape or wipe the dried salt/cinnamon. The burned smell will be banished.
Instead of buying expensive products (for example, Weed Begone) to get rid of weeds and grass coming up in between patio blocks, carefully spread salt between the bricks and blocks. Sprinkle with water or wait for the rain to wet it down.
By Irishwitch from Aurora, CO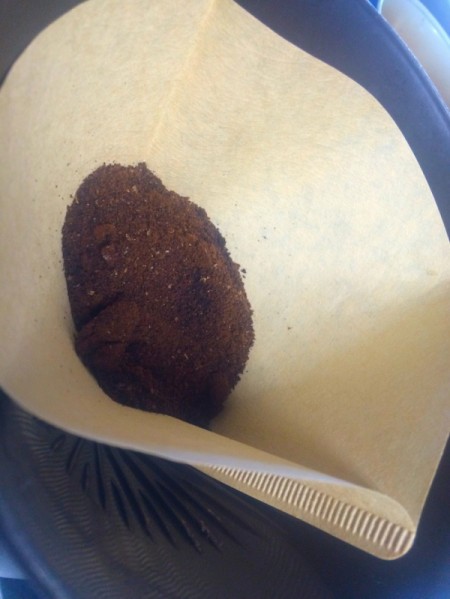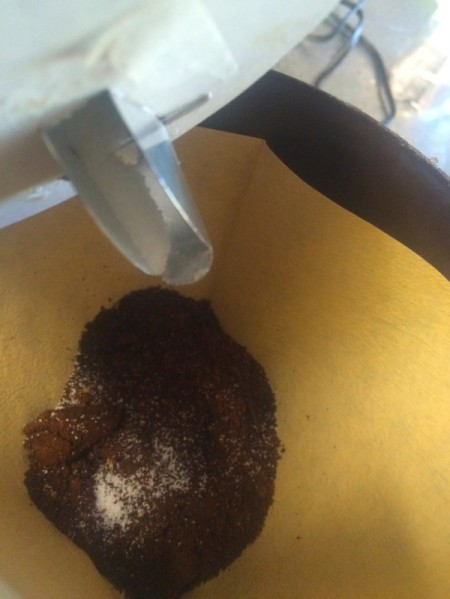 You can add a pinch of salt to your coffee grounds pre-brew to curb the bitterness in your coffee. You can slow sprinkle the tiniest amount of salt in your tonic water to to kill that harsh bitterness of quinine. Try it anything you find slightly overpowering in the bitterness department. You'll be pleasantly surprised!
By attosa [136]
If you are a bachelor, consider this: Buy a 4 liter milk jug instead of a 2 liter milk jug. Get your money's worth. When you open it, put a pinch of salt in it then shake. Your milk will last 2 weeks past the expired date. Take care.
By Julie from Dundurn, SK Canada
After cutting or chopping onions, wet your hands, sprinkle salt generously in the palm of one hand and scrub your hands together with the salt. Rinse with water and the onion smell will be gone.

Source: A friend gave me this tip.

By Kathy from Mtn. Home, AR
Too many suds in your dishwater? Sprinkle a little salt on them and they will subside in no time.
Use salt to clean your cutting board. Just sprinkle a little on a wet cutting board and scrub. There usually is a shaker of salt handy in the kitchen, you don't have to just use it for food.
Spilled some grease? When you spill some grease on your counter or stove top sprinkle a little salt on it and it will be easier to clean up.
Salt for carpet stains. Sprinkle salt on carpet stains, let sit for an hour and vacuum the salt up.
Salt for perspiration stains. Make strong salt water by diluting 1 cup salt to each gallon of water and soak shirts with perspiration stains. Or if you don't want to use as much salt you can create a solution with 4 Tablespoons salt and 1 quart of water and apply this solution directly to the perspiration stain with a rag.
What are other salt uses? Post your ideas below!
To help cut odors off your wooden cutting board, simply pour a generous amount of salt directly on the board. Rub lightly with a damp cloth. Wash in warm, sudsy water.
Source: Morton Salt
By duckie-do from Cortez, CO
Give a "thumbs up" to the solution that worked the best! Do you have a better solution? Click here to share it!
Questions
Here are questions related to Using Salt.
Can salt be used to kill weeds, blackberry bushes, and grass in places you don't want it? (We have 6 dogs and prefer not to use chemicals/poisons from the store, to avoid any contamination to my babies).

Hardiness Zone: 7b
By Kim from Lusby, MD
AnswerWas this interesting? Yes No
Ad
---
---
Most Recent Answer
By Elaine 173 890 03/28/20110 people found this helpful
I have used straight white vinegar with good success.
---
I live in an apartment and every rain season my weeds grow crazy (3ft) high or more. I have and big tarp, meant for use in the driveway for cars. I try to prevent them from growing with the tarp. So my question is how often and how much do I use salt for weeds? My backyard is 12ft by 30ft.
By Lisa
AnswerWas this interesting? Yes No
Ad
---
---
Most Recent Answer
By DeBushe 19 164 07/30/20120 people found this helpful
Enough salt will prevent anything from ever growing there. You could also use something like Round-Up to kill the weeds. Then sprinkle a pre-emergent like Preen to prevent any seeds from germinating. I have also heard that just pouring boiling water on weeds will kill them. Certainly a lot cheaper.
---
Will table salt harm my tomato and squash plants if I use it to kill the grass by my plants?
By Cheryl
AnswerWas this interesting? Yes No
---
Most Recent Answer
By Jill 4 738 08/07/20110 people found this helpful
In a word...yes. You are much better off to use a hoe, or hand weed around the plants. It will take a little time, but is better for your plants and your garden (salt may prevent other things from growing for one or more seasons, depending on how much you use and how you apply it.) Once you weed, you can use mulch to discourage the weeds from coming back. That and a few minutes of hand-weeding each week will keep your plants looking great!
Archives
Thrifty Fun has been around so long that many of our pages have been reset several times. Archives are older versions of the page and the comments that were provided then.
I believe everyone has had this happen. When chopping onions, my hands would have a strong odor of onions for hours, even after repeatedly washing them. The smell would still be there. One Christmas while chopping some onions for the dinner dressing, I told my mother, "My hands are gonna smell like onion all day!" She told me to put my hands over the sink and she poured a small amount of salt into the palm of my hand and she said, "Now rub it in as if you are washing them with the salt." I couldn't believe it, the smell was gone. Works great for garlic too. I wish I would have known this years ago.
By Tena Bean from Champaign, IL
Feedback:
RE: Use Salt To Remove Onion Odor
Rubbing your hand on a stainless steel utensil works like magic too! (03/06/2007)

By michawnpita
RE: Use Salt To Remove Onion Odor
I've heard of rubbing lemon juice on hands. Thanks for the other suggestions! (03/07/2007)

By mikki
When you open a new container of milk, put in a tiny amount of salt in it. This will keep the milk fresh much longer. The salt will settle to the bottom, so gently shake the container before pouring to distribute the salt evenly. You won't taste it!

Source: Given to me by a co-worker

By Judy from Syosset
Feedback:
RE: Add A Little Salt To Keep Milk Fresh Longer
So, "a tiny amount" is kind of subjective, it could vary a lot by who is measuring it. Do you mean just a couple of grains, or a pinch or what? Sounds like a good idea, but I don't want to make it undrinkable. (03/26/2008)

By bailegirl
RE: Add A Little Salt To Keep Milk Fresh Longer
I just shake the shaker once. A few grains will do. (03/26/2008)

By Judy
<div align="right">
</div>
Q:I saw some of your member's advice about killing weeds and grass. I had a question about using salt. I have an area that is 8' x 24' and filled with pea gravel. I have a problem with weeds and grass growing in the area. I was wondering if anyone knows if I use the salt to kill it, will the salt effect a cedar elm and a Lady Banks rose I have growing on each end of the area. The weeds and grass grow in the middle area. The area slopes and the cedar elm grows at the top of the slope and the lady banks grows at the bottom of the slope.
Please help,
Martha from Texas
A: Dear Martha,
I would advise against using salt to control weeds or grasses for two reasons. The first is due to the fact that over time, a build up of salt in the soil can harm your plants-actually stunt their growth. If your rose is down slope from the area you apply salt, you certainly risk eventual damage due to runoff. Secondly, salt is not effective in controlling many weeds anyway, especially grasses. I suggest you try boiling water or spot spraying with vinegar. These are both low-cost natural methods that have proven to be effective. Pouring boiling water over the grass and weeds will kill them, as well as any seeds near the surface. Because your area is 8' x 24', however, you might try spot spraying a 10% acidic vinegar solution for adult weeds or a 5% vinegar solution for young weeds. If you have trouble locating a source for 10% vinegar, you can increase the acidity of 5% vinegar (the kind found at grocery stores) by boiling it down to half its original volume.
About The Author: Ellen Brown is our Green Living and Gardening Expert. <a href="add.ldml">Click here to ask Ellen a question! Ellen Brown is an environmental writer and photographer and the owner of Sustainable Media, an environmental media company that specializes in helping businesses and organizations promote eco-friendly products and services. Contact her on the web at http://www.sustainable-media.com
Feedback:
RE: Killing Weeds with Salt
I would suggest using a contact weed killer, like Roundup. Just dip a small paintbrush into the container, you may want to use protective gloves, or put your hand into a breadbag, to avoid getting the chemical on yourself, then brush the weed killer onto the grass and leaves of the weeds, it works by contact, and won't kill anything that it does not touch. Salt will leach into the soil, and may affect the roots of nearby plants. (08/17/2005)

By muskie nut
RE: Killing Weeds with Salt
You use 1 part salt and 3 parts water. It hasn't killed any of my plants yet. You pour just enough on it so it doesn't run down hill. I would never use Round-up it is not too good to breathe it. (08/17/2005)

By Joyce wis
RE: Killing Weeds with Salt
Run-off could very well damage the other plants, and once the soil becomes toxic it will be hard to clear. You can pour boiling water on the weeds themselves and it will kill them. Not as permanent a fix, but much safer and pretty easy. (08/17/2005)
RE: Killing Weeds with Salt
Salt will destroy your paved driveway and surrounding streets. (08/18/2005)

By SNIGDIBBLY