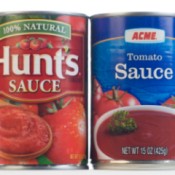 This is a question that is often asked and debated. Not all generic brands are created equal and not all name brands stand up to the hype. Share which generic brands you use and which name brands you can't live without.
Ad
---
Recent Answers
Here are the recent answer to this question.

By HAPPYINHARNED [14]04/10/2012
There is no substitute for Heinz brand ketchup, Miracle Whip or lays potatoe chips or Fishers bologna. I absolutely love the canned tuna at Sav a Lots. As far as medicine, I always purchase generics. Over the counter is always cheaper and the ingredients are over seen by the FDA qand is safe.

By jimmyV07/31/2011
For me, brand-name products are usually more effective than generics but of course this high quality drugs comes also with high cost and because of this reason, more consumers prefer to use generics since these are relatively cheaper than the brand-name products. But with today's recent news, that reason will be deleted since a growing list of brand-name prescription drugs will become less expensive as the patents for the drugs lapse. Some of the best-selling drugs on the market are integrated, so Big Pharma's loss will be the public's gain. I read this here: Brand name medications to get cheaper as patents expire.

By Beth [5]05/16/2011
I have just a few products that I only buy name brand. They are Q-tips, Crest toothpaste, All Free Clear, Kiss My Face deodorant and Cottonelle/Northern t.p. Otherwise, I stock up on pantry staples at Ali and shop at Kroger where I use generic brand unless I have a coupon which is doubled. I haven't found a generic that doesn't turn out as well as name brand. I save a lot of money and feed two growing teenage boys, my husband and myself for $500 a month.

By judy oliver [13]05/16/2011
No name brand vegetable juice cocktail has a way more taste then Campbell's V8 juice, and is half the price.

05/16/2011
I almost always purchase generic when buying non-food items but when it comes to food items I am picky because there is usually a huge flavor difference for many types of foods. For example, Hunts tomato sauce and generic tomato sauce are shown in the photo here. I have tried just about every generic brand of tomato sauce there is and in every case I couldn't stand the difference in taste when the meal was ready so I don't even bother to waste my money for generic now and it's Hunts 'only' all the way!

Items like grocery store brand dry pasta or jam and jelly passes the taste test with me and Safeway store brand capers pass the taste test with me too. Guess the bottom line is choosing item by item and deciding whether taste quality for a particular item will make a difference overall in the recipe or whether saving some cents is more important.

Oh, and among many other brand names I can't live without Hellman's Mayonaisse, Vlasic Zesty Dills, assorted Ortega products, assorted Rotelle products, and on and on and on. LOL ;-)

By Lilac [20]05/16/2011
Name brands often contain food additives and flavor inhancers that make the product taste better. I buy organic products. If it contains preservatives or MSG or high fructose corn syrup I do not buy it. Taste is not a sign of quality. I agree that Duncan mixes are not edible but now I make my cakes from scratch. I read every lable on everything I buy. Why should we eat herbasides, insectisides, and fungisides when we don't have to. If you buy these products and think you are getting something better just because it tastes better you are wrong. FDA says products have "Acceptable" amounts of these chemicals in them. I don't want any in mine. Name brands cost more not because they are of better quality but the additives they put in them to make them taste better cost money and that cost is passed on to you. Name brands advertise and store brands don't. That cost is passed on to you. Taste and quality are two different things.

By lilyevysmom04/19/2010
Does anyone know if one might be better for you than another? For instance, might a name brand use better or more wholesome ingredients? I have been trying to compare ingredient labels myself to see if the difference is there and I think perhaps it is, on some items anyway.

By Judi [18]01/17/2009
Megan: I prefer Betty Crocker cake mix when I use a boxed mix (which isn't often) and WILL NOT buy Duncan Hines. Gereric cake mix is (in my opinion) not good at all.

By Alexis. (Guest Post)01/17/2009
I'm doing a research paper about this topic for my science fair project. It was really hard finding information on this topic amd this website has really helped me.

By megan (Guest Post)12/17/2008
Which cake mix is better(generic or name brand) I would like a % of people. I am doing this for a science project

By Leah (Guest Post)11/17/2008
I'm doing a power point on "VALUE FOODS" so I want to do a graph.

By nie (Guest Post)10/27/2008
This has helped me for debate compettion!

By (Guest Post)10/16/2008
This helped me a lot on my project as well. I love thrify fun and all of its properties even though I don't know who wrote this website. And how do you do?

By ekanem thelma (Guest Post)06/19/2008
My opinion is this; brand products are better in quality. just because another product is produced that looks exactly like the original product, doesn't mean its good. Some times manufactures have to really watch out and make sure that their products are not wiped out of market because of and imitating products. Brand name is what makes your product solid and also helps in building customers confident towards your product.

Getting faithful customers is not easy. So if you have any, it's good to keep as well attract new ones than lose all.

By a. (Guest Post)04/30/2008
I'm doing a persuasive speech on this topic. Great help!

By Hailey (Guest Post)02/29/2008
I'm doing a research paper and this site was very helpful and informative! Thank you!

By Amanda. (Guest Post)02/12/2008
I'm doing a science fair project on Name Brand vs. Generic Brand and this site really helped me!

By joanne (Guest Post)02/10/2008
I loved this page and agree with it fully.

By Susan (Guest Post)02/06/2008
I am doing a Science Fair Project on this

By (Guest Post)02/06/2008
I'm doing a Science Fair Project on which sandwich bag keeps fruit fresher? Generic Brand vs Name Brand
Solutions: Name Brand vs. Generic Brand
Read and rate the best solutions below by giving them a "thumbs up".
These days there is a generic brand for nearly everything, from pharmaceutical drugs to shampoo. These are not the generics of generations ago. In fact, these brands are just as good or better than national brands and often contain the exact same active ingredients. This can save you anywhere from 10 to 50 percent every time you shop.
To maximize your savings, never buy non-food items like batteries, medicine, and cleaning products at the supermarket, go to one of the dollar stores to do that. While you are at the dollar store, walk through their grocery isles and check out what they have to offer. You might find some amazing saving there, that you would not expect to see.
By Faylee from Kingsport, TN
Give a "thumbs up" to the solution that worked the best! Do you have a better solution? Click here to share it!
Answer This Question
Add your voice to the conversation. Click here to answer this question.