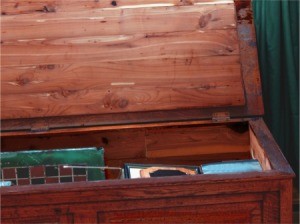 The odor of moth balls can so permeate a cedar chest as to make it unusable until you can remove the smell. This is a guide about removing a mothball odor from a cedar chest.
Ad
---
Questions
Here are questions related to Removing Mothball Odor From a Cedar Chest.
How can I remove the smell of moth repellent from an old cedar chest? I have tried sanding it down, wiping it with vinegar, setting it out in the sun, wadding up newspaper to absorb the odor and many other things as well. Nothing has diminished the smell. I love the chest, but I don't want anything I place in it to smell like moth balls! Please help. Thanks in advance.
By Laurie from Waldo, ME
Ad
---
---
Most Recent Answer

By Susan Hall [3]03/12/2011
Make sure it is a mothball odor and not the natural cedar the chest is made of. If it is the natural cedar, you won't be able to get rid of the smell unless you cover all of it with polyurethane. Good luck. 8)
I have a cedar chest that had mothballs in it for about a year and I am trying to get rid of the smell. Can anyone help me?
By Lucretia D.
Ad
---
---
Most Recent Answer

By nanax209/02/2014
I used a charcoal closet deodorizer I bought at the hardware store. I put it in, and I honestly forgot about it. I don't know how long it took, but it got rid of the odor .
I've seen countless posts on "what to try" to remove mothball odor from a dresser and I've tried many of them without success. I also don't see any follow up posts of folks saying what actually worked for them. My next attempt will be to cover the entire inside with polyurethane. Has anyone tried this? Does it work?
I'm asking that answers don't include "what to try" -- there are so many posts on the web to that effect already. Instead, I'd like to hear "what worked".
Thanks!
By Mike D
---
Most Recent Answer

By Stu K.10/22/2014
Get a bag of cedar shavings from the pet store (hamster or guinea pig litter). Put a 2 inch layer in the bottom of the cedar chest and close it up for 2 days. Clean it out (I used a shop-vac and reused the cedar shavings as mulch) and leave the chest open to air for a day. Repeat- this was fine for me. Repeat again - passed my wife's smell test.
How do I get rid of moth ball smell in a blanket chest? It is part cedar and part particle board. I did not want to damage the wood, so I have just been airing out the chest when the weather is nice.
By Donna
---
Most Recent Answer

By karin [5]08/10/2011
Try a bowl of vinegar or coffee beans. The acidity should take care of the smell.
How do you remove the smell of moth balls from fabric and from a cedar chest?
By rel9465
Solutions: Removing Mothball Odor From a Cedar Chest
Do you have knowledge about this guide topic? Feel free to share a solution!