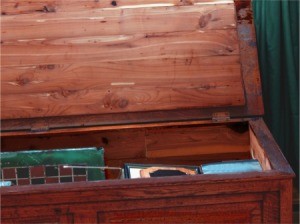 The odor of moth balls can so permeate a cedar chest as to make it unusable until you can remove the smell. This is a guide about removing a mothball odor from a cedar chest.
Ad
---
Questions
Here are questions related to Removing Mothball Odor From a Cedar Chest.
How can I remove the smell of moth repellent from an old cedar chest? I have tried sanding it down, wiping it with vinegar, setting it out in the sun, wadding up newspaper to absorb the odor and many other things as well. Nothing has diminished the smell. I love the chest, but I don't want anything I place in it to smell like moth balls! Please help. Thanks in advance.
By Laurie from Waldo, ME
AnswerWas this interesting? Yes No
Ad
---
---
Most Recent Answer
By Susan Hall 3 6 03/12/20110 people found this helpful
Make sure it is a mothball odor and not the natural cedar the chest is made of. If it is the natural cedar, you won't be able to get rid of the smell unless you cover all of it with polyurethane. Good luck. 8)
---
I have a cedar chest that had mothballs in it for about a year and I am trying to get rid of the smell. Can anyone help me?
By Lucretia D.
AnswerWas this interesting? Yes No
Ad
---
---
Most Recent Answer
By nanax2 1 09/02/20140 people found this helpful
I used a charcoal closet deodorizer I bought at the hardware store. I put it in, and I honestly forgot about it. I don't know how long it took, but it got rid of the odor .
---
How do I get rid of moth ball smell in a blanket chest? It is part cedar and part particle board. I did not want to damage the wood, so I have just been airing out the chest when the weather is nice.
By Donna
AnswerWas this interesting? Yes No
---
Most Recent Answer
By Bev G 4 06/20/20150 people found this helpful
Pour some rubbing alcohol in a pump-type sprayer and mist the interior of the chest wait a minute and do it again, but this time wipe out the interior. Repeat a couple more times and stop for the day since you don't want to oversaturate it and also so you can check your progress in a couple days. If you have a place where you can put it in direct sunlight, place it there to dry. Drying it with a hair dryer works too (the heat helps it dissipate).

In between treatments, place a homemade deodorizer in the chest. Get some cedar chips from the pet store and also some activated charcoal. Mix together and put in an old stocking or two (easier than just dumping it in and taking it back out) and place your "log" in the chest and close the lid.

Repeat if necessary in a few days.

I had a chest that had a full box of mothballs PLUS a mothball holder (shaped like a daisy of all things) closed up in a chest for over 40 years. That chest took five treatments.

Actually, after the fourth I sanded down the interior and placed fresh deodorizer logs.

It smells great now. When the cedar smell starts to fade a bit I just scuff the inside lightly with a piece of sandpaper and it renews the smell. I have heard of people using natural cedar oil, especially if their piece wasn't solid cedar.
---
I've seen countless posts on "what to try" to remove mothball odor from a dresser and I've tried many of them without success. I also don't see any follow up posts of folks saying what actually worked for them.
How do you remove the smell of moth balls from fabric and from a cedar chest?
By rel9465
Solutions: Removing Mothball Odor From a Cedar Chest
Do you have knowledge about this guide topic? Feel free to share a solution!