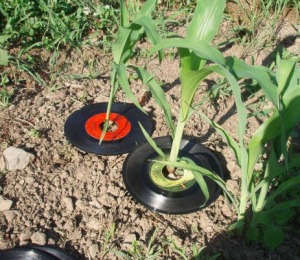 Some old records have value, but some are either too scratched or too common to be collectible. There are ways to reuse old records to make them into something new and wonderful. This is a guide about uses for old records.
Ad
---
Solutions: Uses for Old Records
Read and rate the best solutions below by giving them a "thumbs up".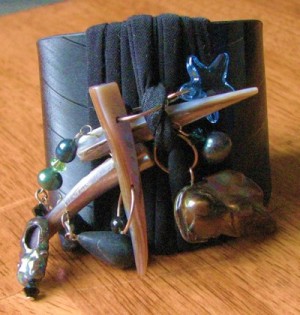 Do you have an old LP/record, but no player? Make this unique and stunning cuff bracelet for next to nothing!
Approximate Time: 30 minutes
Supplies:
oven
LP (record)
scissors
old pendants/drops
baking sheet
string or hemp or cord (about 1 yard long)
oven mitts
Instructions:
Heat oven to 200 degrees F.
Place LP/record on baking sheet.
Heat in oven for 8 minutes.
Wearing oven mitts, take out the record and cut a portion into a rectangle about 6 inches long x 3 inches wide. (you have about one minute to cut until record needs to be reheated.)
If needed, reheat for four minutes each time and cut rectangle into a shape that is widest in the middle, and tapers to blunt ends.
Once shape has been reached, reheat for another four minutes and take out.
While it is cooling for the one minute, bend the shape into a cuff shape around your wrist (it will be hot, but not painful).
Hold into desired shape until completely cooled.
Turn off oven.
Get string, hemp, or cord, and wrap over and over around the middle of the cuff; knot and leaving small tails hanging.
Take old pendants/beads/drops, and attach their jumprings onto various places of the string, creating a beautiful and unique bracelet for next to nothing!
Wear out on the town, give to a dear friend, or sell for about $80!
By Brianna from Dutch Harbor, AK
This is an easy recycled craft that you can make in 20 minutes or less. It makes a hip container for that small potted plant that you are planning to give someone as a gift this Christmas.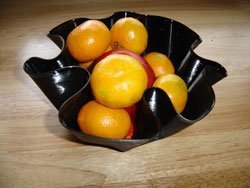 Warning: Make sure you do this in a well ventilated area to avoid inhaling fumes. Open windows and make sure the fan is on in your kitchen.
Ingredients:
Record that you no longer care about
Oven safe bowl (approx. 9" across the top)
Cookie sheet
Directions: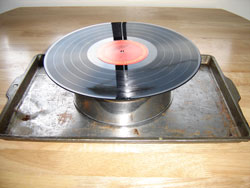 Preheat oven 200 degrees F. Place Bowl upside down on the cookie sheet place record on top of the bowl. Once oven is preheated place in the oven for 8-10 minutes.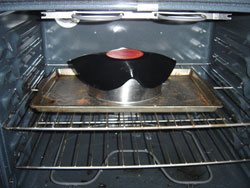 Now the record should be soft enough to mold, and cool enough to touch but use pot holders at first, just to be safe. The bowl and cookie sheet will be much hotter than the vinyl. Turn the bowl right side up and place the record in side it, and mold until you got the shape you want. You only have about a minute to work with it, so work fast. If it is not just right put it back in the oven for a few more minutes and try again.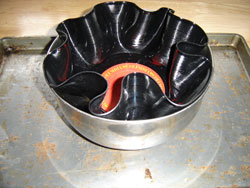 Once it has completely cooled it is ready to use. It took less than five minutes for mine to cook completely. What for you may ask?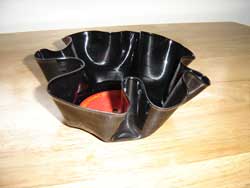 Fruit bowl
Flower pot (already has the drainage hole)
A place to put your keys
A decoration
A gift
Nail it to your wall has art
Paint it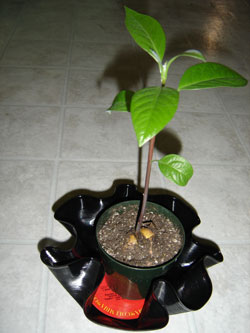 * Notice to pet owners: hair sticks to this very easily. Simply just wipe it down with a wet cloth.
Simple use for vinyl records!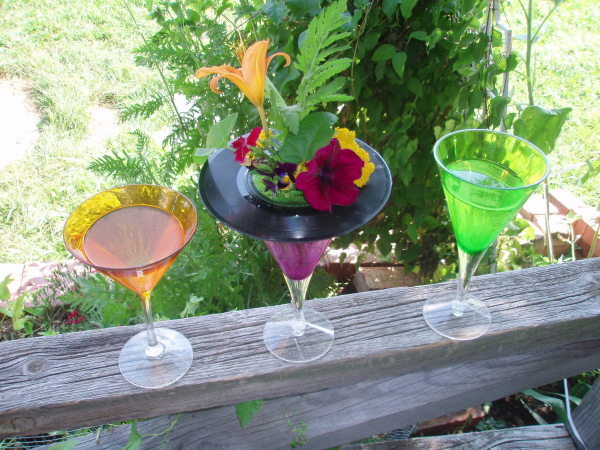 Approximate Time: 5 minutes
Supplies:
old vinyl records (any size)
vases
glasses
plants or flowers
Instructions:
Simply place records over a fancy drink glass or vase and place flowers in the middle. Pretty for a party.
You can also do this with houseplants (keeps them moist longer) or even in your garden to hold down weeds around your growing corn stalks/veggies.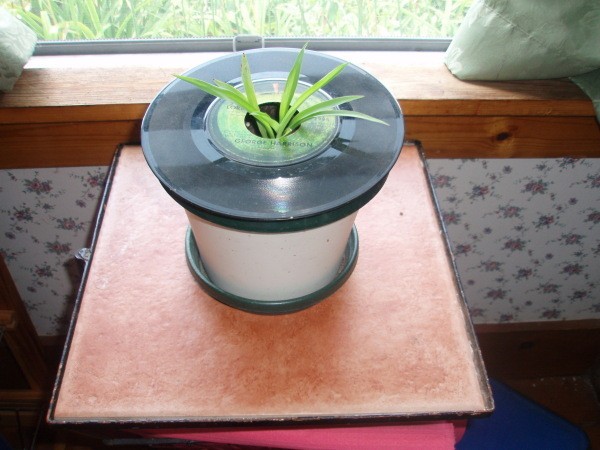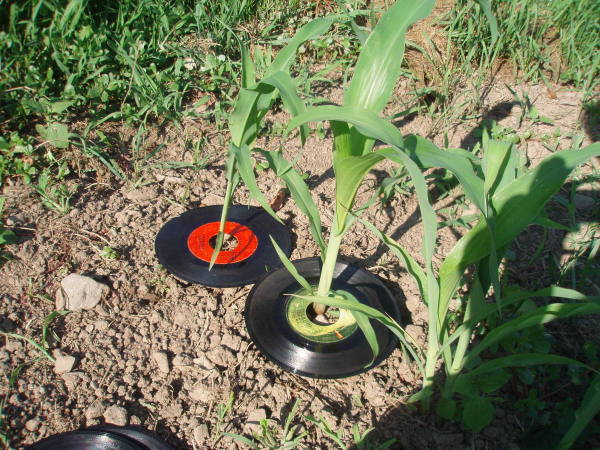 By AHA! from Sterling, PA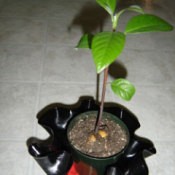 Here are some ideas for old vinyl records.
A Record Clock
My husband made a clock out of one of our old records. It's pretty cool!
By Diane
Make a Record Bowl
I have an idea for old records scratched a little or whatever; I remember years ago when we put the records in the oven at a very, very low heat, not enough to melt, but just barely enough to make the record bend; if you have another easier way to warm the record. Bend the sides upwards to form a basket shape; then you could put a decal or design in the middle & paint as desired.
By Beulah
Art From Record Shards
You can break some into pieces and decorate some frames for the person in your life that loves to dance or that loves music. You can even splatter the pieces with some paint before you glue them to your frame.
By Deb in Canada
Bake Sale Plates
I cover mine with foil and use them to put bakery items on for our school/church bake sales.
By Jan
Table Decorations
The high school graduating class of 2004 used old records on the tables, one for each graduate. They had been spray painted silver. Each grad was given a black marking pen and boy did they have fun going around the room getting other grads to sign their record. Their name was written on what looked like the thing they snap down in front of the camera when making a movie to tell which scene is next. The theme of the grad was Hollywood. A few antique cars were also brought into the room to be used in the background when taking pictures.
Give a "thumbs up" to the solution that worked the best! Do you have a better solution? Click here to share it!
Questions
Here are questions related to Uses for Old Records.
I desperately want the instructions for the vinyl album purses, can anyone help?

Evonne from Smithville, TX
Ad
---
---
Most Recent Answer

By Sandi/alan (Guest Post)01/15/2009
There are more than 1 patent on the"recordpurse" Each one is different enough from the others that patents were issued. Three that I know of. The patent states that if the item has a,b,c and d parts and you make one that's a,c and d (skipping the d part)or abc and e parts (again skipping a part plus adding one of your own)you are not infringing on the patents. The key is to drop at least one aspect of the patent. If something requires a washer and you can make a better product by not including it, you do not infringe.
Does anyone have any ideas on what to do with old record albums? These are classic albums some warped and some in pretty good condition. I was thinking about maybe framing some for interior decor or selling them online, but I have never even been on eBay or anything. Any suggestions would be greatly appreciated!
By Joanne A.
Ad
---
---
Most Recent Answer

By JULS [5]08/07/2011
I've also seen alot of record albums lately in antigue shops organized according to genre. We get a kick out of going thru them and finding cool albums.. make sure they play well first before ttying to sell them. We get them for a few bucks a piece in antique shops.
Anyone have cool ideas for repurposing old vinyl records?
By Donna
---
Most Recent Answer

By Karen H. [10]07/09/2012
I see above a link for a bowl. I made one! It's really cool with colored candies like those bright licorice ones w/the pink, blue & yellow with black in it or for nuts & stuff for a party. You could also follow that (bowl) for the heating instructions & fold almost in half to make a wall rack for mail or other paper things to get out of the way & organized. Just drill 2 holes through it at each side - inside on the top & screw it in the wall. Good luck. : D
I have some old albums. I have seen them made into bowls by melting them in a regular oven, over oven proof bowls and bent into shape.
I would like someone to tell me how to do this, as I would love to make some bowls from these old albums to put homemade cookies in for gifts. I love to give unusual gifts.
I know these bowls can only be used for cookies and snacks because of the hole in the middle, but I would rather recycle the albums instead of throwing them out. I like to recycle as much of things as I can. Can anyone help me with this project? You can contact me through this site. Thanks in advance.
By Peggy in PA
---
Most Recent Answer

05/25/2011
There is also this link from the ThriftyFun archives with lots of how to information:
http://www.thriftyfun.com/tf895928.tip.html
Please be sure to line the vinyl bowl with a cloth if placing food in it because the type of plastic the vinyl contains can leach it's chemicals into the food otherwise.
Does anyone have an idea for recycling old vinyl records, other than send to Op Shop?
By Bevyanne
---
Most Recent Answer

By Kelly Miller01/06/2014
It is a very good idea to recycle vinyl records and reuse plastic and get home organized. In the recycling process old albums are shredded and melted down to create new pressings. These process can be used both in traditional or non-traditional ways.
Archives
Thrifty Fun has been around so long that many of our pages have been reset several times. Archives are older versions of the page and the feedback that was provided then.
Does anyone know how to make the purses and bags that are popular now out of juice pouches, record album covers, basically any cute paper or cardboard label? They appear to be laminated and then sewn together? It feels more like a flexible vinyl though. Any thoughts? My daughters like the ones from Kool-aid packets and I thought it might be a neat project.
Thanks for any help!
Elizabeth
---
RE: Making Purse Out Of Record Album Covers
Here's what I know about these type purses.
Most people that do the record album purses sandwich the album between two pieces of clear vinyl. I learned the basic on another crafting forum, but can't seem to remember when or where. You basically take the medium weight clear vinyl (Approx. $2 per yard at Wal-Mart) and sandwich the record album between two sheets. Some people cut the album cover in half and have the front on the front of the bag, and back on the back. Depending on how wide you want your bag, you cut strips with a half inch seam allowance added for the sides and bottom. If you're familiar with purse sewing, it should be pretty easy to eyeball.
Onto the Kool-Aid pouch purses. I'm selling about $200 worth a week and barely keeping up with orders. Prepping the bags is the most time consuming part, as it only really takes about 20-30 minutes to sew the purse once the bags are prepped.
I cut the bottoms out of each pouch and drain the drink into a pitcher (yes the kids are now SICK of koolaid). Soak the empty pouches in warm soapy water to get the sticky juice out, then drain upright. I leave them overnight so they can get good and dry.
With a pair of scissors that you don't care about dulling pretty quickly, cut the backs off of the pouches. They should be a smooth, flat, single layer of aluminum/plastic when done.
The hardest part for me, and maybe someone knows a better way to do this, is removing the sticky from where they stuck the straw on the pouch. I use jojoba oil. I lay out about 10 bags at a time and put a drop of oil on each sticky spot, then leave it for about 15-20 minutes. Then I rub off the sticky with my thumbnail.
I bought a Kool-Aid purse for $20 to figure out the pattern and was HIGHLY disappointed about a week later to have little black spots all around my purse where the lady didn't remove the sticky. It is very important to remove the sticky.
Once the sticky is off it's time to get to the easy part of Kool-Aid purses. I use Wonder Tape to assemble my purses for sewing. It keeps the pieces together so they don't slide once on the machine. I use a jean needle and set my machine for a close set, wide zig zag stitch.
Lay out the bags according to how you want your purse to look. The wonder tape is 1/4 inch wide, and the seams on the koolaid bags are 1/4 so it makes a perfect guide for lining up the bags for sewing. The most common size purse is 1 bag high X 2 bags wide X 1 bag deep. Stick two pouches together side by side threes time and sew a zig zag stitch down the seam. If you are lining the purse, take the 3 2-pouch sets you've sewn and the 2 single pouches you have left to use as patterns for cutting the lining material.
Take the two "side" pouches and line them up on each end of one of the pouch sets you've just sewn together. You will lay the bottoms of the single pouches wrong sides together running top to middle on each side of the bottom pouch set. Sew both sides to the bottom of the bag leaving 1/4 inch edge unsewn at the top and bottom, then trim off the excess bottom.
You're really almost done. Folding back the side pouches where you left the 1/4 inch open, line the front (from the other 2 2-pouch sets you sewed together) panel up with the bottom of the bag, wrong sides together, and zig zag together leaving 1/4 at beginning and end of stitch. Repeat for the back panel.
Line up and sew all four of the side seams wrong sides together top to bottom. Some people use the folded up bags to make the handles, but I prefer poly-pro nylon webbing. It's sturdier and more comfortable.
Also, the coin purse that accompanies the Kool-Aid purses are simple. Just fold one pouch over about 3/4 from the top and run a 1/4 inch seam across the top. Line that pouch on top of another pouch wrong sides together. Zig zag around entire full pouch. Fold top flap down. IF you're using velcro to close the coin pouch, sew the velcro before you sew the two pieces together. I use magnetic clasps, so I can skip a step.
Now, if you haven't gone blind from all this writing, GOOD LUCK with your Kool-Aid pouch purse. If you'd like, I'm making a few tonight and can take pictures of the steps for you. Hope you can understand the directions. They really are quite simple once you've done one or two. (03/08/2005)
By MsMischf
RE: Making Purse Out Of Record Album Covers
Your directions sound great! I'm very much a visual person, though - if you would take a few pictures and post I'd love to see it made-in-action! My daughter loves these and I'm looking forward to making us each one. (03/10/2005)
By Sarah
RE: Making Purse Out Of Record Album Covers
Juice Purse Instructions:
First slit the bottom of your juice pouches and rinse out with warm soapy water.
You can let dry overnight or use a paper towel and dry them by hand. Now, take 2 pouches and sew them together using a zigzag stitch side by side overlapping the edges.
Do that again with 2 more pouches. These 2 panels are your front and back. Now, take 1 by itself and place it backside to backside of one of the 2 panels and stitch up the side starting from the top going down leaving about a 1/2 inch un-sewn at the bottom.
Open it up and this should now look like a corner, not overlapped like the 2 that is a panel for the front and back of the purse. Now connect the rest of them together adding another single side panel.
You now have 6 pouches sewn together, 2 in front, 2 in back and 1 on each side. Now, you will have to measure carefully and get 2 more pouches and figure out how wide your bottom is now that you have the top sewn.
Make sure to leave enough to sew and don't just set the purse on the pouch and cut that way, the bottom will be sewn like the corners so you will need a tad extra.
Once you have cut the 2 pouches almost in half but to equal the bottom width sew them together in the middle overlapping them but make sure you over lap enough but have enough to go to the ends for sewing to the purse sides, front and back.
Now, this is the tricky part. Start with a long side and place bad side to bad side and make flat and sew all around the purse.
It will sort of pucker out b/c you are sewing on it making it flat. But, remember when I said not to go all the way down the sides when sewing, this allows for you to be able to fold up the bottom of the pouches to sew onto the bottom panel.
Now for handles I went to a local retail store or you can go to a fabric shop and buy nylon belt type material in the fabric dept. if they are out, you can go to the automotive dept and buy a strapping belt made of the same stuff and I think it is actually cheaper too.
Now, I duct taped it down on the inside of the purse once I figured out the length and then stitched it down at the top. Your fabric lining will cover the duct tape. Of course you do not have to have a lining and can stitch down the nylon handle to the purse and the purse is finished. Your purse is complete.
Tip: If you can't wait to make the purse because your juice pouches aren't empty you can slit the bottom of the pouches and pour them in a pitcher for later. (07/06/2006)
By SOMEONE!@