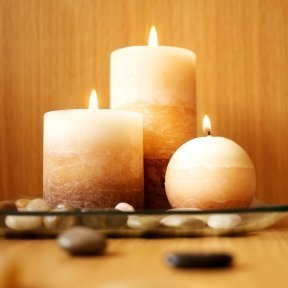 It is not uncommon for candle wax to get on the wall. Simply blowing out your candles too hard can splatter melted wax on the wall. This is a guide about cleaning candle wax from walls.
Ad
---
Solutions: Cleaning Candle Wax from Walls
Read and rate the best solutions below by giving them a "thumbs up".
I knocked a brown candle over and the wax went all over my living room wall. I used a hair dyer to melt the wax, but wiped the wax off with a Mr. Clean eraser dipped in 2 cups hot tap water with 2 tsp of white vinegar. No stains! This works really well on white/cream walls.
Give a "thumbs up" to the solution that worked the best! Do you have a better solution? Click here to share it!
Questions
Here are questions related to Cleaning Candle Wax from Walls.
How do I remove candle wax from my painted wall?
By mooselady from Port Huron, MI
Ad
---
---
Most Recent Answer

By martha01/08/2011
Hi, I too had a red candle on my mantle for the holidays. I also blew too hard and splattered the red wax lightly on my painted wall. Tried all three suggestions (hand held steamer, hair dryer and magic eraser) and nothing removed the stain. The above three were usefull in as much as I was able to remove all wax, but I had to resort to touch up painting to cover the pinkish stain that remained. Hope others have better luck. I must say I didn't tend to the wax on the wall for almost 2 weeks.
How do I get wax off of my wall?
By Kristina from Willcox, AZ
Ad
---
---
Most Recent Answer

By R Dialogue01/14/2012
I literally just tried the ironing tip seconds ago - and it really works!
Red candle wax on neutrally painted wall... Brutal!


How do you clean wax from a potpourri melt off of the wall? I blew out the tea light from underneath but was too high. The wax spattered all over the white textured wall.
By Steve from Boston, MA
---
Most Recent Answer

By Jenn (Guest Post)11/17/2008
I was relighting a candle & I accidentally dropped it... splatter on the TV, wall, floor & my bed. I think I'm gonna go try that :]
How do I get get hardened wax off the wall in my bedroom that's painted with flat paint?
By B.J.Williams
---
Most Recent Answer

By Lauren M.11/24/2013
The application of heat or cold. I think the best option would be to put wax paper over the hardened wax (attach it with tape that won't damage the wall), then hover a steam iron about a centimeter away from the wall. The heat will soften the wax, and the wax should adhere to the wax paper.

Another option is to cover with wax paper, and go over the spot with ice or an icepack. Chilling the wax will make it brittle, and it should pop off without too much difficulty.
I am trying to clean red candle wax from a white wall. How do I get the stain out?
By Deetta
---
Most Recent Answer

By DaniLion09/20/2011
I've heard, but never tried it myself. Use an ice cube to freeze the wax so that it just crumbles off the wall. The coloring from the candle may leave a stain on your wall that would need to be lightly sanded, primed and painted over, but freezing will generally get the majority of the wax itself off.
Any suggestions on how to remove candle wax from a wall would be appreciated.
By LoriMae
I recently got blue wax on a white wall from my candle. I picked the wax with my nail, but it's a day old and the stain is still there. It's not a gloss finished wall. Please help.
By Debbie O.
How do you remove dried wax from a wall?
By Lynette
Archives
Thrifty Fun has been around so long that many of our pages have been reset several times. Archives are older versions of the page and the feedback that was provided then.
We had a large candle that burned to the end only to drip over the side of the dish and all over the Christmas tree, the wall and the carpet. Of course it was a red candle and it stained the wall. We have scraped the wax off of it already but does anyone know what to do to get the stain off the wall? Thanks in advance.

Christine in Sunny Florida

Answers:
RE: Candle Wax off the Wall
05/01/2001
The stain may have soaked into the paint. In that case you might need to repaint the spot. You can try taking a paper towel and your clothes iron. Iron over the paper towel. It will remove any of the wax that might be left and might lift the stain. When you are sure there is no more wax you could try a little Ajax or Comet (provided it's a white wall.)
RE: Candle Wax off the Wall
12/29/2004
I have found to get the stain out is to use SHOUT clothing stain remover. It sounds weird but it worked for my wife's purple candle that made a great mess for the holidays.
By Bad CAndle (Guest Post)
RE: Candle Wax off the Wall
07/28/2005
Use your hair dryer to melt a small area then wipe with a paper towel, then repeat steps until it's clean.
By doug (Guest Post)
I spilt a red candle all over my white wall. I scraped off the wax, used an iron and a blow dryer and most of the wax is gone. However, there is still a pinkish residue on the wall. I tried vinegar and nothing seems to work. I have to get this of the wall!

Please help,
Wyn from Orlando, Florida
---
RE: Candle Wax off the Wall
If all you have left is the stain, try using the "Mr. Clean Magic Eraser". I'm not sure if that is the correct name but it comes in a bar that looks similar to soap. We used it on a stained wall of an apartment we rented and it made the wall look freshly painted. (04/20/2006)
By suerkeene@earthlink.net
RE: Candle Wax off the Wall
Just 10 minutes ago I spilled dark purple wax on my wall. Lets say, I flipped out and started scraping wax off, but I realized it would take forever. After experimenting for a while, I removed all the wax, but realized there was this vivid pale stain against my white wall. So, I got a Mr. Clean Magic Eraser and scrubbed for a minute or two and it was gone.(b)(/b)(b)(/b) (05/06/2006)
By Sierra P.
RE: Candle Wax off the Wall
Thanks for the hair dryer suggestion! It really worked. Quickly and easily, without damaging the paint at all! (02/09/2007)
By Catherine
RE: Candle Wax off the Wall
This just happened to me, my son accidentally ran into a table that I had a electric tart burner on and the wax from the tart was all over the wall. I scrapped some off gently but then I got out Windex and it did wonders, I was real surprised. (03/24/2007)
By chris s
RE: Candle Wax off the Wall
Yes! After reading this site, I tried two attempts - magic eraser and the hairdryer/paper towel method. Eraser is good til you run out of scrubbing power. However, there is nothing like the hairdryer/paper towel method. There isn't even a stain. (11/08/2007)
By Kimberly
RE: Candle Wax off the Wall
The hair dryer works great but it's only part of the solution. Use the dryer to heat the wax, wipe it off vigorously with a dry towel. Then take another cloth soaked with Sol-U-Mel cleaner and wipe until the stain is gone. No, I don't sell Sol-U-Mel. (12/24/2007)
By Done that in MN
RE: Candle Wax off the Wall
I had allow candle wax to drip on my wall, I was discouraged for 2 weeks. Today 3/15/08 I went on google search and looked up cleaning candle wax off a wall. This appeared and I have to thank you for making that job so easy with the hair dryer was easy. I allowed the hi heat of the blow dryer and dry the wax and I took a paper towel and wiped the remainder off. Thank you very much. (03/15/2008)
By Toni
I have read everyone's miracle cures for red candle wax on the wall, with the hair dryer and the Sol-U-Mel. I tried both and nothing is working! I even had my landlord paint over the stain but it has seeped through the paint. Now there are still faint red marks from the wax stain on my wall! If I try the hairdryer again now at this point, will it work better than before? Can someone please help!
Sarah from New York, NY
---
RE: Candle Wax off the Wall
I find that 1 part mustard to 2 parts sulfuric acid works wonders when applied to a wall with a ducks feather. Even got rid of our Hanukkah candle stains from what we refer to as "Black Sabbath Sunday". (03/28/2008)
By Daddy Maz
RE: Candle Wax off the Wall
I am trying to remove red candle wax from my wall. I just tried the blow dryer and then used the Magic Eraser and it worked! So blow dry the stain and then scrub. (04/11/2008)
By Csvallin
RE: Candle Wax off the Wall
So.. my girlfriend spilled a candle in the bathroom on three surfaces .
The Wall - Solution: Hair dryer and paper towels.
The Tiled Floor - Solution: Hair dryer and paper towels. Note: you will spend most of your time on the grout.
The Bathmat (carpet) - Solution: Place a brown paper bag or any paper really (no print!) over the stain. Press an iron (on medium heat) to the paper and watch the "wax spots appear". Use new pieces of paper/brown bag till all the wax is up. (05/03/2008)
By DeeJay
RE: Candle Wax off the Wall
I tried boiling water and a sponge, worked OK. (05/05/2008)
By BB
RE: Candle Wax off the Wall
The hairdryer and paper towel worked great for red candle wax on my white glossy painted wall. After the wax was gone there was still some left over red stain and I used a Mr Clean Magic Eraser to take care of the rest. Thanks Ladies! (10/21/2008)
By Christine
RE: Candle Wax off the Wall
The blow dryer and paper towel work - but there is still pinkish wax residue. So then I used none other than Spray and Wash! It really worked! I sprayed it on, let it soak for 10-20 seconds, and then vigorously wiped it, then scrubbed it off with a white paper towel. (12/31/2008)
By Red Candle Cleaner!
RE: Candle Wax off the Wall
Used the hair dryer and paper towel, yet a greenish tint remained so I tried the Magic Eraser and it removed the paint. The blue paint is now showing through the white. Don't use the Magic Eraser on your wall. (01/11/2009)
By Joel