I have a male min pin and I have a female shih-tzu mixed with pekingese. They have been breeding and they hung together last night. Does anyone know where I could go to find out what their pups would look like?

Brandy from Bullitt County, Kentucky
By brandy
Ad
---
By Linda Jones 13 88 01/24/2009 Flag
I hope you have homes for all the puppies they will have or that you will keep them yourself. Otherwise there is a good chance they will end up in a shelter and will be euthanized.
I do rescue and there are many pure breeds in the shelters that are put down. What do you think would happen to these pups?
I know this is not what you were asking but you need to think before you let them breed again.
By Marcie 6 219 01/26/2009 Flag
I agree with the previous post. Why are you letting these dogs have puppies? Who is going to give these puppies a home? Do you know how many dogs are languishing in shelters and pounds and have no homes?
By Michelle (Guest Post) 02/05/2009 Flag
Don't listen to these people. I have 2 shitzu/min pin mixes,from the same woman who was breeding them, and they are wonderful dogs. They can be very time consuming though, because they demand tons of attention. Just be very careful when you socialize your dog, because if they get scared by someone, between the time of birth and somewhere around 4-5 months, they can become aggressive towards people and other animals. That is true with every puppy though. I think you will be very happy with the puppies you get.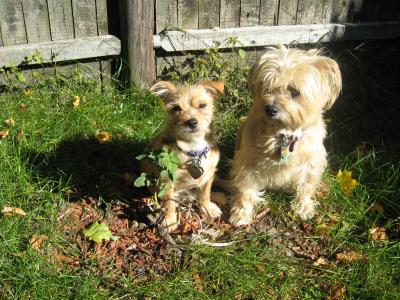 By Ruby Lainez 2 04/06/2009 Flag
To answer your question, we had a litter of 7 shih tzu / min pins. It wasn't on purpose, our female shih tzu doesn't get out but when she was in heat, the male min pin from down the street got in :O. It is stressful and expensive to have a litter, especially in winter so do do your homework to see if you really want to do this. BUT they were super cute and were easy to place as long as it was free (just got reimbursed for 1st shots). It's funny how many of them look like little terriers but a few look more min pin. 3 were short hair and 4 had longer hair. I have more pictures of the litter as they grew up at my photo site:
http://rubyvargaslainez.smugmug.com ... lery/7034577_wGZVU/1/450571503_LHBzu
I love or sweet pups.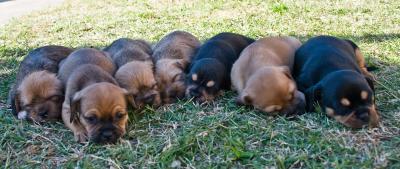 By Ruby Lainez 2 04/06/2009 Flag
These are the 2 puppies we kept and they were the most polar opposite of the litter too. It is funny to tell people they are from the same litter, people don't believe it :D.
I recently bought two pintzus from an accidental breed (another from the litter went to another family member, so we have three in the family all in all). Two are much more terrier-like and have wirey hair (one black, one brown), while one of ours look much more pinscher like and has the lonnnnngest legs ever. She's black/white and very spry. None of them look like they came from the same litter at all.

If you wanna see them in action click here ===> http://www.youtube.com/mializaful .
And there's always pictures of them in my Flickr puppy stream: http://www.flickr.com/photos/destinyphotography/sets/72157622421503035/

I'll post some photos below.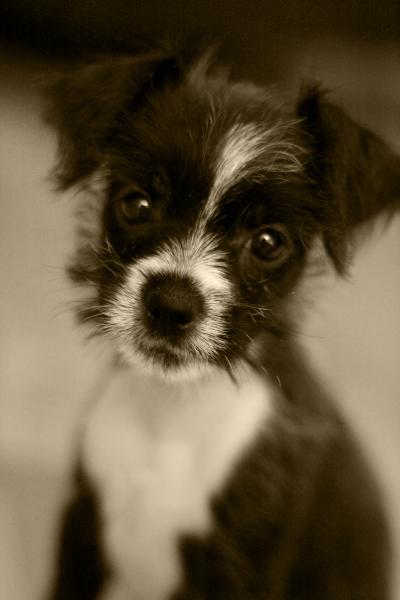 And a photo of our other pintzu, Mia. The first one was Liza.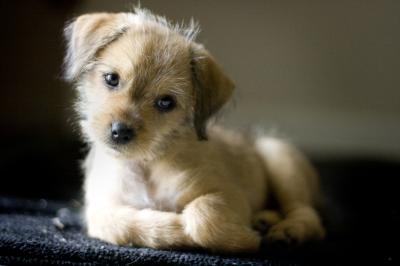 I just adopted a male Pin-Tzu, Jackson. He is now 4 months old and the cutest little guy ever! The father was a p/b Min. Pin (8lbs) and the mother p/b Shih-Tzu (16 lbs). Jackson weighs 5.5 lbs and it does not look like he will get much bigger, but you never know.

The puppies look nothing like either parent, but more like terriers or even yorkies.

Jacksons' temperment is amazing and he is very smart and affectionate. I would recommend this breed to anyone.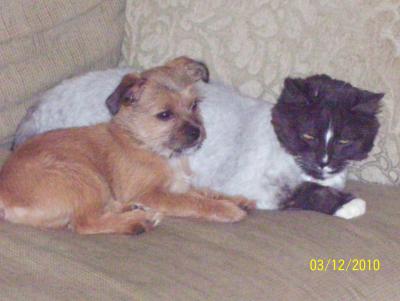 By Bridgett Johnston 1 10/28/2010 Flag
I have a pin tzu but hes one that favors the pincsher. He is very loveable and doesn't weigh more than 5 lbs so far. All but one of the pups in the litter look like him and the other looks kind of like a terrier. I love my little dog hes the perfect house pet.
I have a shih tzu/min pin mix she is eleven weeks old and a real sweetie. I know that the hair can be a variety of length on them. However Autumn has longer hair and it is adorable. As shown in the pictures below.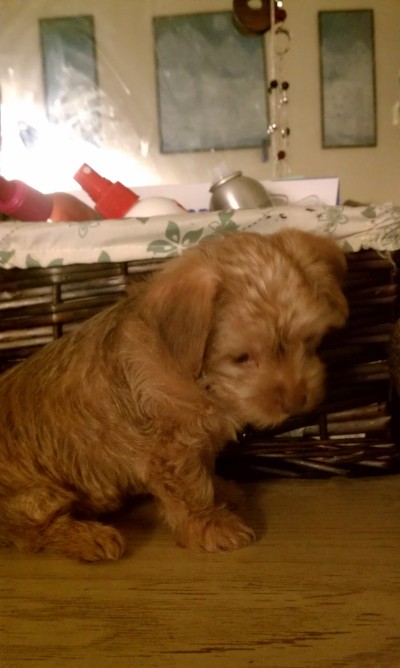 By Wendy Webb 1 07/15/2013 Flag
After losing my Chihuahua, I was in search of another dog for my home. I found Sadie who is a Shih Tzu/Min Pin mix and I paid $75 for her. She recently got parvo (even though she was updated on shots) and lived through it, with the help of her mommy coming to the vet to see her every day she was there. I love my little Sadie Bug and she is all about me and very protective. I have 3 kids and she is great with them. She is very stubborn and was hard to potty train. I hope to have her for a long time bc she is my 4th child and I love her just like she is one of my own. She is very loving and I couldn't ask for a better pup.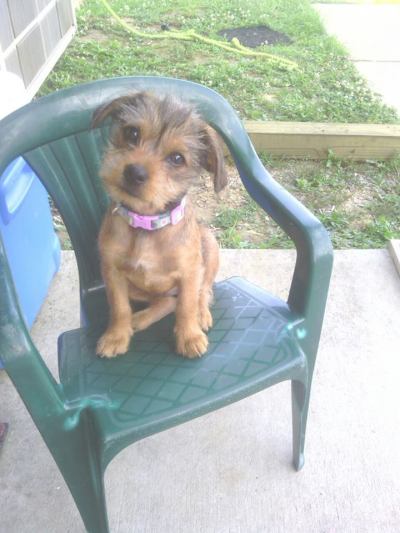 By Michael H. 1 11/04/2013 Flag
My wife and I have two puppies about 11 weeks old. We had one about 7 months ago he passed away. He was poisoned we tried to save him but the vet couldn't do anything. We stayed with him for three nights in a row before he passed away:(