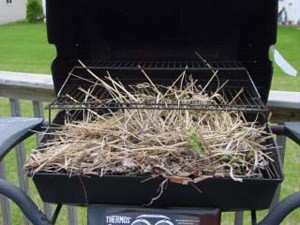 In a frantic spring of trying to garden, paint my porch and deck and dodging raindrops, I neglected to check my gas grill! I had put duct tape over the holes on the sides of the cover, knowing I could get visitors. This oversight has now officially put the grill off limits for some time to come.
I just thought you might enjoy this "keep focused or else!" moment. It seems that some prehistoric birds have built their nest in the grill. The parents should be very proud. There are several large chunks of newspaper in it, and a number of fresh greens plucked from goodness knows where.
It'll be easy enough to clear once the babies have left. A big fire and a lot of scrubbing with the wire brush. But in the meantime, I'll be happy watching the little ones. By the way, I did put the cover back down.
By Pollylev
Ad
---
Feedback Forum
Feedback about this article is posted here. Want to contribute? Click above to post feedback.

By Melissa M. [25]06/06/2009
Birds hate noisy things, maybe put a windchime or 2 on it.

By Maryeileen [76]06/04/2009
Do you know what kind of birds they are? Please keep us posted.

By Judi [17]06/04/2009
Bless your heart! You won't use the grill until the babies leave. How nice of you! We got a lot of laughs the years we moved our cars out of the carport because we would scare teh birds nesting in the rafters if we parked there. People thought it was so funny that we gave up our carport to the birds. Happy to know we're not the only "bird nuts"!
Post Feedback
Add your voice to the conversation. Click here to share feedback.
Archives
Thrifty Fun has been around so long that many of our pages have been reset several times. Archives are older versions of the page and the feedback that was provided then.
I need a way to help keep birds (any kinds ) from building birds nest in my BBQ grill. We have burned the nests many times - before the mother could lay the eggs. And they keep coming back. i have left the lid open and they still build. And when it is covered they still get in there. Any ideas?
Lori
---
RE: Keeping Birds From Nesting in a BBQ Grill
Try a small windchime that hangs from the top when it is open. Between the noise and the sound, they should be too spooked to build a nest there. (06/03/2005)
By anon.
RE: Keeping Birds From Nesting in a BBQ Grill
I read in a gardening book to blow up a small glad trash bag and put it near the grill. I tried a Walmart bag, so far it worked. I just went and bought a wind sock, looks better, and hopefully that works.. (05/21/2007)
By Angie
RE: Keeping Birds From Nesting in a BBQ Grill
Did any of the posted suggestions work? Also, any ideas on how to clean bird poop from the inside of the grill? Or should I just resign to getting a new grill.
Any help is appreciated. Thank you. (06/06/2007)
By Donna
RE: Keeping Birds From Nesting in a BBQ Grill
Just light a big hot fire in the grill and any bird residue will be baked off. Just hose out the grill and you should be good to go.
By Jess