Don't throw away all that hair that you brush off your dog. I place mine in the yard and the squirrels, chipmunks and birds go crazy using it for nesting materials. Since I have two German SHEDDERS *G* we have a lot of fur to share.

Note: I have no idea how the birds would react to cat hair! *g*.

By Christine from Sterling, Virginia
Answers:
Place Dog Hair In Your Yard For Nesting Material
We do the same thing with our pooch's hair. Kato aka The Wonder Dog is a LONG haired GSD and a "fur factory"! He's feathered many a nest in the neighborhood! (02/27/2008)

By javajano
Cat hair works, too!
I couldn't help but giggle when I read your posting. Several years ago I had the bright idea to put some of my Persian kitties' fur outside for the birds to "harvest," and to my surprise and joy, they went for it! The fur disappeared quickly from the area where I had spread it out, and to my delight, after springtime, I was able to salvage a birdnest that a bird had built under our carport and it had my cat's hair in it! I was thrilled!

I kept that birdnest for a couple years, until we moved into our new house and my husband said I needed to "let it go." But I can promise you that yes, the birds WILL use cat-hair. Who would have thought! lol This is my cat Baby in the photo, under the couch table. (02/27/2008)

By themusiclady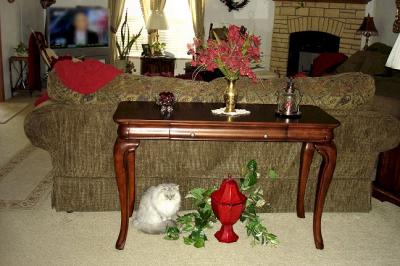 Place Dog Hair In Your Yard For Nesting Material
Oh - oh. We have two of those 'GSDers' as well. the standing joke here is that I can collect a shitz-tu in one sweeping. I try to do a lot of the brushing while out on walks somewhere - preferably windy. (02/27/2008)

By solus
Place Dog Hair In Your Yard For Nesting Material
When she has her major sheddings twice a year, my best friend Liza ( a mix of Australian shepherd + border collie + ? ) "shares her abundant wealth" SORRY AGAIN!! (02/28/2008)

By macheart