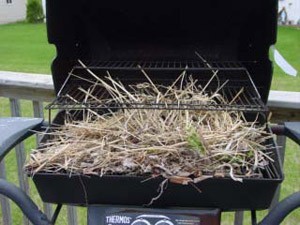 In a frantic spring of trying to garden, paint my porch and deck and dodging raindrops, I neglected to check my gas grill! I had put duct tape over the holes on the sides of the cover, knowing I could get visitors. This oversight has now officially put the grill off limits for some time to come.
I just thought you might enjoy this "keep focused or else!" moment. It seems that some prehistoric birds have built their nest in the grill. The parents should be very proud. There are several large chunks of newspaper in it, and a number of fresh greens plucked from goodness knows where.
It'll be easy enough to clear once the babies have left. A big fire and a lot of scrubbing with the wire brush. But in the meantime, I'll be happy watching the little ones. By the way, I did put the cover back down.
Comments
May 27, 2015
0

found this helpful
Top Comment
I live in the Chicago area so in the fall I put an old waterproof table cloth over the grill & secure it with bungee cords. I also add a sheet of Bounce dryer sheets to discourage bees & yellow jacks from nesting in it.
I also have an outside light that they love to nest on. Every year I'd take down the nest and every year the birds would return & build a new one in its place. So one year I left the nest in its place by spring it was falling apart but I still left it there. To my surprise they stopped nesting there - end of problem.
Good luck.
June 3, 2009
0

found this helpful
I need a way to help keep birds (any kinds ) from building birds nest in my BBQ grill. We have burned the nests many times - before the mother could lay the eggs. And they keep coming back. i have left the lid open and they still build. And when it is covered they still get in there. Any ideas?
Lori

Answers:
Keeping Birds From Nesting in a BBQ Grill
Try a small windchime that hangs from the top when it is open. Between the noise and the sound, they should be too spooked to build a nest there. (06/03/2005)

By anon.
Keeping Birds From Nesting in a BBQ Grill
I read in a gardening book to blow up a small Glad trash bag and put it near the grill. I tried a Walmart bag, so far it worked. I just went and bought a wind sock, looks better, and hopefully that works. (05/21/2007)

By Angie
Keeping Birds From Nesting in a BBQ Grill
Did any of the posted suggestions work? Also, any ideas on how to clean bird poop from the inside of the grill? Or should I just resign to getting a new grill.

Any help is appreciated. Thank you. (06/06/2007)

By Donna
Keeping Birds From Nesting in a BBQ Grill
Just light a big hot fire in the grill and any bird residue will be baked off. Just hose out the grill and you should be good to go.
By Jess