Keeping Birds from Nesting in a BBQ Grill
In a frantic spring of trying to garden, paint my porch and deck and dodging raindrops, I neglected to check my gas grill! I had put duct tape over the holes on the sides of the cover, knowing I could get visitors. This oversight has now officially put the grill off limits for some time to come.
I just thought you might enjoy this "keep focused or else!" moment. It seems that some prehistoric birds have built their nest in the grill. The parents should be very proud. There are several large chunks of newspaper in it, and a number of fresh greens plucked from goodness knows where.
It'll be easy enough to clear once the babies have left. A big fire and a lot of scrubbing with the wire brush. But in the meantime, I'll be happy watching the little ones. By the way, I did put the cover back down.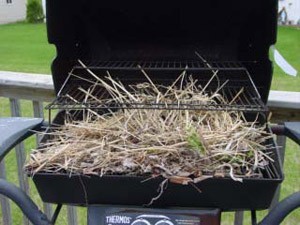 Add your voice! Click below to comment. ThriftyFun is powered by your wisdom!
May 27, 2015
0

found this helpful
Top Comment
I live in the Chicago area so in the fall I put an old waterproof table cloth over the grill & secure it with bungee cords. I also add a sheet of Bounce dryer sheets to discourage bees & yellow jacks from nesting in it.
I also have an outside light that they love to nest on. Every year I'd take down the nest and every year the birds would return & build a new one in its place. So one year I left the nest in its place by spring it was falling apart but I still left it there. To my surprise they stopped nesting there - end of problem.
Good luck.
June 4, 2009
0

found this helpful
Bless your heart! You won't use the grill until the babies leave. How nice of you! We got a lot of laughs the years we moved our cars out of the carport because we would scare the birds nesting in the rafters if we parked there.
People thought it was so funny that we gave up our carport to the birds. Happy to know we're not the only "bird nuts"!
June 6, 2009
0

found this helpful
Birds hate noisy things, maybe put a windchime or 2 on it.
Add your voice! Click below to comment. ThriftyFun is powered by your wisdom!