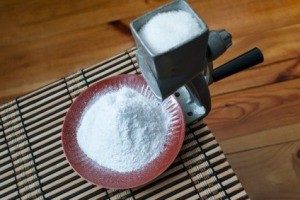 You don't need to run to the store to buy powdered sugar for the recipe you are making; make your own. This is a guide about how to make confectioners (powdered) sugar.
Ad
---
Solutions: How to Make Confectioners (Powdered) Sugar
Read and rate the best solutions below by giving them a "thumbs up".
After baking for Easter, I discovered I ran out of powdered sugar for the icing. After having a nervous breakdown, I remembered my mom, Wanda Colerick would make her own. I thought I would share with all of you!
Approximate Time: 10 seconds
Yield: 1 cup
Ingredients:
1 cup Sugar
1 Tbsp Corn Starch
Ad
---
Directions:
Using a blender, blend until powdery like powdered sugar!
Source: Mom
I make my own powdered (confectioner's) sugar. I whirl it in small amounts (1/2 cup or less) for a few seconds, maybe a minute, in the blender or food processor. I think it's cheaper than buying it. Since I always have sugar, I don't have an "extra box" sitting around, either.
By thriftyvicki from Dallas, TX
To save some money during the holidays; Bubba's Quick Confectioners Sugar mixture!
Ingredients:
1 cup regular table sugar
2 Tbsp. cornstarch
Directions:
Pour sugar and cornstarch in to food processor, food chopper or blender. Turn on high until mixture is a fine powder.
Note: If your recipe calls for more than a cup, make some more!
Source: My Kitchen (and billfold!)
By johnluse from Columbus, GA
Superfine or 10X sugar (also known as Ultrafine, bakers, castor or bar sugar) is regular sugar that has been ground into a fine powder. It will dissolve easily into beverages and baking mixes. This differs from powdered sugar (or confectioner's sugar) because of the addition of cornstarch to prevent the powdered sugar from caking and powdered sugar is even finer. If you have no powdered sugar, you can put some granulated (regular) sugar in a blender with a pinch of cornstarch and process it.
If you are out of powdered sugar, put regular sugar in the blender and process on high until it turns powdery. Be sure to stir up the sugar on the bottom a couple of times so it all turns out to be the same consistency.
Give a "thumbs up" to the solution that worked the best! Do you have a better solution? Click here to share it!
Questions
Here are questions related to How to Make Confectioners (Powdered) Sugar.
How do you measure homemade powdered sugar? That is, when you grind up one cup of granulated sugar does it equal one cup of powdered sugar?
By Carole from Surprise, AZ
Ad
---
---
Most Recent Answer

By Jill11/26/2010
Wow. Did I learn a lot today! I was trying to save money by making my own powdered sugar and what I learned is that it's more money, and here's why! I learned this after I just went out and bought 6 bags on sale! The reason is because a 4 pound bag of granulated sugar would yield 10 cups of powdered, figuring your yield will be approx 25% more after blending, and a 2 pound bag of powdered sugar has 7.5 cups.

Let's take Aldi, for example. A 2 lb. bag of powdered goes for $1.29 which makes each cup worth slightly over 17¢. A 4 lb. bag of granulated goes for $2.49, which makes each cup worth just slightly under 25¢. Plus, the added cost of corn starch, electricity, and blade wearing on your blender. So, you're paying 33% less for the ready made. I never knew, and now I'm stuck with 6 bags of granulated, but at least it was on sale on the cheap for $1.69. Me and my crazy knack for figuring! Mad, at myself! Hehe!

But this is great to know in case you're in a pinch and the store is closed or you simply don't want to go to the store for one ingredient! The pic is some of the cuppycakes I make with my homemade buttercream frosting with powdered sugar!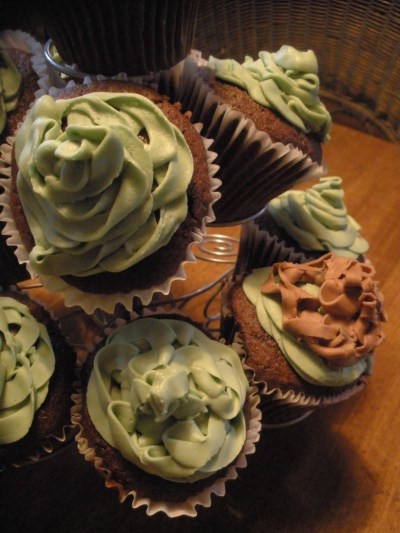 What is 10x sugar? Super fine?
How can I make powdered sugar for commercial purposes? What anti-caking agent can I use? I would also like to preserve the powdered sugar for up to 2 years. Any suggestions?
By Ekas from Lagos, Nigeria
---
Most Recent Answer

04/13/2010
Can you explain in more detail what you mean for commercial use? I am fairly sure you can find out about making powdered sugar by doing an online search. I do know that powdered sugar is simply granulated sugar very finely sifted. Also, what do you mean by no caking agent? As for preserving it for up to two years it needs to be kept in sealed containers of some sort and completely kept away from moisture.
Archives
Thrifty Fun has been around so long that many of our pages have been reset several times. Archives are older versions of the page and the feedback that was provided then.
If you run out of confectioners (powdered) sugar. Take granulated sugar and pour in blender, and blend until it is powdery. You can do a cup or 2 at a time. Editor's Note: You need to add 2 Tbsp. of corn starch per cup of granulated sugar.

By Sassy
---
RE: How to Make Confectioners (Powdered) Sugar
I had to add about 2 tbsp of corn starch per cup of sugar to it to make it the same consistency as Confectioners and i couldn't tell the difference after my frosting was made. Thanks for posting!
By Beth
RE: How to Make Confectioners (Powdered) Sugar
All the powdered sugar you buy has corn starch already added to it. That is why you don't get the same result just by blending sugar in the Kitchen Aid. (01/18/2006)
By Jess
RE: How to Make Confectioners (Powdered) Sugar
IMPORTANT NOTE: Actually, its not just about making the sugar into a fine powder in your blender and voila: for confectioner's sugar you must also add 3% corn starch to your mixture, not just to prevent caking (as some have mentioned) but also because it helps make your icing congeal (come together) and stay as firm as you desire, holding its shape. It would otherwise be too thin and runny without it and your icing would dribble all over, and eventually off of your dessert (after all, corn starch is a thickener and binder). (09/28/2007)
By ladybugjane
RE: How to Make Confectioners (Powdered) Sugar
Is there anything else you can add to it besides corn starch? My daughter is allergic to corn? (12/28/2007)
By Risa
RE: How to Make Confectioners (Powdered) Sugar
Risa, we also have a food- and sugar-sensitive household, so I've been making powdered erythritol (of all exotic things). If you can't use corn starch, any form of powdered starch will work: potato starch, arrowroot, tapioca starch. You should be able to get any of this in a health-food store, if you can't find it in the regular grocery store. About a tablespoon of any starch per cup of sugar will do it. Starch keeps the sugar from getting all burnt and melty too. You can also whip this up in a small food processor, if you prefer. (01/13/2008)
By McJohn
Use equal amounts of granulated sugar for the amount of powdered sugar you want to make. Place the granulated sugar in a blender container and blend till fine. It's ready to use immediately.

There is no need to rush to the grocery just because you have no powdered sugar at home, for your recipe, just make it yourself!

By Terri H.

Responses:
RE: Homemade Confectioner's Sugar or Powdered Sugar
02/18/2005
i havnt heard this about confectioners sugar. i had about superfine sugar. put it in the blender for about 5 mins and it hadnt changed at all.
By sandy (Guest Post)
RE: Homemade Confectioner's Sugar or Powdered Sugar
02/28/2005
Is Confectioner's Sugar really the same as Powdered Sugar? I heard it contains some corn starch in it. I live in Germany, love american recipes and would LOVE to know what I can use instead of Confectioner's Sugar because I can't get it here. Thanks for any help!:)
By Anja (Guest Post)
RE: Homemade Confectioner's Sugar or Powdered Sugar
03/11/2005
Hi, this was my original post. I've never heard of powdered sugar or confectioners sugar having any cornstarch in it. I, personally, haven't ever made this product in my blender, but my Aunt has made it and says it's just as good as the boxed, store bought stuff.
By badwater
Out of Confectionary Sugar (Powdered Sugar)?
05/13/2005
Here is a quick solution. Take granulated sugar and add 1 teaspoon of cream of tartar, and place in blender at high speed, until it reaches a powdery texture.
By RSocash
RE: Homemade Confectioner's Sugar or Powdered Sugar
01/02/2006
Confectioners & Powdered sugar are the same, just depends upon what part of the country your from. I added about 1 tbsp per cup of sugar to my blender and it worked perfectly for my cream cheese frosting!
By Beth (Guest Post)
I want to learn how to make confectioners sugar.
Brenda
---
RE: How to Make Confectioners (Powdered) Sugar
I just put regular sugar in the blender. (01/08/2009)
It seems to have the same consistency to me. I use a vitamix so that might make the difference. (01/08/2009)
RE: How to Make Confectioners (Powdered) Sugar
Put regular sugar in a coffee grinder and whirl away. I have an extra grinder for pulverizing things that are not coffee. Or just wipe out the coffee in your grinder before you make the powdered sugar. For chocolate frosting, the coffee residue could enhance the flavor. (01/08/2009)
By pigeon toes
RE: How to Make Confectioners (Powdered) Sugar
Just use granulated sugar and grind it. I use it for black powder and it works fine, don' know if it works for frosting but you can try if you want to. (02/19/2009)
By fossildog
RE: How to Make Confectioners (Powdered) Sugar
I have made powdered sugar this way many times, As my husband and many friends are diabetics, I use Splenda instead of sugar, wonderful results. (10/08/2009)
By knsabear
Powdered sugar can be made from regular sugar in a conventional blender. This way you don't have to buy two types of sugar or make a special trip to the store!