You don't need to run to the store to buy powdered sugar for the recipe you are making; make your own. This is a guide about how to make confectioners (powdered) sugar.
If you are out of powdered sugar, put regular sugar in the blender and process on high until it turns powdery. Be sure to stir up the sugar on the bottom a couple of times so it all turns out to be the same consistency.
I make my own powdered (confectioner's) sugar. I whirl it in small amounts (1/2 cup or less) for a few seconds, maybe a minute, in the blender or food processor. I think it's cheaper than buying it. Since I always have sugar, I don't have an "extra box" sitting around, either.
By thriftyvicki from Dallas, TX
By Irishwitch 390 18
After baking for Easter, I discovered I ran out of powdered sugar for the icing. After having a nervous breakdown, I remembered my mom, Wanda Colerick would make her own. I thought I would share with all of you!
Approximate Time: 10 seconds
Yield: 1 cup
Ingredients:
1 cup Sugar
1 Tbsp Corn Starch
Directions:
Using a blender, blend until powdery like powdered sugar!
Source: Mom
By carole 1
How do you measure homemade powdered sugar? That is, when you grind up one cup of granulated sugar does it equal one cup of powdered sugar?
By Carole from Surprise, AZ
Most Recent Answer
November 26, 2010
Wow. Did I learn a lot today! I was trying to save money by making my own powdered sugar and what I learned is that it's more money, and here's why! I learned this after I just went out and bought 6 bags on sale! The reason is because a 4 pound bag of granulated sugar would yield 10 cups of powdered, figuring your yield will be approx 25% more after blending, and a 2 pound bag of powdered sugar has 7.5 cups.
Let's take Aldi, for example. A 2 lb. bag of powdered goes for $1.29 which makes each cup worth slightly over 17¢. A 4 lb. bag of granulated goes for $2.49, which makes each cup worth just slightly under 25¢. Plus, the added cost of corn starch, electricity, and blade wearing on your blender. So, you're paying 33% less for the ready made. I never knew, and now I'm stuck with 6 bags of granulated, but at least it was on sale on the cheap for $1.69. Me and my crazy knack for figuring! Mad, at myself! Hehe!
But this is great to know in case you're in a pinch and the store is closed or you simply don't want to go to the store for one ingredient! The pic is some of the cuppycakes I make with my homemade buttercream frosting with powdered sugar!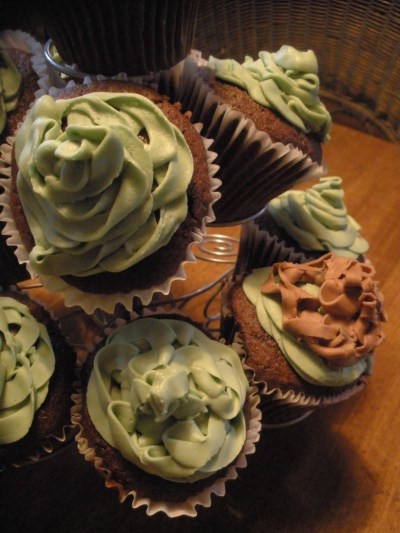 What is 10x sugar? Super fine?
By sooz
Most Recent Answer
April 29, 2012
That usually refers to powdered sugar (confectioners sugar). There may be a difference between superfine and 10x, but I have never seen 'superfine' on a bag of sugar, only read it in recipes.
Best of luck to you in your cooking!
By ekas 1
How can I make powdered sugar for commercial purposes? What anti-caking agent can I use? I would also like to preserve the powdered sugar for up to 2 years. Any suggestions?
By Ekas from Lagos, Nigeria
Most Recent Answer
thr522587 Flag
April 13, 2010
Can you explain in more detail what you mean for commercial use? I am fairly sure you can find out about making powdered sugar by doing an online search. I do know that powdered sugar is simply granulated sugar very finely sifted. Also, what do you mean by no caking agent? As for preserving it for up to two years it needs to be kept in sealed containers of some sort and completely kept away from moisture.
By John Luse 31 17
To save some money during the holidays; Bubba's Quick Confectioners Sugar mixture!
Ingredients:
1 cup regular table sugar
2 Tbsp. cornstarch
Directions:
Pour sugar and cornstarch in to food processor, food chopper or blender. Turn on high until mixture is a fine powder.
Note: If your recipe calls for more than a cup, make some more!
Source: My Kitchen (and billfold!)
By johnluse from Columbus, GA
Superfine or 10X sugar (also known as Ultrafine, bakers, castor or bar sugar) is regular sugar that has been ground into a fine powder. It will dissolve easily into beverages and baking mixes. This differs from powdered sugar (or confectioner's sugar) because of the addition of cornstarch to prevent the powdered sugar from caking and powdered sugar is even finer. If you have no powdered sugar, you can put some granulated (regular) sugar in a blender with a pinch of cornstarch and process it.