Freeze Yogurt and Pudding For Popsicles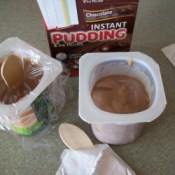 I never could leave well enough alone. I took an easy pudding pop recipe (ala Toys in the Dryer blog) and gave it a little twist. I added some guilt-reducing health benefits by mixing in cherry yogurt, the Jamie Lee Curtis kind. ;)
Make your instant chocolate pudding as directed on the box. I made several pops with half the pudding mix, then I added some cherry yogurt to the remaining half of the mix. But I suppose you could make them all with added yogurt if you like.
Spoon into popsicle cups or whatever you have handy. I saved my yogurt cups just for this. Perfect size. I used wooden, ice cream "spoon sticks" held in place by a piece of cling wrap over the top of the cup. This keeps the stick in the middle of the pudding. Put in freezer until firm.
Source: Pudding pop idea from "Toys in the Dryer" blog.
By Gloria from western NY
Feedback
Read feedback for this post below. Click here to post feedback.

By
02/22/2013
I just buy yogurt in large containers and pop them into reuse containers such as yogurt, small plastic cups, etc. Stick a plastic spoon in, they can reuse that to the dishwasher as well.

In the summer, I pick up outdated yogurt from the grocery store, toss into the freezer, and it is a cold treat on a hot day for my dog. Vet said wonderful!

By
02/19/2012
Thanks Robyn Fed. Adding regular yogurt might be best if children are having some. Save the ones that you added (Activia) yogurt for the grown-ups. I found the new cherry variety Activia goes especially well with the chocolate pudding.

By
02/16/2012
That sounds so delicious! I am going to add the yogurt to mine. I often make these but have never thought to add yogurt!

That is a wonderful idea! Robyn
Post Feedback
Add your voice to the conversation.