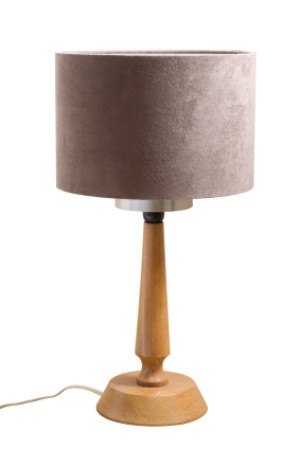 Lampshades are often overlooked when doing routine cleaning which can cause them to look drab and dirty. They are often made of fabric which requires special care when cleaning. This is a guide about cleaning lampshades.
Ad
---
Solutions: Cleaning a Lampshade
Read and rate the best solutions below by giving them a "thumbs up".
I got so frustrated trying to vacuum my lamp shades or knocking the dust off with a rag. A lint roller is the best thing I have ever tried. It takes the dust off like a champ. Cleaning lamp shades could not be easier.
By Vicki Ann
I have used Kaboom foaming bathroom cleaner on my fabric lampshades with outstanding results. I took the lampshades into the bathroom over the tub and sprayed them down good. I lightly rubbed the foam in with my hand and waited about 10 minutes for it to work. I rinsed very well and then took them out in the hot Florida sun to dry.
They all turned out bright and clean with no streaks. I am amazed how well this worked. I even used this on my lampshade with beads on the bottom, with great results. To think I was going to throw the shade out and replace it. Now it looks brand new.
By Carmen D.C. from Daytona Beach, FL
I use a lint roller to clean my lampshades. The roller is also great for cleaning carpeted stairs in between regular vaccuming.
By Janette from Parkersburg, WV
Lampshades can build up grime, dust, and pet hair over time. Cleaning them can be difficult, but it is worth trying before your replace them. Here are some tips for cleaning lampshades:
If the shade is made of plastic, you can probably use a baby wipe or damp cloth to clean it.
To remove pet hair, try a sticky pet roller or lint brush. A slightly damp cloth may also work, but test it in a small area to make sure that it won't leave a water stain.
An air compressor or canned air can be used to blow dust off of the shade.
To clean fabric lamp shades, use a lint roller. Can also be used to clean carpeted stairs.
By ashleybunkin from WV
Use a lint roller on carpeted stairs and to dust lamp shades. Use the kind of lint roller that has the pull off sheets. It leaves absolutely no residue and works beautifully.

By Janette from Parkersburg, WV
Give a "thumbs up" to the solution that worked the best! Do you have a better solution? Click here to share it!
Questions
Here are questions related to Cleaning a Lampshade.
I have off-white colored lamp shades that get very dusty and coated in cat hair. Without rubbing in the dust and discoloring the shades, how can I get them clean and dust-free?

Nicole W. from Kentucky
AnswerWas this interesting? Yes No
Ad
---
---
Most Recent Answer
By Lisa (Guest Post) 07/28/20040 people found this helpful
If the shades aren't pleated, this is a great trick -
I bought a 4 pk of Lint Rollers that have tear off sheets, at Sam's Club. I keep one upstairs and one downstairs. You can;t believe the amount of "stuff" they pick up off of the lamp shades!
---
By Veronica 10 114 05/24/20110 people found this helpful
Check out:
http://www.wisegeek.com/how-do-i-restore-antique-lamp-shades.htm
http://www.ehow.com/way_5879409_care-vellum-shades.html

From Askville at Amazon.com:
I had a lamp in storage for a long time, and when I pulled it out, it looks kind of "dingy," but it's a very pretty shade and I hate to throw it out. Is there a spray cleaner, or something that I can use to wash it? Thanks!

Answer: I'd start with a vacuum. I'd suggest that the shade will very likely NOT survive contact with water in any form. The colors will probably run.

Since it has been in storage, the dinginess is very possibly just accumulated dust. If so I'd start with a vacuum with a soft brush attachment. Since I have a compressor, I'd probably next try blowing it clean with a moderate stream of dry air. Be careful though, depending upon the age of the shade, even a strong blast of air might damage the shade.

If the shade is valuable and there are stains, a conservator might try a non-aqueous solvent, first on a very tiny and inconspicuous corner. I'm thinking of chemicals that are used for dry cleaning clothes.

Remember that lampshades are often subject to moderately high temperatures, that over time and usage cause them to dry out and become brittle. If they spent much time in a sunny room, the UV light will cause both pigment discoloration and embrittlement of the shade itself. So it is possible that the colors in this shade cannot be fully restored.

Sources: http://en.wikipedia.org/wiki/Dry_cleaning
Archives
Thrifty Fun has been around so long that many of our pages have been reset several times. Archives are older versions of the page and the comments that were provided then.
Tips for cleaning lampshades. Post your ideas.
---
Dusting Lampshades
To clean dusty lampshades, I use a tape-roller lint brush (the kind with sticky tape). Just roll it up and down around the lampshade. Works Great!
By Melissa (03/03/2005)
By ThriftyFun
RE: Cleaning a Lampshade
I take my lampshades out to my husband's workshop and blow the dust and lint off with his air compressor. Fast and easy. (03/04/2005)
RE: Cleaning a Lampshade
I like your idea of using a lint brush to clean your lampshade, but my lampshade is pleated and a lint brush wouldn't work well. I use a clean, dry paintbrush and brush the dust off. It works well. (03/04/2005)
By Tricia
RE: Cleaning a Lampshade
I use cheap baby wipes to clean my lamp shades. It even takes dog and cat hair off too. (03/04/2005)
By tonya
RE: Cleaning a Lampshade
When I dust, I use a Swiffer Duster on a handle. I use this on my lampshades too. Works great. (03/05/2005)
By Linda
Cleaning Lampshades
I read a tip about cleaning lamp shades and just had to send this one in also. I do housecleaning and one of the ladies I clean for has a very difficult to clean lampshade along with the other type that are easier to clean. I have found that the best thing to use for both is a small paint brush. It just brushes the dust right off the shade. Works great!
By Robin (03/16/2005)
By ThriftyFun
Cleaning Lamp Shades
Basic cleaning of shades: use a clean soft cloth or a vacuum brush to dust the lampshade inside and outside. Take off any non-washable trim. If the cloth is glued to the frame, sew it on with thread of the same color. Then you will be able to wash it over and over again without any trouble. Fill a deep washtub or bathtub with enough warm water to cover the shade. Add detergent and swish up thick suds. Use a mild detergent, as a hand dish washing liquid.
Fabric Shade:
Use suds on a soft brush to rub any spots lightly. Then dip the shade up and down. When the water gets dirty, change to clean sudsy water. Wash the shade a second time. To rinse the shade, dip it up and down through two or three changes of clean water. Don't worry if the cloth stretches and sags while it is wet. It will tighten up for a snug fit when it gets dry.
To dry a fabric shade, tie a string to the middle of the frame. Then hang it over the bathtub or hang it from a clothesline outdoors to drip dry. Or you can wipe the shade with a bath towel until it is almost dry. Then put it back on the lamp and turn on the light so the heat from the bulb will help it to finish drying. If the lampshade has ruffles, "press" them with your finger.
Plastic, Plastic Coated, Laminated, Parchment, or Fiberglass shade:
Put one fourth cup of mild detergent into a bowl. Add just enough warm water to make it wet. Whip this mixture with a whip or electric mixer to make stiff "dry" suds that look like whipped cream. Put some of the thick suds on a cloth or sponge. Use this to wash the shade, inside and outside. If the binding around the edge is glued on, don't rub it or let it get very wet. Rinse the shade right away by going over it with a clean damp cloth. Then wipe it dry.
Don't forget to clean the reflector bowl if the lamp has one, before replacing the shade. Never use any abrasive cleaner like common scouring powders, no abrasive pads.
This article was written by Anne Field, Extension Specialist, Emeritus.
Source: MSU Extension (05/01/2005)
By ThriftyFun
RE: Cleaning a Lampshade
We have two cats and a dog, and our lampshades collect a LOT of hair. I use cheap packing tape. Just run the sticky side down from top to bottom. (03/30/2006)
By Ree 127
RE: Cleaning a Lampshade
I have a heavy fabric lampshade (only one), and I vacuum it with the fabric head on my Kenmore. Or, I take a fabric softener sheet (now that I don't use them in the dryer anymore) and rub down to neutralize static and get a "fresh" smell. (03/30/2006)
By camo_angels
RE: Cleaning a Lampshade
I used the suggestion for the baby wipe on the non-removable, non-pleated lampshade. Excellent! Then I followed with a lint remover for dust 'stragglers'. (03/07/2007)
By Brooke
RE: Cleaning a Lampshade
I've had luck removing stains and dust by placing the lampshade in a hot tub. The chlorine and the jets do wonders! (05/12/2007)
By Justin
RE: Cleaning a Lampshade
I got a "lampshade cleaner", which looks like a little pink sock, filled with grains of cleaner. Just wipe and most stains come out. I don't know where to find them, I guess a shade store. I got mine free at lampsusa.com. If you buy a shade, and mention free shade cleaner, they send you one free. (07/18/2008)
By Sammy
RE: Cleaning a Lampshade
I use the Cadie Dry Cleaning Pad. It works wonders on my shades (with pleats), and it is great for other uses around the house as well. (10/19/2008)
By Rhi
RE: Cleaning a Lampshade
I personally use the dust master 4000. It works wonders and whilst I'm scrubbing my beloved lampshades, I find it also gives off a soothing vibrate as a bi-product of my leisurely cleaning. The dust master 4000 also has other uses. ;) (11/06/2008)
By Ronplipandjack
I would like to clean my lamp shades. They are fabric and were exposed to a smoking room for a good while.
I need ways to clean fabric covered lampshades that are discolored due to smoking (without quitting, which I'm trying to do). I do dust them every week.
How do I clean a lamp shade?
By Lillie from Newport News, VA
---
RE: Cleaning a Lampshade
I tried just about everything on this page and nothing faded the tough water lines and yellowing on my shades. Confronted with the fact they were $50 a piece I decided to go for a Hail Mary. I sprayed Clorox Cleanup onto the shade, let it sit a minute, scrubbed it with an abrasive sponge, dipped it into the tub and, it was a little lighter! I did it again, and again, and again and no more stain! (07/31/2010)
By toukeebird