When I was a small child, I lived in my grandparents' home. I loved it because there were always many people there,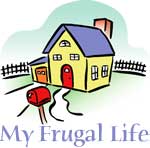 my grandparents, my great-grandmother, my aunt, my parents and often relatives or friends who came "to visit a bit". It was not until many, many years later that I found out my grandfather was helping out many of those folks when they were "on their uppers" (down on their luck).
As a result of the always enlarging household, my grandmother had to be very frugal in her kitchen and sewing room. NOTHING was wasted. Butter wrappers became "pan greasers", drippings became thick yellow soap, worn out pants became shorts and Grandfathers shirts became aprons for the women and smocks for me.
One of the best things was the toys and games that were "made from nothing". My favorite was called rub-a-dub. To play with this crafty game, you needed several pieces of waxed paper, a popsicle stick or tongue depressor and the colorful Sunday comics. You picked the picture from the comics that you wanted to "rub a dub" and placed a piece of waxed paper over it, waxed side down. Then you rubbed the edge of the stick over it fairly hard and Voila- a copy of your picture was on the waxed paper! Magic for a six year old!
Another fun and crafty toy was a fabric board. A shirt cardboard was covered with a "fuzzy" fabric like felt, corduroy or velvet, whatever was in the scrap bag. This fabric was glued down or stapled onto the board with the "fuzzy" side up. Then into the scrap bag for other bits of fabric to be cut into whatever shapes I chose. These shapes were placed on the board and made all sorts of creatures, houses, people and flowers. I could spend hours making the pictures and then lifting off the bits and making new ones.
And the last of my favorites was "card-house cards". For this toy, you need an old deck of cards, doesn't have to be complete. Then on each side, you cut one or two slits, about one/half inch long. Now you can put the cards together by sliding one slit into another at right angles. You would be amazed how large a structure 40 or 50 cards can build! And the best part about all these toys, aside from the fact that they cost almost nothing, is that they will fit very nicely into a small box and can be played with almost anywhere!
As they were "quiet" games, I was allowed to play with them in the same room as the adults were talking. After a bit, I would have one or two of them playing with me. It was a great way to interact with my older relatives!
By Laura from the beaches of NJ
Do you have a frugal story to share with the ThriftyFun community? Submit your essay here: http://www.thriftyfun.com/post_myfrugallife.ldml
August 20, 2010
How absolutely wonderful, such beautiful memories, and you were happy, that, and you had wonderful people around you, it made it all perfect. And you learned from it all, good for you.
By pam munro 522 790 Flag
August 20, 2010
Oh, I remember rubbing the comics onto waxed paper! I also loved to make my own paperdolls and outfits - with tissue paper poufy skirts. We also played lots of easy card games. A trip to an unfamiliar playground was a real outing for us!
August 21, 2010
These are all new to me and they sound fun, I am going to do them all!
Robyn
thr522587 Flag
August 21, 2010
Oh the waves of memories! I loved going to my grandparents house and my brother, cousins and I played with the toys that had belonged to our parents when they were children such as Lincoln Logs and a wind up tin soldier!
At home I pretty much could have had all the toys I wanted but I preferred doing things like counting little pebbles as I put them one at a time in to a glass Coke bottle, dumping them out and doing it over and over again. And instead of wrapping a doll in a baby blanket I would wrap a large stick in a baby blanket because that baby was sickly and needed the warmth and love more. My Daddy spoke proudly of the ways I liked to play up to the time he passed away.
Another thing a cousin of mine and I used to like to do was build a house on top of a long low dresser with books placed on end for walls and make furniture out of anything we could find. A tissue or hankie were blankets or folded and used as pillows and little collectible statues became the family who lived in the house. I had a statuette of Jesus' mother Mary and she was the mom of the family. ;-)
Thank you so much for bringing back fond memories!
August 22, 2010
Oh yes. And playing schools with large leaves for paper and sticks for pencils.Playing " houses" where leaves became plates and pebbles were food. Hanging upside down from a "trapeze", two bits of rope and an old broom stick tied halfway up a tree. Hiding in the raspberries from Granny. Dressing up in old net curtains and Mum's shoes. Wandering across fields and splashing in the stream. Kids these days don't have our freedom, do they?
Marg from England.
August 22, 2010
We played house in the woods using rope wrapped around trees to form different rooms in the house. I remember we had a kitchen, bedroom, and a dentist's office (of all things). For food we used ice cubes, Rice Krispies and dandelion greens. Other times we'd set up a beauty parlor in my girlfriend's garage. Her mother was a hair dresser so we could play with some of her old stuff. I remember putting on really dumb plays in my cousin's basement and inviting the neighbors. We played outside from sun up to sun down all summer long, often not even going home for lunch.
August 23, 2010
Thanks for sharing your wonderful memories, they all sound like lots of fun.
August 24, 2010
We used to slide down a grassy hill in cardboard boxes. It was a very steep incline but not very far down to the bottom. My friends and I made clothes for our paper dolls. And I remember my daddy carving a monkey's face out of a peach pit. We had so many running and jumping games which required no toys at all. We played a lot of "kick the can" which was a version of hide and seek.
Comment