Removing Sharpie from Skin
Sharpies are great to have around for many reasons but it can be easy to get on yourself. Whether it was from a broken pen or a child got a hold of your Sharpie, it can tough to get Sharpie ink off of skin. This is a guide about removing Sharpie from skin.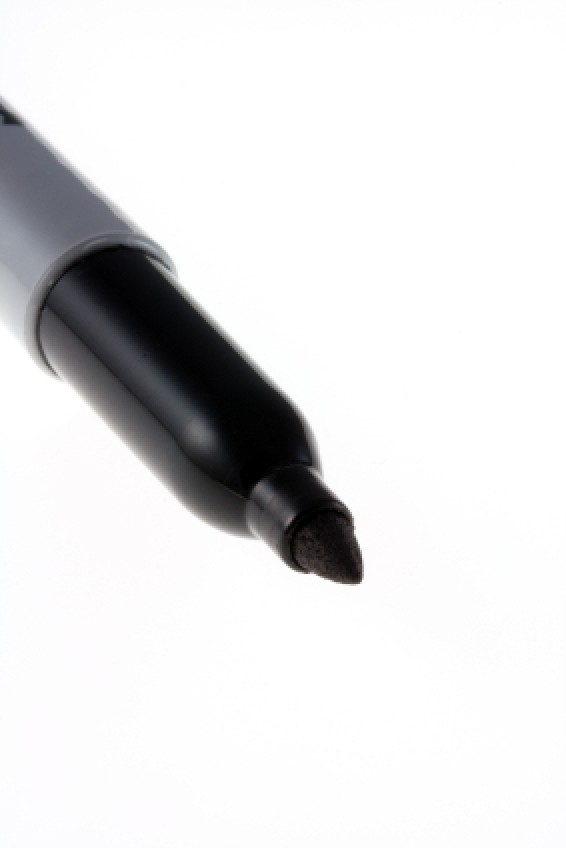 Filter

: All Articles
Sort

: Relevance
My 3 yr old cousin used a purple Magic Marker as lip stick. How can I get it off?
May 19, 2016
0

found this helpful
Best Answer
You could use coconut butter for two reasons. First, it is all natural and second, it will help. Put some warm water on it and do it all over again.
June 17, 2016
0

found this helpful
Best Answer
My 2 year old wrote all over her face with a black sharpie. I used a baby wipe and it came off easily, no problem.
August 21, 2016
0

found this helpful
Also lotion got sharpie off my sister's finger
Gently rub coconut oil on skin with cloth and Sharpie comes off instantly!
How can I remove permanent black ink from my finger pad?
By Gail from Houston, TX
February 14, 2010
0

found this helpful
Best Answer
Use Clearasil Stayclear Oil-Free Daily Face Wash. My daughter and her friend used this after they painted their face with Mr. Sketch. We used soap, water, rubbing alcohol. Nothing worked but Clearsil worked.
December 3, 2011
0

found this helpful
Best Answer
An answer to the question advised using Mr. Clean Eraser. THIS IS VERY DANGEROUS as the warning on the box specifically states. I used it (without checking the warning on the box) and my 5 year has a very bad abrasion as a result.
Editor's Note: As with any advice you find on the internet, please use caution with any substance that is not intended to be used on skin. Always read and follow the manufacturer's guidelines.
June 7, 2016
0

found this helpful
Or u can scrub it off it worked for me
Use a cotton ball and nail polish remover, works every time!
I have used various brands of hand/body lotion. Rubbing alcohol works as well. If you have hand sanitizer it works too, but takes longer.
By TeeeeeeeeeeJ from Canada
I just read through all these painstaking suggestions, some of which seem pretty abrasive to your skin! Luckily before I tried any of these solutions, I used my skincare/face wipes.
I was sitting on the sofa and I was decorating my note book. I took the marker apart and started to squeeze it. A lot of stuff came out; so my question is, how do you get Sharpie off your hands?
By Rhyan R. from New Orleans, LA
May 17, 2011
0

found this helpful
When my friend was all marked up for radiation treatments, she told me that baby oil would remove the permanent marker. Hope this helps.
February 6, 2016
0

found this helpful
Baby oil or hand sanitizer
September 9, 2016
0

found this helpful
Yep I just used baby oil and it does work.yahoo
After experimenting with everything I could think of to get permanent Sharpie off of skin, I came up with this.
Read More...
How can we remove Sharpie marker from my 3 year old granddaughter's legs? She has covered her thighs completely. Help.
By MaryC from Smith Mountain Lake, VA
January 21, 2011
0

found this helpful
Scroll down to the ThriftyFun archives below on this page and you will find oodles and oodles of suggestions. :-)
How do you remove permanent marker off of a 3 year old's skin?

By Rachel from Victoria, TX
Answers:
Removing Sharpie Marker from Skin
Well what people do at work is use makeup remover or toothpaste. It works really well. (11/24/2010)

By Anonymous
Removing Sharpie Marker from Skin
Rubbing alcohol will often take most of it off. Do not use anywhere near the eyes, nose, or mouth; and you might want to test on the inside of his/her arm, as sometimes it stings. I have never tried the toothpaste, but it sounds like the safest bet. Be aware that every parent will look at your child and chuckle to themselves, because we have all been there, done that! It says nothing about your parenting, except that you are raising a child with a good imagination and maybe a little artistic flair! (11/24/2010)

By Jilson
Removing Sharpie Marker from Skin
Take a picture to save for them when they grow up and their child does the same thing! It will wear off and won't hurt your child's skin as much as trying to remove it will. Live with it, most kids do this! (11/29/2010)

By catastrofy
Removing Sharpie Marker from Skin
This reminds me of the time my then 4 year old son donned his turtleneck, jeans, vest and cowboy hat, his Mickey Mouse sheriff badge and drew a 5 o'clock shadow on himself and declared he was the Lego Sheriff! Nice long soaks in the tubby helped, but I didn't scrub it off. It was off in a few days. Cherish those moments! They grow up so fast! (11/29/2010)

By Bethmom1961
Removing Sharpie Marker from Skin
The oils, shaving cream, and the rest all work. I have also used "Goo Gone" or "Dissolvit", on kids, carpets, upholstery, and you name it. Then I follow with the soap of my choice, though Dawn and Windex always work! Darn kids. Lipstick on a cream rug, always bad, but after the above treatment, not a trace. Good luck. (11/29/2010)

By Bluey21
Toothpaste takes out sharpie ink off skin. The gel won't work. It has to be the paste type. Coat the area and allow it to sit a minute, then wipe off.

By duckie-do from Cortez, CO
Answers:
Removing Sharpie Marker from Skin
Baby oil will remove permanent markers from skin; this tip comes from my "sis" Miss Mae. (10/17/2010)

By indianlady
Does anyone know how to get black marker pen off skin? My 3 year old decided she would use it as make up. It's on her cheeks, eyelids, and lips. Please help!

By Kazza
Answers:
Removing Sharpie Marker from Skin
Oodles of ideas in the ThriftyFun Archives below the comments here. ;-) (08/30/2010)

By Deeli
Removing Sharpie Marker from Skin
My son did this earlier this year. I found that Dawn dish soap worked wonders and not too much discomfort in getting it off of him as well. (08/30/2010)

Removing Sharpie Marker from Skin
Try Hand Sanitizer. (08/31/2010)

By Danialle
Removing Sharpie Marker from Skin
I decided to put Vaseline on her face before she went to bed, she had a long soak in the bath the next morning, thankfully, it all came off easily. Thanks for the ideas. :-) (08/31/2010)

Related
© 1997-2016 by Cumuli, Inc. All Rights Reserved. Published by
ThriftyFun
.
Page
generated on September 26, 2016 at 5:26:25 AM on 10.0.1.17 in 6 seconds. Use of this web site constitutes acceptance of ThriftyFun's
Disclaimer
and
Privacy Policy
. If you have any problems or suggestions feel free to
Contact Us
.