I am trying to paint a wall red in my basement. The cutting marks show overtly, as well as unevenness in the roller marks. I have painted two coats with no visual improvement. Is there something I can do to fix this, or do I have to start all over again by priming?
By Triebe from Ottawa, Canada
Ad
---
By Frances Adams 11 554 07/15/2009 Flag
The only thing that has ever worked for me with red is dark pink tinted primer, and 3 coats of good quality red paint.
By Beth 25 1,120 07/16/2009 Flag
I believe with red paint you should either go with a tinted primer, or a gray primer and it will go much better.
By LEONA LABINE 46 398 07/16/2009 Flag
Just keep going, red is the hardest color to paint. I would expect to do at least 5-6 coats to get a nice finish. Good Luck
We just painted a red wall this week, and it turned out really great, so wanted to share. We used Behr Premium Plus Ultra in Red Pepper. It has the primer mixed in with the paint. We decided to try it out after seeing the sample the store had of side by side comparisons of using three coats of regular paint (with white primer underneath) verses only two coats of the Ultra. I was still a bit skeptical, as we were doing this over a white wall. Well, with no other primer/color underneath the two coats of Ultra look FANTASTIC! We are so pleased! Happy painting!
By Havaiisteve 1 06/02/2010 Flag
We successfully painted a wall red this week with only two coats. But getting there was a nightmare! We started by painting over a white base. Each place there was overlap that didn't get feathered-in was darker. After each coat, the wall got darker. After 4 coats it looked horrible.

So we painted two coats with a grey primer, sanding after each coat with 120grit. Then we added Floetrol to the left over red paint. The paints handling characteristics were hugely different. The paint went on much smoother and we had a lot more time to feather the overlap in. Two coats and it looks fabulous! We used Behr Premium Plus Ultra Satin in a custom red designed to complement some antique Chinese furniture and artwork that we have.

We couldn't be more pleased. Oh, the advice to maintain a steady pressure on the roller without pushing down hard and frequently reloading with paint was also helpful. It's hard to decide if the gray primer or the addition of the Floetrol was more important to the success in the second attempt, but I lean towards thinking it was the Floetrol.
My husband is a painter, so it is interesting to see some of the posts below. You cannot just paint walls red without priming them first, even if they were painted before. They have to be primed with a dark color for the red to cover. Behr makes some good products, but not interior red. Benjamin Moore is the best to get. Imperfections always show more with a gloss finish than with a matte/flat finish. Temperature in the room that you're working in also matters. If it's too cold, a gloss dries with patches of flat and a flat dries with patches of gloss.
I have painted my kitchen a deep red. It took 2 coats because I wanted that deeper color. The best paint is by Behr paint and primer all in one. I had no problems and the inital wall color was an eggshell white.
My husband and I painted the outside of our house a few months ago with Behr paint and primer all in one. It covered in just one coat. If you have windows in your kitchen don't paint it red, My kitchen has no windows but our floor plan is very open. We live in Florida so the sun is always out. We used alot of browns on the other walls with the same brand of paint. But any color you choose will look great as long as you use Behr Paint and Primer all in one. It cost $36 per gallon but is worth it.
By Eileen S. 1 01/29/2015 Flag
Before painting a red wall, you should always use a grey primer. You can ask for it at your local hardware store. They can add the grey to the existing white primer. It makes a world of difference.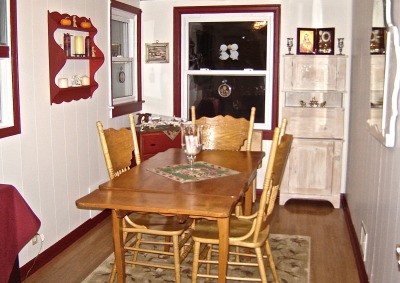 By Scarlet R. 4 06/21/2015 Flag
I once painted a 12' x 14' bedroom a deep library red in just 2 coats, using only one gallon of Sears premium paint, and no primer at all. This included a walk-in closet that was about 7ft deep, though in all honesty, the coverage was utter crap by the time I got to the lower half of the back wall of the closet, because I didn't want to go back to Sears and buy a quart just for that little bit, so I practically squeezed that roller dry and practically licked the can. Not like anyone was going to see it as a chest was going in front of it, so I called it good enough.

The room and closet had previously been painted lavender, and I painted red right over that with no primer at all. Lavender has grey undertones, so maybe that's why it worked?

I've painted a lot of rooms and the only time I've ever used primer was in the same house, 2 coats of it to cover up a brown accent wall in the living room - the rest of the LR walls were baby boy bedroom blue, ugh - as I knew the gold paint I was using wouldn't cover the brown unless I went and got another gallon of gold paint to do it. It covered the blue in 2 coats, and even with the 2 coats of primer on the brown it still took 2 coats of gold to finish, probably because the primer was off-white. In retrospect I should've used beige-tinted primer. I work without a net and also managed to spill a huge puddle of primer all over my carpet. That was fun to scrub up.

Also once painted a large (13' x 21') light grey LR with a gallon and a half of dark forest green, without primer. I don't find primer necessary before painting, unless the room or a wall is a very dark color, and you're painting it shades lighter.

I actually found this site because I'm having an issue with painting a life-sized white ceramic apple (part of a larger ornamental piece; I've apple-ized my kitchen) in red acrylic. It's irritating me that I can see every single brushstroke after 4 coats of paint, even though I tried a foam brush rather than a thick bristle art brush with the last coat. I've painted the seat of a black kitchen stool with a leafy branch and a few apples on it, and painting red over black was a lot easier than red over white. Just can't get it to the point where I can start accenting with bits of yellow, orange, and white. I guess I'll try some grey acrylic over my 4 coats of red and then re-paint and see if it helps any.
Archives
Thrifty Fun has been around so long that many of our pages have been reset several times. Archives are older versions of the page and the comments that were provided then.
A lot of people have been painting red in their homes these days. If your thinking of trying it out here is my best advice to avoid countless coats of paint. If the wall has never been painted, get a primer tinted as dark as the paint mixer will let you. Just ask them to add black. If the wall is already primed get another gallon of cheaper paint and have that mixed to a deep mauve or rose color and use that as a base.
Magenta colorant is naturally transparent so to take your deep red paint and put it up on a white wall will take many coats (and maybe many trips to the paint store to get just one more quart). Using a darker base will save on time and money. Hope this helps someone out!
By Casie Peltier
Feedback:
Difficult
I had a painter tell me that it was really hard to get red paint on a wall correctly even with multiple coats of paint. Anything with a sheen is even worse. His solution was to use a faux technique with more than one shade of red. I would think that sponging would be nice. I always wanted a red bedroom and maybe I will try it one day! (02/10/2005)

By eplitt
I'm Sick Of My Red
I always wanted my living/dining room red. Because it is a very long large room without enough trim in a contrast color, it was a bit overwhelming. Also, the choice of red I selected was probably not right, red is a funny color. I'm sick of it now and soon will go to a neutral color, partly due to the fact I will in the future place my home on the market. Otherwise, I might try another shade of red. If I hadn't tried it I'd still be yearning for the red room. But now, been there, done that, no regrets, ready for the change! (07/27/2005)

By Sharon
Use The Right Primer
Being a fan of red, it can be a pain to paint if not primed properly. If you have watched Trading Spaces (and who hasn't), you will see that they like to use primer tinted pink under red walls. What you DON'T see is what the walls really look like later. It's been my experience over and over to prime your surface with a darker primer as Casie suggests. I recently painted our front door red and used a gray tinted primer. The door still took two coats but I always paint two or more coats on everything.
Reds can be 'tricky' to work with. If you aren't sure about painting your entire room in a shade of red, pick a shade that you like, buy a quart and paint a 2' x 2' square of it on your wall. Look at it for a week or so and then decide. At least if you don't like it, you haven't invested a lot of money.
Also, darker colors and glossy paint show more blemishes than lighter ones. If you want a red room (my kitchen and dining room are painted in brick red), use satin, eggshell or flat paint. When we bought our house, the master bedroom was painted in dark green gloss. I could see every blemish and it was very difficult to cover this and in fact, I had to actually put a texture on my walls. So painter, beware! (01/10/2006)

By ldyharley
Grey Primer
A gray primer is best. Never use a pink tinted primer. When ever you use a brush to paint around the edges and elect. outlets and then use a roller to fill in, where they overlap you see the difference. The light reflects off the white or pink primer showing the areas that have fewer coats. Using a gray primer reduces this reflection and makes it more even. You can use any brand of paint, the link is to confirm this tip. http://www.sherwin-williams.com/pro/problem/tips/bases.jsp
Oh, anther tip is: You get what you pay for when it come to paint. (06/25/2006)

By gezer2u
Tips for Painting a Room Red
I just completed painting my dining room Cranberry by American Tradition and Signature Eggshell (Lowe's). This is the most beautiful color I've ever seen in a red! But, it comes with some trial and error that I'm happy to share.
First, use the grey primer that the store mixes for you according to the brand recommendation - it really does help. It is a light grey, and you may not think it will make a difference, but it does. It eliminates 2-3 coats of the red you will have to use without it. I used primer and 2 coats and it was great.
Next, wait AT LEAST 3-5 DAYS before snarling in disgust at the streaks/strokes visible in the room. They will go away! This paint is very thick and takes about a week to fully dry - really. After that, you can decide if you need another go-around, but you shouldn't.
Lastly, a very important tip: score your blue tape line on the edge with a razor before you pull it off the baseboards and window frames. As I said, the paint is thick and areas often will peel right off along with the tape if you don't. I learned this the hard way on one window.
One more thing I noticed in my case; using the same roller direction kept the lines at a minimum. For example, if you start at the top and roll down, keep it that way on the whole wall, not up and down and over and diagonal, etc. You will have a few lines running up and down with the roller strokes, but again, these will fade in a few days.
I absolutely love this color - it looks so rich and classy.
Good luck to all of you! (10/23/2006)

By Bridget
Colors and Moods
Red is a beautiful color but I noticed something that no one else had said. Colors and moods go hand in hand. Jails use baby blue on their walls because it is a calming color to the inmates, red on walls does just the opposite. Just a little FYI, if you are considering this color on your walls! (10/23/2006)

By Brattiepatty
Nine Coats of Paint
I painted a room red and it was a complete pain in the butt to do it. I made the mistake of using the pink tinted primer instead of the grey primer. By the time I was done I needed nine coats of paint on the wall to sufficiently cover the primer. (12/26/2006)

By Dave
I want to paint the wall above my chair rail deep red. Now two coats of Lowe's expensive red paint later it seems like every little imperfection shows. I am wondering, is it the red or the satin finish of paint causing this? I used a light cream color below the chair rail and have not had any of these problems. Any ideas would be appreciated.