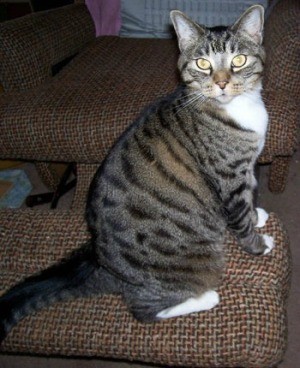 Leo is a 3 year old tabby cat. He was given to us. He likes to get into everything and loves to have his picture taken.
By Lorraine from Ocala, FL
Ad
---
Feedback Forum
Feedback about this article is posted here. Want to contribute? Click above to post feedback.

By Nicole [8]06/30/2006
NICE CAT... DOES HE EVER LOOK LIKE MY CAT

By nelliemary [19]06/29/2006
This is such a pretty cat! He looks like my Teeter Cat. You can tell by looking at his photo that he has a loving home. He will be a joy in your life as mine is. Give him a chin scratch from me. meows and wuffs from my animals to yours.

By (Guest Post)06/28/2006
What a wonderful picture. Leo looks like he is posing for a Cat magazine. Beautiful cat.

By Jennifer Nelson [1]06/28/2006
Lorraine, he is BEAUTIFUL! I see a happy kitty face! You both are so lucky to have each other :-)

Jennifer
Northern Virginia

By Donna (Guest Post)06/28/2006
I love your tabby cat Leo-we had a tabby named Tiger for 15 1/2 years and just had to put him down in May(due to his fight with diabetes for 2yrs). Your leo brightens my day! Thankyou
Post Feedback
Add your voice to the conversation. Click here to share feedback.