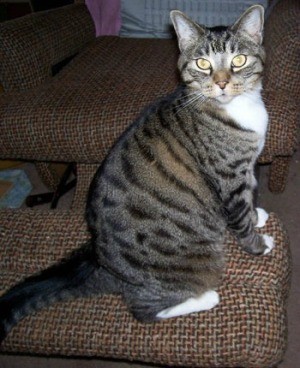 Leo is a 3 year old tabby cat. He was given to us. He likes to get into everything and loves to have his picture taken.
By Lorraine from Ocala, FL
Ad
---
By Donna (Guest Post) 06/28/2006 Flag
I love your tabby cat Leo-we had a tabby named Tiger for 15 1/2 years and just had to put him down in May(due to his fight with diabetes for 2yrs). Your leo brightens my day! Thankyou
By Jennifer Nelson 1 314 06/28/2006 Flag
Lorraine, he is BEAUTIFUL! I see a happy kitty face! You both are so lucky to have each other :-)

Jennifer
Northern Virginia
By (Guest Post) 06/28/2006 Flag
What a wonderful picture. Leo looks like he is posing for a Cat magazine. Beautiful cat.
By nelliemary 22 63 06/29/2006 Flag
This is such a pretty cat! He looks like my Teeter Cat. You can tell by looking at his photo that he has a loving home. He will be a joy in your life as mine is. Give him a chin scratch from me. meows and wuffs from my animals to yours.