I have a German shepherd/Husky mix named ROCKY. He's a very energetic dog so we take him out to a park once a day for about 45 minutes to make him dispense some energy. He is a good dog. We have trained him to obey some basic tricks such as stay, sit, lie down and shake paw, but he is extremely aggressive. He will growl and snap at anyone who tries to take something away from him. My question is how can I train him to stop acting in this aggressive manner? Please help.

Jennifer from Montreal, QC
Ad
---
Recent Answers
Here are the recent answer to this question.

By Candy Killion [9]06/03/2009
Hi, Jennifer! We also have a dominant dog, and there are some dogs that will always have some aggressive tendencies. "Making the dog submit" doesn't always work with some of these canine personalities--in fact, can make them escalate and get even worse.

Ours is a female Belgian Malinois; when she was four months old she went to her first obedience class--where a full-grown Rottie attempted to mount her. Her reaction was to roll him and pin him, and he was four times her size.

In other words, we feel your pain. She can have an attitude, and she's powerful.

You didn't mention age or what things the dog gets territorial about? When all dogs hit about seven months and through the end of the first year, they are in adolescence. It seems that anything they were taught earlier, they can choose to unlearn--or test you about ( just like human teenagers).

Our girl has no food aggression; you can literally take the food out of her mouth when she eats and she could care less. The problems we had were with "her spots" on the couch and on the bed--she would snarl and generally just be a real pain in the neck.

We were also working with a trainer at the time who suggested two things that really worked for us.

If, when your dog is not having a hissy fit, it is otherwise attached to you--following you around the house, staying close, looking for affection--playing the "ignore me" game is something that could be effective.

When the dog starts acting out, remove it from the bed, chair, couch ( if that's the issue); take the toy or whatever it is that the dog is guarding--away; do not speak to the dog or make eye contact when you do this. And then comes the hard part: no interaction with the dog for at least a half- hour.

No kisses, no treats, no ball playing, nothing. Everyone in the house has to back you up on this. The dog becomes invisible.

The silent treatment was mostly effective with ours; but there were still some times when even doing the invisibility thing didn't work--that is, she still growled and snapped, even as I would--not looking at her or talking to her--lead her by her collar from the couch to the floor.

On to Plan B: the Time Out. We DO NOT recommend locking the dog by itself in a room, or putting it in its crate--if you use one-- as punishment. My husband rigged up a sturdy chain tether on a wall in our utility room; this is just long enough for the dog to be able to sit or lie down comfortably but not permit it a big range of motion.

It should be in an area where the dog can see the rest of the family "in action"; our utility room is just off the well-traveled kitchen.

When the dog gets out of control, it's "to the wall". If you have to leash it to get it to the wall, so be it. At the wall, transfer the dog from the leash to the wall chain.

And then, you ignore it. Set a timer for ten or fifteen minutes; no more than that. It will usually go ballistic the first few minutes and settle itself down by the end of the timing.

This time out was a real attitude-adjuster for us. It took about three months of this before she finally got the message; we also got to the point at which it only took about three minutes on the wall for her to get into an entirely different mindset ( at which point, she has to "gimme a kiss" to get freed from the time out--which she learned to do.

Ours was a hellion the first year; she rarely pulls these aggressive stunts at 2 1/2 years but on the rare occasion she does, all I have to do is say "Want to go on the wall?" And she knocks off.

She is a PLEASURE now and I never thought I'd ever say it about her--without screaming or yelling or having it all escalate further.

Picture attached of Hannah the Hellraiser, LOL

Candy in FL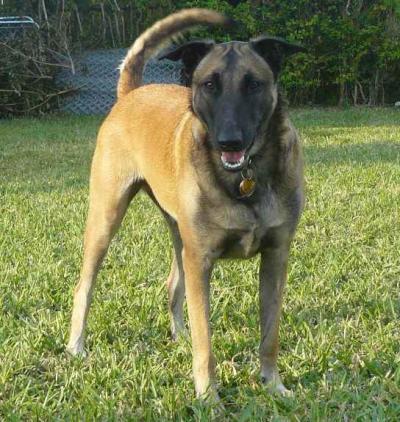 By (Guest Post)08/16/2008
OK to train the dog until the point where he trusts you completely and has a very high level of either basic or advanced training is key to getting rid of aggression, when he becomes the submissive member of your family or "pack" he should stop aggressive or dominant behavior. If he still shows signs of aggression after this then you should use distraction as a method of training. so once you see early signs of aggression snap him out of it by use of a whistle or call him gently.

Other ways include practicing the "drop it" command on sticks or stones etc and then trying it on his toys and bones. hope I helped good luck.


By Nazley [1]02/12/2008
I just got a german shephard/ husky from the local animal shelter. He is less than two years old. I was actually looking for a puppy, but saw this dog and just fell in love with her. So I adopted the dog but is waiting for the animal society to finish with the sterilization and inspection before they hand her over. I can't wait so excited. I just have a few questions and due to work, can't get to shelter for two days.
How difficult is it gonna be to train her now, given how old she is?
She did seem well mannered but silly me didn't ask about her history at the time (I've made a list now for when I go back) I nervous or excited but just don't know what exactly to expect. Please help, I wanna be prepared and make her feel at home when she arrives


By Janice C. [18]10/11/2007
Whatever obedience training you decide upon, I hope you do it soon. Dog trainers have told me it is very difficult to train established aggressive behavior out of a dog.

By Linda (Guest Post)10/10/2007
You did not say how old your dog is. We started training each of our dogs when they were puppies. We would take a toy or bone or reach for their food and then give it to them. They soon learned to trust us and therefore we are able to take a dangerous item from them without fear of being bitten. Then we reward them for being a good dog.

By Kim Churchman [3]10/10/2007
Get Cesar Millan's new book "Be the Pack Leader". He is on TV as the Dog Whisperer on the National Geographic channel. I have had much improved success with my Red Heeler spitfire just from watching the show.
Answer This Question
Add your voice to the conversation. Click here to answer this question.