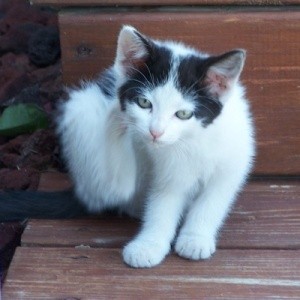 Our kittens had fleas. There were only 10 weeks old and the spray I had was for 12 weeks and older so I knew I couldn't use it on them. I called the veterinarian near us and they said to use Dawn dish soap to bathe them in. I had 2 small wash tubs. One filled with Dawn and warm water and the other warm water to rinse them in. They didn't seem to mind it at all. Then I went over there bodies with a soft brush to get the feces from the fleas and the dried blood by their ears washed off. The kittens are white so it was easy to see the fleas. I tried to pick the dead fleas off their skin. Then I patted them with a towel. This worked very well. The fleas seems to die instantly.
Source: My local vet.
By little suzy from Millbury, OH
August 3, 2010
2

found this helpful
Top Comment
I sent this to my daughter-in-law who rescues lots of animals. She said Dawn dish soap is ok, but she finds Johnson Baby Shampoo works just as well, rinses out much easier and is nicer to their eyes than Dawn.
August 10, 2016
4

found this helpful
How often can I give them a bath using Dawn? Bad case of fleas here!
August 4, 2010
0

found this helpful
I will surely try this. I already had 3 dogs and rescued 2 dogs in a an 8 day period of time. Both were covered with fleas and one was a tiny baby. I use Dawn anyway, so its always handy. Thanks for real pet life saver.
May 9, 2013
0

found this helpful
I bathe my two little dogs yesterday and it did kill the fleas immediately. They went right down the drain. This will save you a lot of money instead of buying the flea medication which my two girls do not like. I believe it does have to be the original blue Dawn.
August 30, 2013
0

found this helpful
I have two cats and they absolutely freak when you put them in a tub. My older brother had suggested putting some water and dawn in a spray bottle and spraying down the cats and then rinsing them. We tried the squirt bottle and kind of petted the soap in to their fur (rubbing like you were petting them) and instead of putting them into the tub to rinse them off we set them on a towel and very gently poured some water on until all the soap was off. They were much calmer and it worked very well!
July 27, 2016
0

found this helpful
If I use dawn and water in a spray bottle and spay around the house will that get rid of the fleas
November 4, 2016
0

found this helpful
No - the bath drowns the fleas - any soap, Dawn, shampoo or otherwise, will work to kill fleas on a dog. Spraying it around the house will do nothing.
June 2, 2017
0

found this helpful
Does Johnson baby soap kill fleas . I got a 6 wk old kitten , she has the worst case of fleas I ever seen . I washed her in dawn , it killed most of them but she still has fleas . what can i wash her in and how often can i wash her .
How do I use Dawn on fleas?
By Barbra from Calistoga, CA
November 7, 2010
1

found this helpful
Best Answer
I use Dawn when there are lots of fleas on cats and puppies and they need lots of grease and stuff removed from their coat. Usually for a life threatening infestation, I just smear a circle around their neck, since the bugs will crawl into their ears and eyes, if you don't trap them this way. Then I wet them and lather them up really good and then let them walk around the bathroom for about maybe 6 or so minutes. Then I rinse them off.
August 31, 2011
3

found this helpful
Hi Hey You,
I found this post while looking for instructions on how to use dawn on your dog to kill fleas. I called my vet about a sudden onset of fleas, late in the year, and he advised me to try dawn.
I have found very mixed results about whether to use it or not, but being as my vet recommended it, I feel that it is probably safe, if used in a pinch and not really often (no more than once every 2 months since it will strip the oils that dogs need on their skin).
What got my attention in your post was how you said to never use baby shampoo on your pet. I own a pug who is very prone to hot spots and dry skin. I tried about a dozen different pet shampoos that advertised they were good for dry skin and hot spots, and my poor buddy got no relief.
I asked my vet and he suggested to try baby shampoo. I invested in a bottle of Johnson's baby shampoo for hair and body, and it has been a life saver. He no longer has the dry, flaky skin, and hasn't had a hot spot in over a year now.
I bathe him with it about once a month, and not only does it cure the dry skin, but it also gives him a soft, healthy looking coat, and keeps him smelling nice almost all month. It has been an absolute lifesaver for me and my little man.
I am not sure why your vet, or the vets at these conventions, say that you should not use it, because mine did tell me to, and it is great. I'll never use a different shampoo on him. I guess vets are just like doctors; none of them agree on everything.
July 24, 2016
1

found this helpful
Misty37723
I have had a yorkie puppy for all of two weeks and trust me I know how tight money can be these days. Anyways age came with a one fleas so I have a toddler and that was not going to work I decided to just try using some dawn and a small amount of baby bath amazingly it works. Later that night as she got her brushing I was brushing dead fleas off I immediately took her and washed the off of her with dawn again just to remove the dead and she was just fine. Dawn really did the job!
November 16, 2016
1

found this helpful
If you put 10 drops of Tea Tree Oil per each 8oz of the shampoo or Lavender Dawn (I recommend because the lavender oil kills fleas) you can just bath them as you normally would and it will keep the fleas repelled. It will also work for ticks, flies (household and horse), and many other ugly lil buggers.... lol
January 10, 2011
0

found this helpful
Well, Hells Bells, I use it to rid my dogs of fleas and tick, foamy bottle I use as shaving cream, it a great body wash, pre-wash on the the hair before the expensive shampoo and it take only one squirt into the dishwasher soap pan to give me great clean spotless dishes. What's the downside to this soap, it saves birds and that makes it good enough for me, (cry,cry) -sorry.
August 9, 2011
0

found this helpful
You guys are the ones that they are talking about at the Veterinary conventions. NO Dawn and NO baby shampoos on dogs, ever! It is awful for their skin. Use a non-detergent, non-degreasing, gentle dog shampoo. Any shampoo left on the dog long enough, will kill the fleas currently on the animal.
The flea medications provided by veterinarians have all been retested in Tampa, FL. They all work when applied properly and consistently to every animal on the premises. Use year round. Fleas can live in "a cocoon" stage for up to 7 months. The U.S. doesn't have a 7 month freeze to kill these insects.
December 6, 2015
0

found this helpful
I does knoe dat dis DAWN shampoo is good for lise and most bugs on my kids and my dog. I give my kids a DAWN bath at least every Saturdays. My dog he get a bath 2 time a week. It do a good job on both.
February 18, 2016
0

found this helpful
Not good Johnson's baby shampoo is the worst for you and your dogs health google it.
March 15, 2016
0

found this helpful
The theory about not using human shampoo on pets is that cats and dogs have a different ph from humans and often times human shampoos are too strong for pet ph level tolerances.
July 7, 2016
0

found this helpful
They want you to spend money you don't t have. I have limited income less than &140.00 month, no lie, back child support, I am not able to work anymore and I waiting on disability. Calling a vet., A doctor, or anyone that are intelligent enough to help, they want money, they are not interested in helping, all we want is our babies to be well. I love my dogs, they are my kids and they are in missed. I can't give them a bath every week, they are 6 months old and weigh 60 lbs each and they didn't weigh probably 1 to 2 lbs. when they were born.. I remembered growing up caring to professional was live in one hand and caring in the other than money was not mentioned. What happened to everyone, when a handshake was all you needed. bad things happens to everyone, and when my family had troubles everyone was there doing there part. But I feel sorry for those that think money is that important, because you can't take it with you when you go, so all you will have is just yourself, just you, I , and myself. Even though there is 3 of you there with you you are still alone but a friend is something special appreciate them it could be your pet or pets!!!!!!!!!¡
July 8, 2016
0

found this helpful
Well, when you have 6 beautiful babies(dogs).. all vets are worried about is money not dogs. I get $140.00 a month that's all. After I pay light bill, there is 2.00 left.y I u see, I don't have the money to buy expensive flea treatments. I love my babies. I don't see anybody thinking of lending a helping hand, giving coupons for free comfortis, front line, you know I try giving them a bath every so often. But I need help in between baths, something that's going to workk
September 3, 2013
0

found this helpful
I bathed my new 6 week old puppy in Dawn because I heard how well it worked, but all the fleas ran to her nose. What can I do?
By Sandra D.
November 6, 2013
1

found this helpful
Best Answer
When you bath your puppy or dog always start as far forward towards the head as you can. You can start the bath by just doing around the ears, back of the pup's head and then the neck without putting the pup in water. What I do is mix water and dawn in a measuring cup and then soap up around the ears and neck area before putting them in any other water.
As soon as you put the animal in water the fleas will run for "high ground" which is the head. After getting the neck area soaped I then do the rest of the body making sure that they are fully wet and completely soaped up. Scrub and leave soap on for at least 4 to 5 minutes, then rinse.
March 8, 2017
0

found this helpful
Best Answer
This is a old thread but in case someone else comes here looking for an answer! I actually put a ring of the soap around the cat or dog's neck then soak them in the flea bath. So if the fleas run upward they get stuck in the soap ring barrier. I then take the flea comb that's dipped in the dawn bath water and brush around his/her face and other areas that aren't submerged. It works best if you submerge your cat/dog in a dawn bath for 5+ minutes vs just rubbing the soap on the animal and rinsing.
October 20, 2013
0

found this helpful
Not sure if you have resolved your issue yet, but if you start lathering at the dogs neck, the fleas will not and as far I know probably cannot get past the suds. Kind of a barrier so the pesky little jerks can't run from you! ;)
June 29, 2017
0

found this helpful
ALWAYS PLACE A RING OF DAWN around the entire neck first. Dawn is safe for animals. It kills the fleas. When my sister gave us an orphan kitten it was loaded with fleas and car oil as the kitten was found under a car that always dripped oil. She lived in a no pet apartment and could not keep the kitten. When I had the kitten, it went straight to the kitchen sink. Grabbed the dawn and placed the ring around his neck the same as ALL flea shampoos state. Immediately the fleas began dropping. I did not use the dawn for the fleas originally--just the oil. The fleas were gone within 5 minutes. Bonus effect.
RINSE your animals for 3 minutes for every 1 minute you wash them with any shampoo. All shampoos for animals state that it must be completely rinsed. My vet then adds until it is clear; then rinse 5 minutes more.
Hope this helps.
November 7, 2010
0

found this helpful
Will Dawn get rid of fleas on my dog? If so, how long will they be gone? And how long between treatments will I need to bathe her?

By rosalee from North Vernon, IN
Answers:
Dawn Dishsoap For Fleas
Yes on the Dawn. Another soap you can use is Dial bar soap. Lather 5 minutes. Even better to shampoo 2 x. Sprinkle dry borax in the carpets and her bed for 2 weeks before you vacuum. Sevin dust in the yard is what I hear.

I don't have fleas on my kids because it freezes in the winter and then I am careful of who visits. I have been 30 years flea free after starting with dry borax. Another thing that helps is a little canned mackerel every day for vitamins (omegas). Also a teaspoon of apple cider vinegar in their drinking water. Never use any flea collars or flea shampoo, that goes to their liver and kidneys. Vaccines have probably ruined your dog's immune system. Read up vaclib.org about what is in vaccines and you will be getting some thuja from homeopathic store to help with cleansing of the poisons. It really does help. Often parvo vaccine will give a dog the sickness.

Read up on grocery store foods for pets. See the pictures of large vats of euthanized pets that go into dogfood/catfood. That euthanol does not "cookoff". To strengthen the immune system a raw diet (at least a few days of the week) is best. Search for kibble and canned though groomers and check yellow pages for specialty stores. Check ingredients, good pet foods contain no corn wheat or soy. They are fillers and cause immune problems, digestive, and skin problems (allergy). Food grade diatomaceous earth mixed with food will get the intestinal worms beautifully. It is a good product for a few other things as well. I really started to answer you and was meaning to answer Thriftyfun with some pet tips they were asking for. Hopefully someone knows how to get my blab to them. I am great with animals, but not so great with technical stuff. Please, someone forward with my permission to print. Anything to help an animal. Sincerely. (08/10/2010)

By muttmom
Dawn Dishsoap For Fleas
My daughter-in-law who does lots of animal rescue says Dawn works well for this, she also uses Johnson and Johnson Baby shampoo so as not to sting their eyes and finds it works every bit as well as Dawn. (08/11/2010)

By huggybear2
Dawn Dishsoap For Fleas
We recently had a big problem with fleas on our dog. We applied Advantage as was suggested by our vet, who also told us not to use flea dips as they are very toxic over time. Advantage worked great for a week, but after a week it stopped working and we were seeing more fleas again. I called the company and they asked if I had bathed the dog in Dawn dish washing liquid. I hadn't, but they told me most flea shampoos and Dawn will alter the PH level of your pet's skin, which will cause their product to stop working. She suggested reapplication of Advantage, and we brushed him every day to keep him clean. We didn't bathe him once a week, which I had been doing because I thought it would get rid of fleas. Now we bathe him once a month unless he gets dirty.

It turns out we needed to treat our backyard. Once we did that, and followed the instructions of the Advantage folks, we haven't had any more problems. So, in summary, Dawn may work to kill existing fleas, but it might actually hurt your chances of keeping them off in the future. You need to find the source of the fleas and treat that as well as your pet. Borax laundry booster for indoors is cheap, works wonders, and is very safe if used properly. Check for threads about that. Good luck! (09/29/2010)

By volvomom