Read and rate the best solutions below by giving them a "thumbs up".
Dawn to Kill Fleas
Give your dogs a bath in Dawn dish washing detergent once a month over the summer months (when fleas are at their worse). The Dawn kills them. However, you must make sure to get the ears and head as the fleas will migrate to that area.
I rescued a puppy that was found in a storm drain and he was covered in fleas. One bath and some conditioner for his dry skin and he had none when I took him to the vet 4 days later.
By TankersWife22 from Pembroke, GA
---
Which Type of Dawn?
I read the thread about using Dawn for washing the dogs to get rid of fleas. This is kind of a silly question but does it matter which kind of Dawn you use. I have the antibacterial apple. Is this ok?
maddiva
Answers:
RE: Which Type of Dawn?
Hey, I have a dog too. I don't usually use soap much because it can irritate the skin on dogs. Don't use anything too harsh, because it can take away there natural body oils. I suggest getting a medication for him, or talking to a vet before using Dawn on him at all.
By Em
RE: Which Type of Dawn?
When we were trying to deflea kittens too young for Advantage, the vet told us to use regular Dawn, not the antibacterial kind or other scent, just the regular blue Dawn. I don't know what the difference is, but she did specify that it be the original one, not the antibacterial kind. Unfortunately, until they were old enough for us to use Advantage, nothing got rid of the fleas completely. However, it did cut down some on the population :0)
By Rebecca
RE: Which Type of Dawn?
Lemon Dawn is what you should use.I have several dogs and use it all the time. You should only bath them once a month
By bluetopazsue
RE: Which Type of Dawn?
It would be better for the dog if you bathed him/her with dog shampoo and then spritzed with peppermint or lavender oil, which help repel fleas and ticks.
By Peggy Z
RE: Which Type of Dawn?
I use Advantage as my dogs cannot take harsh drying soap.
Do NOT use Hartz anything. The EPA has ordered them to stop producing the product as it has killed so many companion pets.
http://www.epa.gov/pesticides/factsheets/hartzq_a.htm
http://www.geocities.com/boycotthartz/
Jennifer in Northern Virginia
RE: Which Type of Dawn?
I gave, and still give, my dog the soft gel garlic pills daily. She thinks they are a treat and we have never seen another flea.
By JEN
---
Dawn Dishsoap For Fleas
If fleas are a problem for your pet, wash them with Dawn dishwashing soap. It kills them instantly. Leaving a small nightlight on during the night will draw fleas. Just put a small bowl of Dawn under the light and they will jump in. By Brenda from Cleveland, OH
---
RE: Dawn Dishsoap For Fleas
HARTZ made my pets very sick! I have used the Dawn with good results. Good luck with your invaders. Liz (01/17/2007)
By Ole Lulu
RE: Dawn Dishsoap For Fleas
The Dawn might get rid of some of the adult fleas, but it won't do anything for the eggs that they have left behind. You should consult your vet before using anything on your pets other than what the vet recommends. I will stick to Frontline or Advantage for my dogs. (01/17/2007)
By Robin
RE: Dawn Dishsoap For Fleas
Robin, I agree with you 100%, "self treatment" can be dangerous to a pet. My two are indoor dogs yet I have them on Advantage all year and they've never had a flea, nor have they brought any into the home so my indoor kitties remain flea free also. Jennifer Northern Virginia (01/17/2007)
By ILuvDobes
RE: Dawn Dishsoap For Fleas
Always use the blue kind I think its called orignal. How many of the sea life and birds has Dawn soap saved? The numbers are very high. The dawn soap is safe unless your animal has severe allergies to any kind of soap. (01/17/2007)
By lazidd
RE: Dawn Dishsoap For Fleas
I like using the most safe form, and have used Dawn for flea removal. I would never use Frontline or any of those types of products again. My cat almost died when he was treated with it. It can cause severe nerve damage and death. (01/17/2007)
By #1Karen
RE: Dawn Dishsoap For Fleas
Hi Karen, what a nightmare you went through. I'm so sorry. The only "flea preventative" I have heard of, that killed pets was made by Hartz Mountain. My kitties are not treated as they are strictly indoors and have have never had a problem with fleas. My dobies have not had a problem whatsoever with Frontline or Advantage. Jennifer Northern Virginia (01/17/2007)
By ILuvDobes
RE: Dawn Dishsoap For Fleas
This is the best way. They started jumping right off so I used it in my steam cleaner two weeks later no visitors yet so all the non believers try it. I thought it was silly too but it worked and only cost $2.50. So support Frontline if you want but dawn helps animals. Frontline tests on animals. So do what you want (09/19/2007)
By chris
RE: Dawn Dishsoap For Fleas
Does anyone know what to use for the eggs & pupae that you can't kill from chemicals? I just got a 5 week old kitten that has some fleas & I'm trying to prevent infestation. (10/28/2007)
By ANNA
---
Dawn Dishsoap For Fleas
Does dawn dish soap really work on dogs that stay outside all the time? What is the best thing to use on my yard because the fleas have been bad here and Sevin Dust did not work.
Janelle from Oxford, Alabama
---
RE: Dawn Dishsoap For Fleas
I am having a problem with fleas as well. I have found the Dawn to work wonders. We use it to give the pets a bath. You can also mix it with water in a spray bottle and spray around the house. It will help to kill them before they can get into your house. We are also using it on the carpets with the steam cleaner and then mixing it with water in a pie pan with a light over it at night. It all really works and is cheap. Good luck. (11/06/2007)
By Pheobie
RE: Dawn Dishsoap For Fleas
When we lived in FL our vet told us to use any dish soap on our Chihuahua for fleas - the trick was to lather it for at least 10 minutes. Worked. (11/06/2007)
By lavonneann
RE: Dawn Dishsoap For Fleas
Dawn Dishwashing does not work. I have tried it. (11/11/2007)
By Sandy
RE: Dawn Dishsoap For Fleas
I called the vet today since on Saturday I just got a yellow lab, to ask what to use because when I got her she came with fleas, I didn't know until we got home and after observation. The puppy is 8 wks old. The vets office said "Dawn" so tonight that is what I bathed her in.
But I will also take all the other advice esp. about the steam cleaner, the night light trick and dry bathing for the next time. We go to the vets in a couple of weeks were I will more address the Frontline and a new one that starts with a "P" that just came out a couple of months ago. (11/13/2007)
By Cheryl
RE: Dawn Dishsoap For Fleas
I have also heard that Dawn dish soap works really well. My mother in law uses it on her cat. I have recently gotten a flea infestation from my neighbors. She had a real bad flea problem and had someone come and spray. Unfortunately, they ran to my house. I have 3 American Bulldogs and they all 3 are infested. I am going to try and use the Dawn Dishsoap and see how it works. Thanks for the information! :) (04/28/2008)
By Mrs Jarrett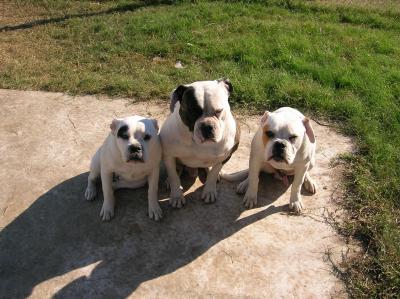 RE: Dawn Dishsoap For Fleas
The original New Dawn killed fleas, but they have changed the formula and the one in the little blue bottle now, doesn't work at all. Does any one know if any of the New Dawn's they have now, will kill fleas? I used the original for years and it worked great, I even sprayed my yard with it. (05/20/2008)
By Beth
RE: Dawn Dishsoap For Fleas
Don't forget about a flea comb. Comb out the fleas and wipe the fleas off into a bowl. Can't remember if the bowl is filled with soapy water or alcohol. (05/20/2008)
By
RE: Dawn Dishsoap For Fleas
We haven't used dawn for a little over a year, but when we used it it did kill the fleas. We are bathing my children's kittens and using the original formula. (06/03/2008)
By Oreorgeor
---
Dawn Dishsoap For Fleas
I read that you can give your pet a bath in original Dawn soap to kill fleas. I just did it right now and a lot fell off. She's barely got them so they're not bad yet, but I was drying her off and saw that she still had a few. Will the stuff in the soap keep killing them or are they all supposed to die when you bathe them? Please help.
Honeybunn141 from Fresno, CA
---
RE: Dawn Dishsoap For Fleas
You can use generic lemon dish liquid, the trick is to lather and massage into your pet and try to leave on as long as possible. 5 minutes or more if your pet is patient, this works, that's all I use now. The Frontline and Advantage that my groomer uses doesn't work, but the dish liquid does. (06/06/2008)
By wvrdnkwmn
RE: Dawn Dishsoap For Fleas
I have been using a "new" flea deterrent that the vet gave me for my Bichon called Vectra 3D. It is pretty new. It keeps the eggs from hatching and I think it is working great. I haven't seen a flea on her for 3 months and we have been in the country visiting as well. Also, I don't know about the Dawn per say, but I personally think any good shampoo, or whatever, works because the fleas on her just drown. If you soap your dog really good and keep the shampoo on a few minutes, then rinse really good, they usually all die. But try the Vectra. So far, I haven't seen even one flea, and she was covered. I was getting ready to spray my whole house. I was really frustrated. (06/06/2008)
By Nolasandy
RE: Dawn Dishsoap For Fleas
I recently got a kitten and it was infested with fleas that I did not realize until we got home and I found a flea on me. So upon careful inspection I found a ton on my kitten. Here is the homemade remedies I used and still do and they work wonders. I had heard rave reviews on Dawn Dish soap and Apple Cider Vinegar. I decided to give both a try. I went and bought a bottle of each at a local grocery store. I bought and used and still do use the blue Dawn Ultra Concentrated Power Plus.
The first thing I did was make a mixture of lukewarm water and apple cider vinegar in a big pour jug. I put 1/2 cup of the vinegar into the jug and then filled it with lukewarm water. I set that aside within my reach in the bathroom where I was washing kitty. I filled the tub with luke warm water enough to wash the kitten in.
I took the Blue Dawn Dishwashing liquid and before getting kitty wet I placed a ring of it around her neck and rubbed it in. I did this to prevent the fleas from scurrying to her head when I put kitty in the water and that's where the fleas will run to. But by putting the ring of Dawn around her neck this prevented the fleas from scurrying to her head. I then got kitty wet and placed the Dawn directly onto her and worked up a good lather. I washed her for a good 10 minutes. You wouldn't believe the amount of fleas that fell off her and they were dead fleas.
The Dawn worked to kill the fleas. After 10 minutes of lathering her I took a very fine tooth comb and ran it through her to get the remaining fleas off her. They were all dead. Then I rinsed her with clean lukewarm water. After I rinsed her I took the Apple Cider and water I had mixed in the jug and slowly poured it all over kitty to ensure I got every part of her except her eye area, nose area and the inside of her ears. I did not rinse the Apple Cider Vinegar off her. This formula helps to repel the fleas. They dislike the scent of Apple Cider Vinegar. I also put a teaspoon of Apple Cider Vinegar in her drinking water to also assist in repelling fleas.
All this worked to kill the fleas and to keep new fleas from attacking her. Now the only thing I have to figure out is how to kill the eggs and larvae. But until then I will bathe kitty once a week in both the Dawn and the Apple Cider Vinegar to help kill any lingering fleas and to repel them and keep them under control. This does work and it does not harm kitty at all and does not irritate her or anything. The picture I have included is of my kitty and her name is Precious. I named her precious because that's what she is. (06/21/2008)
By Corine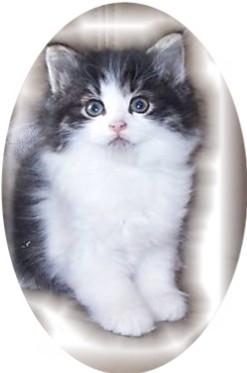 RE: Dawn Dishsoap For Fleas
Take your veterinarian's advice. Vets know what works best in their areas. Over time, fleas develop resistance to certain insecticides. Your vet will know which ones and suggest a safe alternative. Ask your vet which one he or she uses on his or her pets. Asking your neighbor or cousin is anecdotal at best. (06/23/2008)
By goombah
RE: Dawn Dishsoap For Fleas
Dear JEN - You could be killing your dogs. Garlic is toxic to both canines and felines. Thanks and regards. Kali (07/30/2008)
By Kali
RE: Dawn Dishsoap For Fleas
I am a professional groomer. Yes, Dawn will kill fleas. It is also great in a spray bottle mixed in water for a safe pesticide. Although it does kill fleas on your pet, It will not prevent them. Fleas have a 10-14 day life cycle and once they are in your home they live in the carpets, couches, beds, etc. You have to treat the pet(s), yards, carpets, couches, bedding, and anywhere your pet may be. Repeat everything in 10-14 days and if you can a 3rd time.
There are organic flea treatments to keep the fleas off your pets for 30 days. Treat your pets with this during the 1st cleaning and again on the 31st day. I use Dawn as a yard pesticide with a mixer on the hose and hose the yard down. DO NOT wash your pet with the Dawn more than once a week and finish with a conditioner so not to strip the natural oils of your pets coat. (01/30/2009)
By Moon
---
Dawn Dishsoap For Fleas
Does Antibacterial Dawn dish soap kill fleas?
---
Dawn Dishsoap For Fleas
We just moved from Ohio and found my cat seems to have developed an allergy to the fleas here. They bother him so much that in just a few days he has dug out patches of fur and left open sores from digging.
---
Dawn Dishsoap For Fleas
Will Dawn get rid of fleas on my dog? If so, how long will they be gone? And how long between treatments will I need to bathe her?