April 14, 2011
0

found this helpful
My cat is 3-5 years old and has been neutered. He's lived in a multiple cat household (4 other cats) and done fine. No peeing. Now, I live with two dogs and one other cat and my cat has been peeing on everything. My stuff, other people's stuff, trash, dirty clothes, couch, curtains, anything!
I've tried the pheromone sprays and they will work for a few days tops and the peeing starts again. The other cat has no problems. This has been on and off for a year or so and I'm tired of having to wash everything cloth in the house every week because it's been peed on.

I also fear my roommates are losing their patience and will take him to the humane shelter behind my back. Help! I am thinking of taking him to the vet, but since it's been so long, I have a feeling it isn't a UTI because I just learned that could be fatal to male cats, and he seems pretty healthy.

By Kali from Terre Haute, IN
Answers:
My Cat Pees Everywhere
I recommend you go ahead and take him to the vet, to rule out any medical problems. Also, even if it's not a medical problem, the vet might be able to give you some sound advice.

What are you using to clean up the messes? If you haven't already, pick up some enzymatic cleaner. I used to get Petzyme at Petsmart, but last time I got some OUT! at Wal-Mart (more convenient since I was already there). The enzymes break down biological wastes, so the smell is completely gone. If any smell is left, the cat will return to the same spot(s). You may want to do more than one application, just to be sure (you let the enzymatic cleaner air dry).

When our youngest cat was a kitten, he had an accident on the couch (pee). I soaked up what I could with a towel, saturated the area with enzymatic cleaner, used the carpet cleaner to suck up as much as I could, re-saturated with enzymatic cleaner, and let it air dry. While it was still wet my other two cats were sniffing around (which really worried me that they'd start peeing in that spot), but after it dried they never paid any attention to the spot again.

You might also need to make some of his regular spots less attractive to pee on. Like (after you've thoroughly cleaned the area), get a plastic floor protector and place it over the spot. We got one at an office supply store to go under the chair at our desk. He might not like the new texture, and leave that spot alone. And if there are roommates in the picture, and he's messing on their stuff, you may have to keep him in your room while unsupervised for a while until you get the situation under control. You have a responsibility to be a good pet owner and a good roommate.
But please start with the vet. I hope that there is a relatively simple solution, and that it all works out in the end. (01/19/2011)

By mrs.story
My Cat Pees Everywhere
Cats seems to be very emotional (for lack of a better word) when something changes in their environment. We travel to Florida for the winter and a change in location, type of litter, new animal in the family have caused him to lose his litter box training. This is info I got from some animal websites. This was recommended and seemed to work for my cat.

To retrain the cat to use the litter box, borrow or buy a crate big enough for him and a litter box (I got a small travel size litter box). The cat moves into the crate and is fed in there for a period of time. I did it for a week. When he is using the box for a week or so try letting him out, if he messes up again go back to being in the crate. Also you may have to try another type of litter, mine prefers very fine litter. The article said you could also try hamster type litter (made of paper) if the cat is adverse to regular cat litter. Good luck. (01/19/2011)

By merlene
My Cat Pees Everywhere
I've been there with this one. It looks like a lot of other people have been there too. A cat with a UTI is in a lot of pain, constantly. It really needs to be checked out. Yes they can be fatal, but that is rare and results from a blockage of the urethra. Cats with UTIs, don't look outwardly sick. But they are miserable. the longer he goes ignoring the litter box, the longer it takes to get him back to it. Be sure to see the vet, right away. I have used the pheromone spray successfully, but I had to use it for a couple weeks before the accidents stopped. Sometimes I would spray it twice a day. Eventually it worked, but not until I got the UTI cleared up. Good luck with your guy! (01/19/2011)

By Lizzyanny
January 18, 2011
0

found this helpful
What do I do if my cat is peeing everywhere? He pees on clean clothes, my bed, in corners, on the carpet. We have had him for quite a while and were thinking about giving him away, sadly. I was hoping if you could tell me what I can do to help him?

By Kritty Kitty from Sacramento, CA
Answers:
My Cat Pees Everywhere
Your cat is trying to tell you that something is wrong with it. Cats will urinate outside the box for a number of reasons. Do you have the right size litter box? Do you keep the litter box clean? Cats are exceptionally clean animals and litter must be cleaned out every day and pan washed once a week. Are there some change at home which has upset it? Cats hate change like construction being done or loud visitors and new baby, or a new pet. The last is more serious. When cats develop various internal problems, especially URI, they will urinate and/or defecate outside the box because it hurts them to go to the bathroom and they associate the litter box with pain. Hence they try to avoid it. Before you do anything drastic be fair to it and take it to a vet for a check up. I hope this helps. There are many links on the internet to problems of improper elimination by cats. You can do a Google search and find out more. Good luck. (07/22/2009)

By Needtoknow
My Cat Pees Everywhere
Needtoknow's feedback is very good, especially about the possibility of your cat having a UTI. When one of my cats began leaving wet spots on the floor and near furniture I thought it was because he had not yet been neutered (he was nine months old) and took him to the vet for that procedure. When I was checking Spunky in at the vet's office I mentioned that he must be spraying because I was finding wet spots where he had been. The vet checked Spunky's urine and discovered the UTI, treatment of which solved the problem. He also went ahead and neutered the cat.

Spunky is now nine years old and has always been very finicky about the cleanliness of his litter box. If any other cat in our household (we have seven) uses "his" preferred litterbox he goes on the floor next to it in protest. He's fortunate that I love him enough to put up with his eccentricities and to clean up after him! (07/24/2009)

By Gingembre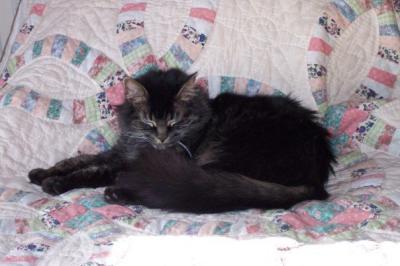 My Cat Pees Everywhere
My cat was doing this. The vet said he had developed an ulcer due to a new baby in the family. He is now on a mild tranquilizer and is fine! Take your cat to the vet. (07/24/2009)

By catastrofy
My Cat Pees Everywhere
If you are confident that this is a behavior problem and not a physical one that needs vet attention, there is something you can try. Get a large cage and put the cat in it with food, water and his litter box. Keep the cat in there for two weeks. It won't hurt the cat to stay in the cage, especially if this is a last-chance effort. He won't like it and will complain, but it won't hurt him. Keep the litter box cleaned at least twice a day. Keep the cage in a comfortable place for the cat, not a dark basement or garage where it will be alone. This can "retrain" the cat.

During this two weeks, make sure you have cleaned all of the spots thoroughly, you won't want him coming back in and being attracted to his old spots. Natures Miracle is a wonderful product. I also recommend using a black light to find spots you didn't know were there. After that two weeks, let the cat back into the house and put the litter box where it belongs. Make sure the cat has 100% access to the litter box, that it isn't in a room where the door might get shut or something. You could also confine the cat to one room with the litter box in it until you want to try whole-house access. Give him a chance and see if he does OK from there. It's worth a try. (07/24/2009)

By Abrigg
My Cat Pees Everywhere
Take your cat to the vet ASAP. UTIs can be fatal to male cats. (07/25/2009)

By Maryeileen