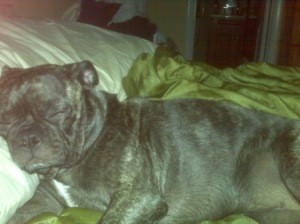 We have a 3 year old, female Boston Terrier/Pug. She has peed in our bed twice now, during the middle of the night, and has "never" done this before. She is let out all the time, all day/night. We let her out each night before bed, and like I said, this has never been an issue.
She acts like she knows she's been naughty, when she sees us stripping the bed. Nothing has changed in her environment. I am home with her (and our other Boston/pug) all day. We have had her the whole time, since she was a puppy. She gets a ton of love, and plays all the time with the other dog. She has been spayed for 2 years.
By Suzie S.
Answers
October 1, 2012
0

found this helpful
Please have her urine checked by your vet. Could be U.T.I, or diabetes, or some other infection. My old 14 year old dog has incontinence and is on Proin but yours sounds too young to have this.
Good Luck
October 3, 2016
0

found this helpful
My boyfriend's dog, T, is 5 years old. Last week, while we were ripping up carpet in the guest bedroom, T suddenly peed on the carpet. He's never done this before, ever. He always scratches on the door when he needs out. Last night after some late romancing, my bf & I went downstairs to get a snack. T stayed upstairs (he usually follows instantly). When we got back upstairs, T had peed on my bf's pillow. I read what you wrote above, but I'm not sure how to interpret what T is doing. In both instances, he had been outside not that long before. He hasn't been neglected or left alone. He's a happy dog, & my bf is his favorite person in the world...
October 19, 2017
0

found this helpful
From what I have read, dogs pee on their owners bed to establish dominance. The dog is displaying the dominant roll in the pack. Thanks
Read More Answers
I have an about 2 year old Shih Tzu girl, who is puppy pad trained. But it seems she's wanting to pee in our bed and also the bed of the people we live with. I've tried cleaning the bed with a shampooer it didn't work.
I've tried scolding her. She does it more then. It seems she was doing it when we weren't home much. Now she will do it behind my back while I'm laying in the bed. Can anyone help?
Answers
March 15, 2016
0

found this helpful
Take her to potty training might be helpful
March 16, 2016
0

found this helpful
Your dog may have a urinary tract infection or another medical problem that needs immediate treatment. Please take her to your vet for evaluation and help.
November 11, 2016
1

found this helpful
Hi, i am having this same problem with my shih tzu a girl as well last night on me i was shocked i dont know what to do have you found out anything that can help alsi her potty training is not good either she is 11 months old
December 14, 2016
0

found this helpful
My 2 year old Yorkie has started peeing in bed suddenly
I have tried cleaning the bed with lizol and Savlon but no change pls help
October 5, 2017
0

found this helpful
My 2yr. Yorkie just started to pee on my bed.....Why?????
Read More Answers
Our 4 year old Staffy started peeing on the owner's bed. She only does it now and then. She goes out to the toilet during the nite.
Answers
March 2, 2017
0

found this helpful
Make sure a vet checks her out to make sure there are no physical causes for this. If not, maybe your dog is missing you, and that's why he is doing this on the bed, which has your scent.
Have there been any changes to your schedule? A new baby? New pets in the house? A move?
March 2, 2017
0

found this helpful
i just answered this same question for someone else! While a vet and changes in routine are always things to consider, also look for other,less obvious reasons. new detergents, perfumes; something outside the room scaring the animal (squirrels,raccoons,etc).
June 12, 2017
0

found this helpful
I saw your comment and would like to know if you can help me.i just have a new baby,my dog is 2 years old now suddenly peed at our bed when ever we didn't take him with us when we need to go somewhere(where no dogs allowed or hot outside)
What do you think I should do?the new baby does take our time away from them.
Answer

this Question

...
My 1 year old Dachshund has just peed on my bed, she sleeps in it also. She was in season 2 weeks ago and did it on the guest bed. She sometimes does it indoors. She was only trained to go outside a couple of months ago, as she always went on a pad and she was brilliant and learnt in a few days.
She was my granddaughter's dog, but I looked after her all week and she went home at weekends. My granddaughter has now given her to me as she felt it wasn't fair on her. I also lost my husband at Christmas, so I do cry a lot. I am worried that Daisy is suffering and that is why and need your advice.
Answers
September 28, 2016
0

found this helpful
Any kind of newly trained behavior (going outside) will have its' setbacks. It's just part of the process. It sounds like it is time to go over the lesson again in a calm and patient way.
Also it is time to have your dog spayed. The cycling hormones can be distracting to her and may make her new training less likely to "stick". Spaying at an early age also protects your dog from several cancers and other diseases.
September 29, 2016
0

found this helpful
Unless you are a licensed breeder and this dog is pedigreed with papers and award-winning parents, have her spayed. Unaltered dogs are more likely to "go" indoors after puberty.
Your emotional state does most certainly affect your dog. Anxiousness or worry about your sadness upsets the dog. Dogs are very sensitive creatures and bred for many generations to be in tune with their owner's moods.
I'm not saying that to make you feel bad, it's just that whenever a dog learns something new, nervousness or being upset can cause them to revert.
I'd suggest just continue training like you would a puppy. Reward for good outdoor behavior. Take her out frequently to try. And get that spay done soon.
November 23, 2016
1

found this helpful
My dog pees on all the bedsame. I have another dog but they both Sleep with me. I want to know why she does this.
Answer

this Question

...
My 7 year old neutered Papillion mix has started peeing on my bed. He never did this before. Why has he started doing this? He has no bladder problems.
By Beverly from Campbellsport, WI
Answers
June 28, 2010
0

found this helpful
Hi Beverly, Whenever a dog's behavior suddenly changes like your describing, there's two places to start looking before anything else.
1) Medical: you say he doesn't have any bladder problems, are you absolutely sure? Have you had his urine checked by a vet? With a urination behavior, medical problems always have to officially ruled out first.
2) If that isn't the issue, then I would look at what has changed since this behavior started? Work schedule, house guests, someone moving in or out, stress or other problems within the home.
Think hard about the possibilities of what it could be. Dogs just don't suddenly begin peeing inside the home for no good reason! I'm interested to hear your comments.
All the best, Cabinfever.
January 15, 2016
0

found this helpful
we got a kitten 6 weeks ago and the dog has peed in my spot two days in a row. let me guess...he's pissed about the cat,
April 8, 2017
0

found this helpful
My 2 year old house trained Newfie started doing this every once in a while. I don't know what's going on! She always lets me know when she has to go out by licking my face and prancing her body towards the door. She's been peeing in the middle of the night in my bed while I'm in it sleeping. I let her our for the bathroom before bed. This started happening after moving to a new place. My schedule is a bit different than it used to be but I am only working 25-30 hours a week, the rest of the time I am with her, taking walks, dog park, you name it. She gets so much love and attention!
She is a pretty anxious dog but seems to do okay when I'm around. Thats why I'm confused about her only peeing in the bed when I'm in and and yet she's not going anywhere else in the house?
Help!!!
Answer

this Question

...
I want to know why the dog pees on the bed even though he has been outside enough times to relieve himself. He was given to me from someone who had him in a dog crate most of the time. He knows he is supposed to go outside and seems housetrained already.
By lori from West Haven, CT
Answers
March 19, 2011
1

found this helpful
Two possibilities: Could be a medical reason such as a bladder infection. If you have eliminated that possibility, it is most likely territorial marking, just like dogs do when they lift their leg outside. Even females will mark with urine. You either have to figure out why the dogs feels the need to mark your bed ( is for example, a new person sleeping in the bed?) If you cannot change the factor that is causing the dog to mark your bed with urine, the only option is to restrict access to the bed. Keep the door to the bedroom closed unless you or someone else is in the room. The dog will probably not pee on the bed unless he is alone. If, on the other hand, you see him doing it, correcting him at that time might help.
August 11, 2016
0

found this helpful
What do you consider "correcting him"?
Answer

this Question

...