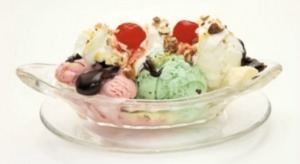 By JENNIFER
Feedback Forum
Feedback about this article is posted here. Want to contribute? Click above to post feedback.

By neuroticmom [9]02/08/2010
What a great memory/tradition for your kids. My husband would never go for this but me bring it on. lol

By Michelle [1]02/08/2010
What a fun tradition. Dessert for dinner once a year is something I wish I had thought of when my girls were small. They now live hundreds of miles away so doing this for grandchildren on Valentine's Day is also out of the question. But maybe on the last night of a visit? Thanks for a doable idea that can be tailored to the taste of those participating.

By Ginger02/08/2010
What a sweet idea for Valentine's Day! I'm going to adopt it starting this year. My kids are grown and on their own but my husband will be surprised and thrilled.

By Deanj02/06/2010
Yuck. I would opt for a healthy meal over that junk.

By Shawna (Guest Post)02/05/2009
Fabulous! I really like making traditions! Too bad that right now my daughter doesn't really like "stuff" in her ice cream. She only wants what she calls "the white ice cream." She's two, so that could change eventually, and when it does, I think we might go for this! Thanks!

By Robyn Fed [388]02/05/2009
That sounds like something the kids will cherish and remember all their lives...I will try that with frozen yogurt or sherbet since some of our members of the family are lactose intolerant...what a great great sweet idea!

Robyn
Post Feedback
Add your voice to the conversation. Click here to share feedback.