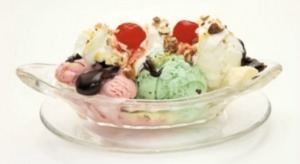 I started a tradition when my oldest son was 4 years old. Since our "sweethearts" are our children, we celebrate Valentine's Day by having banana splits for dinner! I make sure to have anything a person could desire for toppings. Our dining table looks just like a malt shop. (You should see the huge bowl of cherries that adorns the center of the table!) All with the benefit of having a fun intimate family meal, and the cost is the same or less than what we would have spent if we went to eat at an ice cream shop. And we get to keep the left over ingredients!

Valentine's Day is the one time a year my children can look forward to eating dessert for dinner, just as they count on turkey for Thanksgiving. It's a treat we all love! Now, we have a brood of 15, 10 and 4. We've been celebrating Valentine's Day with banana splits for 11 years and my kids proclaim they will pass this family tradition down to their own children some day!
By JENNIFER
Ad
---
By Robyn Fed 394 1,240 02/05/2009 Flag
That sounds like something the kids will cherish and remember all their lives...I will try that with frozen yogurt or sherbet since some of our members of the family are lactose intolerant...what a great great sweet idea!

Robyn
By Shawna (Guest Post) 02/05/2009 Flag
Fabulous! I really like making traditions! Too bad that right now my daughter doesn't really like "stuff" in her ice cream. She only wants what she calls "the white ice cream." She's two, so that could change eventually, and when it does, I think we might go for this! Thanks!
Yuck. I would opt for a healthy meal over that junk.
What a sweet idea for Valentine's Day! I'm going to adopt it starting this year. My kids are grown and on their own but my husband will be surprised and thrilled.
By Michelle 1 3 02/08/2010 Flag
What a fun tradition. Dessert for dinner once a year is something I wish I had thought of when my girls were small. They now live hundreds of miles away so doing this for grandchildren on Valentine's Day is also out of the question. But maybe on the last night of a visit? Thanks for a doable idea that can be tailored to the taste of those participating.
By neuroticmom 9 144 02/08/2010 Flag
What a great memory/tradition for your kids. My husband would never go for this but me bring it on. lol