Making a Yarn Dog
Use an old hanger and a skein of yarn to make a yarn dog This is a guide about
making a yarn dog.
This is something I made for my children when they were little and am now making for my great grandchildren.
Materials:
lightweight wire coat hanger
light cardboard for template
about 1 4 ounce skein 4-ply yarn color of choice
30 inches of ribbon
3/4 inch black pom pom for nose
2 wiggly eyes 15 MM
white tacky glue or hot glue
small piece of red felt for the tongue
Instructions:
Bend the hanger using the photo as a guide. First stretch it out then bend according to measurements shown. These measurements are not critical, but make sure the "legs" are stable. The tail should be higher than the back.

Cut a template that is 2 1/2 inches wide and 4 inches long. Cut slots in the edge about an inch from the top.

To make the ties, wrap the yarn around the long side 20 times, then cut along the bottom. This will make 8 inch ties. Repeat for the rest of the ties. You will need approximately 135-150 ties.

Place a tie through the slots on your template, and make 20 wraps around the long side for an ear. Pull the tie up to the top, slide off the cardboard and tie tightly at the top with a double knot. Repeat for the second ear.

For body bundles, wrap 20 times across the short side of the template. Carefully slide off the cardboard and lay a tie under the middle of the bundle. Tie tightly around the bundle with a double knot. You will need about 135-150 body bundles. This may vary according to how tightly you pack them as you tie them onto the frame. The dog shown used 137 bundles plus the two ears.
To assemble, start with the circle for the head. Starting at the bottom front of the circle, tie on about 8 bundles, tie the ears in and then finish filling the circle with bundles. Next start tying bundles on the front legs. It is easiest to do work on both sides as you proceed from the front to the back of the dog, finishing at the top of his tail. Just tie them and keep pushing them together as you go. Cut a rectangle of red felt and round one end. Put a dab of glue on the square end, and tuck it in place pressing the yarn loops against it to hold it in place. Add the pompom for his nose and the wiggly eyes, using the photo for a guide.

Tie a bow around his neck, and give him a little "haircut", trimming the ends of the ties that are sticking out all over.
I forget to time myself when I make a craft, but would estimate that it will take about 3 hours to complete this project.
By Harlean from Hot Springs, Arkansas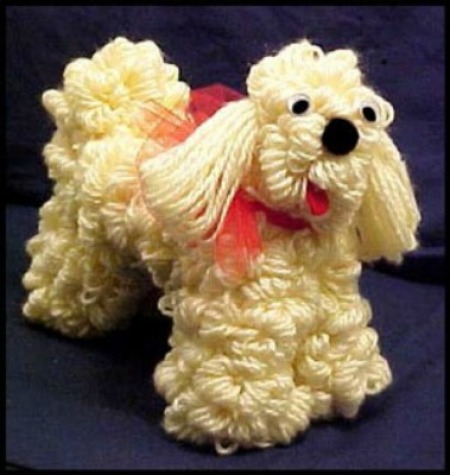 October 28, 2014
0

found this helpful
My father made a couple of these about 20 years ago, but of course after 4 kids and 3 granddkids, they're falling apart. I cannot thank you enough for this post.
February 11, 2016
0

found this helpful
Do you have a video?
April 21, 2016
0

found this helpful
I used to make these all the time when I was a kid, now I am glad to find your pattern so I can make them with my grand kids.!!!!
November 21, 2016
0

found this helpful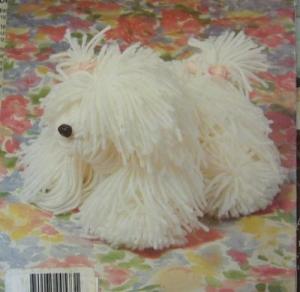 I am looking for the pattern for the yarn dog with "no" wires. I love that pattern and would like to make it for my grandbabies. Pictured is the one I am looking for. Can anyone email me a copy of it?
By Michelle B.
January 8, 2014
1

found this helpful
I am looking at the instructions you want as I type this.
February 10, 2014
0

found this helpful
I wish mine turned out this cute. I made my first one tonight... LOL well, I'll show you a photo and if you want the pattern just let me know. I did a horrible job gonna get someone to help me next time. I tried to make a yorkie for my friend.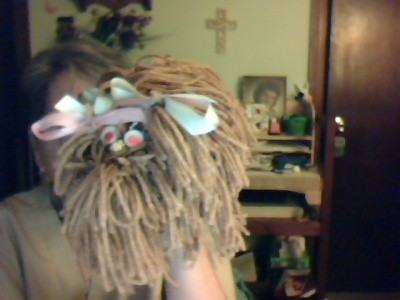 June 8, 2016
0

found this helpful
Can You give me a pattern for a YARN-Dog- without the wirehanger
June 24, 2016
0

found this helpful
How do you make yarn dogs and cats on coat hangers from back in the 60s?
January 31, 2016
0

found this helpful
Do a search for it. I posted the pattern in detail a few years ago. In fact as I post this there is a link to it on the right side of this page under "Related Guides.
Harlean from Arkansas
Editor's Note: Here is the link to Harlean's project.
February 13, 2016
0

found this helpful
I use a 3" card = wrap 20 times with yarn - tie in middle then tie onto frame. Take 2 skeins of yarn min. I remember the cats but can't think how the frame was made and can't find it either.
I'm looking for the instructions on how to make a shaggy dog out of yarn.
By Ashley from Fort Drum, NY
February 10, 2014
0

found this helpful
I do have one, but I have not made it yet. It's a red heart pattern . I'd be happy to email it to you if you like.
Jacki
July 15, 2014
0

found this helpful
I too would love a copy of your pattern! Can you post it here?
September 20, 2015
0

found this helpful
I too would love to have this pattern if you could email it to me thanks
Can someone please tell me how I can dust a yarn dog. My 17 month old has just been given one that is 30 years old and it is very dusty
By Tamara
June 21, 2014
0

found this helpful
No way to dust. You must soak it a pan or pail of warm water with a bit of Dawn or other mild dish detergent or Woolite is good too. Hair shampoo works too. Swish gently and rinse several times in warm water swishing gently. Gently squeeze as much water as you can and roll in bath towels pressing a bit to remove excess water.
When nearly dry blow dry on low setting to fluff and to remove all water so wire armature does not rust. You can add a bit of white vinegar or hair conditioner or fabric softener to the final rinse to soften and vinegar helps to deodorize and remove any remaining detergent residue. Finger comb and arrange yarn when done. These are yarn cleaning directions. Works for all yarn.
For a dusty ball or skein of yarn that was in storage you must wind it into a circular skein around whatever you have and tie it in several places with short lengths of yarn around the skein and then wash and hang by one of the ties to dry. Can be blow dried too on low to fluff and remove any dampness once nearly done. Then wind into a ball by hand or with a ball winder.
June 24, 2014
0

found this helpful
I would throw the dog in with perhaps a one half dryer sheet, I like unscented Bounce, and a dry towel, a kind of thread worn one...lol and put the dryer on air dry!
August 25, 2014
0

found this helpful
You could try this place in small kitchen garbage bag , grab and gather in hand and hold over the wand of your vacuum cleaner. Then suck the air out being careful not to get too close to the yarn.
I am looking for the pattern for the shaggy yarn dog. I have the pattern that uses a wire hanger. Thank you.
By Gina
October 2, 2013
0

found this helpful
Can you be more explicit in your request please? I have a few patterns, but not sure exactly what you are looking for.
I need instructions on how to make the wire form for the coat hanger dog. The horse and cat are really cute, too.
By Carol from MT
June 21, 2014
0

found this helpful
I have never seen the horse and cat one. Could someone send me a picture, would love the patterns for them but without the wire because they would be for children. Thank you
I am looking for the pattern to make a shaggy dog. It is in Coats and Crafts #Art j17 Book 0713. It is titled Animal Bazaar Book. There is no wire is in this dog. I am desperate to find either the book itself or at least the directions to make the dog. He is so so cute. Thanks to anyone who can help.
By shaggyjean from Park Ridge, IL
June 28, 2011
0

found this helpful
Check etsy.Com/it's a place where crafters sell there wares. It works like ebay. So go to the site and put the pattern number in and see if they have it.
I would like to know to get a copy of the Animal Bazaar pattern from the Coats and Clark book number Art J17 0713? Please help me. Thank you.
By Bonnie from Athol, ID
April 4, 2011
0

found this helpful
Here's a pattern complete with pictures:
Related
You are viewing the desktop version of this page:
View Mobile Site
© 1997-2016 by Cumuli, Inc. All Rights Reserved. Published by
ThriftyFun
.
Page
generated on November 30, 2016 at 8:26:38 AM on 10.0.1.122 in 6 seconds. Use of this web site constitutes acceptance of ThriftyFun's
Disclaimer
and
Privacy Policy
. If you have any problems or suggestions feel free to
Contact Us
.