Finding Smaller Furniture for an Apartment
Where can I find small scale furniture for an apartment? Furniture stores only seem to have full-size furniture, no tables for two, for example. I am trying to help my mom find a small table with two chairs.
By Susannl from St. Cloud, FL
Answers: Finding Smaller Furniture for an Apartment
Read answers for this question below.
I have a bright green set that I use on my patio in the summer. The table is small, round, and has two matching chairs. Last winter I brought the set inside to protect it from weather, and I absolutely loved using it. It fits in a small space, and the color brightens up the atmosphere! Such items should be
going on sale fairly soon and would be wonderful for a small apartment area. Hope this helps.
Check the outdoor furniture departments at the stores. There are some really nice wooden sets now. I saw a set just yesterday at our local grocery store, believe it or not. It was a gorgeous dark coffee brown color. I remember thinking "that's way too pretty to put outside in the elements". But I should think most of the big home improvement stores have some nice "outdoor sets," too, in their garden departments.

Pat T
I've seen a small dinette set for two at WalMart. love seat would work for a sofa and a night stand w drawer works perfectly as a small table in front of the sofa. It also holds remote controls. I don't use a large coffee table due to the sofa reclining on both ends and bumps into it and a nightstand fits at mid center of sofa and is within our reach.
Check out IKEA. Or any Scandinavian furniture store. I once saw a wonderful table that had folding sides (a drop-leaf table). You could fold down one or both sides depending on how much room you needed. It came with 4 folding chairs that fit inside a space inside the table. It was made of wood & looked very classy, but either way. IKEA has quite a few options. They'll send you their catalog for free if you e-mail or call them.

---> Here's what I was talking about. It comes in a light (natural) wood finish or a very dark finish:
http://www.furnitureontheweb.com/No ... _direct/196007nf.html?adid=4--196007

Here's a smaller round drop-leaf table with 2 chairs sold at Target (Nice! See picture below)
http://www.target.com/Drop-Table-Mission-Style-Chairs/dp/B000BC2F5K

Here's a nice smaller table... It's made for a balcony, but it looks nice enough to go indoors:
http://www.thisnext.com/item/099921E3/0F908781/Bamboo-Folding-Table-and

More ideas: http://www.nextag.com/chair-drop-leaf-table/search-html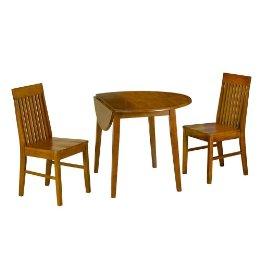 Try yard sales, flea markets and 2nd hand stores. Big Lots has some nice, major brand furniture also.
Checkout IKEA. They often have many options for furniture that saves space and looks good. If you don't have one near you, take a look on line and you can have it delivered or just request a catalog to be mailed.
Answer This Question
Add your voice to the conversation. Click here to answer this question.
Related Guides
Related Posts