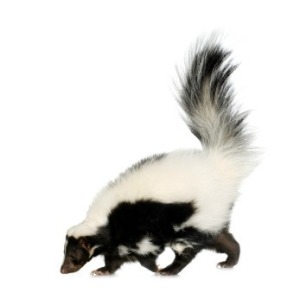 Skunk odor is very difficult to remove from pets and the carpet they rubbed on. This is a guide about removing skunk odor from carpet.
Ad
---
Solutions: Removing Skunk Odor From Carpet
Read and rate the best solutions below by giving them a "thumbs up".
A recipe for cutting through skunk odor is great for cutting through pet stains as well. It's a mixture of peroxide, baking soda, and dish detergent. I mix a small bottle of peroxide, half a cup of baking soda, and a couple squirts of Dawn. I saw a guy on PBS show how it chemically breaks down the skunk odor by breaking apart the molecules, so I decided to try it on cat and dog stains and it worked! I use it whenever our pets have decided to forget everything they have been taught. :)
Source: PBS
By dorinmoz from Sugar Land, TX
Give a "thumbs up" to the solution that worked the best! Do you have a better solution? Click here to share it!
Questions
Here are questions related to Removing Skunk Odor From Carpet.
How do I remove skunk odor from carpets?
By Christine from Providence, RI
AnswerWas this interesting? Yes No
Ad
---
---
Most Recent Answer
Skunk scent is an oil. My dog got skunked twice and I went on line here is what they said...One bottle of Peroxide, three drops of Dawn soap must be dawn and 1/2 box baking soda. Mix in a bucket, will foam up but that means the soda is fresh and the peroxide is fresh. Scrub area liberally and let sit. When dry, vac up baking soda. May have to do this several times. Hot water will set the oils use cold solutions. Also was told my nose will have developed a memory and will continue to smell skunk when others can not smell it any longer..Hope this helps It worked on my dog and I have shared it with others, Works for cat spray too
My dog got skunked the other night and we didn't realize it until he was in the house and rubbing his face all over my new carpet! Aack! I used the hydrogen peroxide, baking soda, dish soap mix on my dog so he no longer smells, but I can't get the smell out of my carpet.
So far I've misted the carpet with vinegar. After that dried, I sprayed the carpet with enzyme cleaner (Ewwww! Brand). The next morning I vacuumed then dusted with baking soda, let sit for half an hour and vacuumed again. I have a crockpot of vinegar going to kill the odor in the air and I set out bowls of coffee beans and baking soda
The skunk smell is still strong. Does anyone else have any other suggestions. The peroxide mixture would probably work, but I'm afraid it will bleach the carpet. My house smells disgusting!
By Stephanie from Hillsboro, OR