By kathleen williams 76 1,661 Flag
February 28, 2010
Go for it, as you know when a painter paints the hinges in the house it paint stays on forever, good luck.
By Lee Taylor 15 427 Flag
March 2, 2010
Look on ebay for hinges. You never know what you'll find, but it's worth a shot. I had to buy kitchen knobs once and shopped everywhere and googled everything. Then I went on ebay and found the best deal ever!
By Elaine 173 889 Flag
March 2, 2010
I painted knobs in my bathroom and they are holding up well. I think I primed them first with Zinser 123 and then spray painted them an antique copper. I think you can see the effect from my vanity in this picture.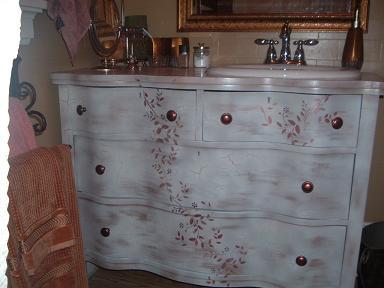 March 2, 2010
Laniegirl - love your dresser/sink, gorgeous work!
March 2, 2010
If you give the hinges a good cleaning they should be fine painted and there are many good metal colored paints out there now.
March 2, 2010
There was a catalog I used to get in the mail where it had a lot of hinges, etc that you could buy. I can't remember the name of it but key "vintage cabinet hardware" in your search bar & check the results out. Maybe you will find one like yours w/same dimensions. Worth a try. Good Luck.