I want to replace my current copper (could be brass) kitchen cabinet hinges with new stainless ones. My kitchen cabinets are probably as old as my 30+ year old house.
I removed one and took it to Home Depot and even though I had a salesman help me to find a match, when I put it on there was a gap which kept the door from lying flat against the cabinet frame. Not attractive or workable at all.
Can I still find hinges made in the old style? I read about Deco Art No-Prep Metal Paint which is advertised for ornamental kitchenware among its many uses. Has anyone tried this? It would certainly be cheaper for me to paint since I have approximately 50 hinges to replace at around $5.00 per pair.
By Glenda
Ad
---
By kathleen williams 76 1,662 02/28/20100 people found this helpful
Go for it, as you know when a painter paints the hinges in the house it paint stays on forever, good luck.
By Lee Taylor 15 426 03/02/20100 people found this helpful
Look on ebay for hinges. You never know what you'll find, but it's worth a shot. I had to buy kitchen knobs once and shopped everywhere and googled everything. Then I went on ebay and found the best deal ever!
By Elaine 173 890 03/02/20100 people found this helpful
I painted knobs in my bathroom and they are holding up well. I think I primed them first with Zinser 123 and then spray painted them an antique copper. I think you can see the effect from my vanity in this picture.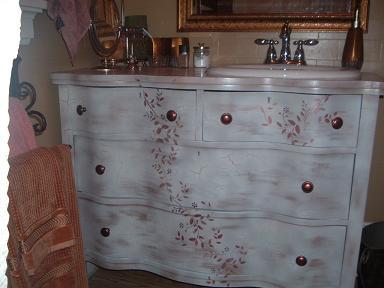 By Ann Winberg 306 239 03/02/20100 people found this helpful
Laniegirl - love your dresser/sink, gorgeous work!
By Ann Winberg 306 239 03/02/20100 people found this helpful
If you give the hinges a good cleaning they should be fine painted and there are many good metal colored paints out there now.
By Poca 1 178 03/02/20100 people found this helpful
There was a catalog I used to get in the mail where it had a lot of hinges, etc that you could buy. I can't remember the name of it but key "vintage cabinet hardware" in your search bar & check the results out. Maybe you will find one like yours w/same dimensions. Worth a try. Good Luck.
By kathy 3 8 03/05/20100 people found this helpful
Take them all off, wash them in a dishpan with soap water and rinse. Then lay them all out on a plastic drop cloth and spray paint them. Really easy!