Our Kenmore with ice maker stops due to ice in the water feed pipe inside the freezer. We remove the ice, get some production then it freezes again. Is there a shut-off valve that may be faulty?
By Bob from Otis, OR
Questions
Here are questions related to Ice Maker Supply Tube is Freezing Up.
The water line going into the ice maker is frozen up with ice being visually present. How do I go about thawing out the line and preventing this from happening in the future?
By Howard G.
AnswerWas this interesting? Yes No
---
Most Recent Answer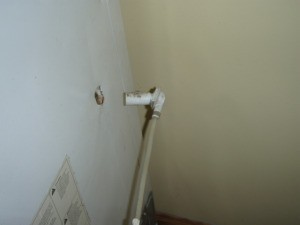 The white plastic insert that marries the water line from the solenoid to the back of the freezer (Kenmore icemaker kit IC6 factory installed in our refrigerator/freezer model 596.68142891) is pushed away from the unit by water pressure as the filler tube freezes up inside the freezer.
This has happened twice. The first time I defrosted the unit and turned it back on; the second time I turned it off. What is causing the filler tube to not drain properly which leads to the freezing up?
Thanks.
By VZ
Archives
Thrifty Fun has been around so long that many of our pages have been reset several times. Archives are older versions of the page and the comments that were provided then.
The refrigerator's ice maker supply tube keeps freezing up. I turned down the thermostat, but the supply tube is still freezing up. Please help.
Chuck from Guyton, GA
---
RE: Ice Maker Supply Tube is Freezing Up
Ours froze a couple of times. Don't know how to prevent, but we quickly unfreeze with a hair dryer. I think it happens when we use less ice and water sits in the line. (12/07/2008)
By KoiFlowers