Exfoliation is an important element to your skin care regime. Exfoliating your skin gets rid of all the dead skin cells that make your skin look dull. Making your own exfoliator is easy. This page contains recipes for homemade exfoliator.
Ad
---
Solutions: Homemade Exfoliator Recipes
Read and rate the best solutions below by giving them a "thumbs up".
This is an all natural, delightful smelling scrub. It works wonderfully to exfoliate your skin from your face to your toes. After I used this on my face I couldn't believe how soft my skin was! And no more dry skin.
It also works wonders as a degreaser for the hands. The Hubster was working on his truck and came in with pure black arms and hands. Dish soap wouldn't even phase it. A few teaspoons of this stuff and he was completely clean in seconds! So I am going to make an extra jar for him, but without the bow.:)
Approximate Time: A few minutes
Yield: 1 small jar, about 1 cup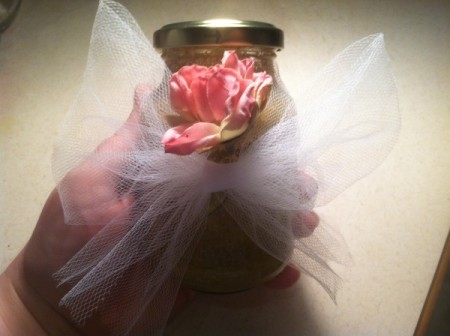 Supplies:
3/4 cup fine grain sea salt
1/4 cup plus 2 teaspoons extra virgin olive oil
50 drops lavender essential oil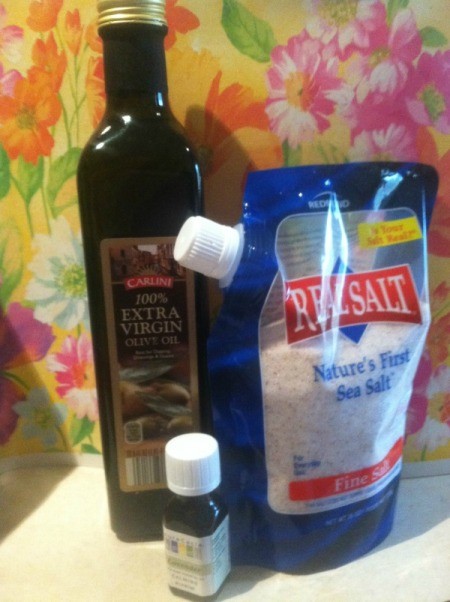 Ad
---
Steps:
Find a clean jar, I used an empty maraschino cherry jar. Add your salt.
Add your oils.
Mix well.
Decorate your jar if desired, I used some lacey wrap I purchased from Dollar Tree and a fake flower.
This would make a nice gift! Quick and easy.
Source: Based off an idea I saw in a book once
The other day I was using baking soda for any of the million jobs that it does around the house, and I noticed this: if you mix three parts baking soda and one part water (I used 1 tsp. of it with just enough water to make it into a paste), you can use it as an exfoliating mask! Just use it after you've washed your face, and then rinse. It also suggests using it once a week for "fuller, more manageable hair" by mixing one teaspoon to your shampoo once a week. Who'da thunk it? Talk about frugal living!
Source: armhammer.com
By Pollylev
Recycle an empty plastic spice bottle that you've used up and fill with sugar. The ones with holes are especially handy to clean out then fill with sugar. Then it's safe to use in the shower, as sugar works as an excellent and natural exfoliant for your skin. Replacing the top keeps it from spilling out and the holes make it easier to sprinkle it on your body where you want it to go. No need to have to buy expensive bath products to help remove dead skin cells when your own bath soap (and a little sugar) can do the job!
By Diane from Rochester, NY
Sugar is a very good Exfoliator. Try this Sugar Exfoliator to get that amazing glow on your skin.
Ingredients
1/4 cup Ground Almond
1/2 cup Oatmeal
1/4 cup Sugar
whole milk to make a thick paste
Directions
Mix these well to form a thick paste and apply on your face/body. Keep it for 15 minutes and scrub off gently. It exfoliates your skin and will give your skin an amazing glow.
Give a "thumbs up" to the solution that worked the best! Do you have a better solution? Click here to share it!
Questions
Here are questions related to Homemade Exfoliator Recipes.
It is my turn to host a group of friends that just started a every-other-month get-together. The hostess is to come up with something to make. I'd like to "discover" how to make exfoliating bath rubs and hand rubs. My daughter-in-law has some hand scrub beside her kitchen sink she uses all the time and it makes her hands look like she's just had a spa treatment on them. It's got some crystal type (epson salts) in it and some oil, then scented lightly. I'd love to gather the stuff up to make this as our June get-togehter project. Anyone know where I can find information on making this type of product?
AnswerWas this interesting? Yes No
Ad
---
---
Most Recent Answer
By Karen H. 10 140 08/14/20110 people found this helpful
You can also go to Daily Worth.com. They have Lip balm Body scrub & Lotion recipes. Betty Crocker has Miracle Milk Bath, Total Beauty has 9 warm Weather DIY Hair and Skin Care Recipes, Good Housekeeping has Homemade Beauty Treatments, i.e.;Happy Hand Exfoliant, Peach Honey Mask, Toner etc. Ladies Home Journal has Homemade Beauty Recipes, Stash Tea.com has Tea-Beauty recipes As do most of the Tea sites;( ie; Bigelow.com, Celestial Seasonings.com,etc.) FaveCrafts.com has Snowballs For The Bath -plus other recipes & Crafts. Better Homes & Gardens has Handmade Bath Gifts & The Herb Quarterly.com has Homemade recipes for a lot of bath & beauty products. Lots of variety. These make Great Gifts. I make them myself.I save all kinds of jars to put them in.Great for Teens & Tweens too!. Have fun! : )
---
Archives
Thrifty Fun has been around so long that many of our pages have been reset several times. Archives are older versions of the page and the comments that were provided then.
Pamper yourself on a budget and rejuvenate your skin using a homemade Exfoliating Body Scrub: Fill a small resealable container (like Gladware) with table salt. Pour in enough olive oil until it reaches the top of the salt. Cover and use all over your body the next time you shower. The salt will scrub away dead skin cells, giving you a healthy glow and the oil will moisturize your skin.
By Marnita from Cumming, GA
---
RE: Homemade Exfoliating Body Scrub
Great idea, Marnita. I do the same thing and add dried rosemary so it smells really good. It's great for dry hands in the winter months. (07/20/2006)
RE: Homemade Exfoliating Body Scrub
I do the same thing, except I use white sugar, instead of salt. The main reason I do this, is sugar won't sting if the skin is broken. (07/20/2006)
By Jilson
RE: Homemade Exfoliating Body Scrub
This website has some wonderful body scrub recipes well worth a look.
http://www.craftbits.com/viewCategory.do?categoryID=BAB (07/21/2006)
By Trisha
RE: Homemade Exfoliating Body Scrub
I would worry about the oil going down the drain. I have trouble with slow drain already. (07/21/2006)
By jo
RE: Homemade Exfoliating Body Scrub
I use sweet almond oil with mine & use it for my hands, especially if I'm going out & will be shaking hands with people. Leaves hands sooo soffft. (08/29/2006)
By Wendy from Oz.
glow
If you have dull skin, or just want an exfoliating scrub, get some honey and sugar, and mix till the paste is really thick, and smear it on. if your mixture isn't thick, it will drip everywhere. Leave on for a few minutes. It really works! your face glows (04/30/2007)
By kitty
Sugar! I love to buy new beauty products every once in a while, but I will never buy another exfoliating product again. I take a big ziplock bag full sugar and store it in the bathroom. Once a week, in the shower, I grab a couple of handfuls and start scrubbing my arms, legs, face, and it works better than any product that I have bought. I hope all of you will try this-it really makes you feel great!
By Robyn from Altoona
---
RE: Sugar as an Exfoliant
I love Dove bar soap. I work up a handful of lather and pour about 2 tablespoons of sugar into the lather and then scrub away! It feels so great when you rinse off! I can't understand why someone would choose to use salt (it can burn) or cornmeal or oatmeal which leaves a yucky mess for your drains! It's sugar for me too! (03/24/2006)
By Grandma Margie.
RE: Sugar as an Exfoliant
Thanks so much for the tip!! I can't wait to try it! (03/24/2006)
By crys7881
RE: Sugar as an Exfoliant
I mix it with cooking oil, organic sunflower oil is good (Lots of vitamin E) and olive oil would probably be very good for the skin too. The sugar exfoliates and the oil moisturises and helps hold the sugar together in a paste. Skin feels amazingly well exfoliated and moisturised! Be careful in the bath afterwards, it does make it very slippery! (03/25/2006)
By Cammyhen
RE: Sugar as an Exfoliant
You can also add sugar or salt to liquid hand soap for added scrubbing power... (03/27/2006)
By Jenn
RE: Sugar as an Exfoliant
For a finer exfoliant, use baking soda. I use it mixed with my facial wash for super smooth skin on my face (03/28/2006)
By paintbrush21
RE: Sugar as an Exfoliant
Am going to try out the ideas on exfoliants, thanks guys! Would castor sugar be useful as a finer exfoliant on the face? For a pedicure exfoliant do you simply increase the dosage of sugar to make it stronger? (04/01/2006)
By vicky
RE: Sugar as an Exfoliant
I have strange combination skin and often have icky dry skin around my mouth and forehead that never seems to want to go away. I've used tons of masks and cleansers, but they only work for a few moments. I used sugar to ex foliate for the first time and my skin is smoother than its been in years. I have pretty sensitive skin, so it's great to have something so gentle to use. (03/26/2008)
By sunshine
RE: Sugar as an Exfoliant
I am a licensed esthetician and have been incorporating sugar into several of my facials and body treatments for many years now. It is incredibly gentle on even my most sensitive clients! It is without a doubt, my exfoliant of choice. (05/26/2008)
By Ginger
Does anyone have a recipe for a facial scrub, and I can also use it all over my body.