We just adopted a new kitty. He is neutered and declawed so he will be an inside cat. My question is how can I keep my Yorkie out of the litter box? I know he is going to head straight to it once the kitty does his business. TIA!

JONNIE from Owensboro, KY
By JONNIE
Ad
---
Recent Answers
Here are the recent answer to this question.

By Sue03/21/2010
While watching the show on Animal Planet - "It's Me or the Dog," Victoria suggested a covered litter box designed to keep dogs out. Anyone ever see one for sale? The design was clever. It had a front opening on one corner with a divided "tunnel" to an opening into the litter area on the opposite side. I have two cats and three dogs. I sure could use one or two of these boxes!

By Cricket [201]12/08/2009
Almost all of these people are assuming that the cat will continue to be smaller than the dog. This isn't true with this lady's Yorkie. Karen is the only one who had the right idea. I have the same problem with my male dachshund getting into the cat box. So I have the box on top of a small table where the cat can reach it, but the dog can't.

Suggestion: If the kitten is too small (like a lot of 8-18 week old ones are) to jump up to the table, try putting a rubber backed rug, such as a bath rug, under the cat box. To make sure it doesn't slide when the kitten climbs up it, use some hot glue in places to attach it to the table. This won't harm the table or the rug, but will hold it in place. Then the kitten can just climb up the rug to the box. As long as the table isn't too high, the kitten will make a game out of climbing up the rug.

I tried setting up "steps" for the kitten, but guess who else used the steps? The dog!


By Linda [1]11/12/2009
All of those suggestions are good ones! I don't know how I stopped my Maltese/Chihuahua mix from thinking the litter box was his personal toy box. He didn't eat it or play with it, oh no, I was more lucky. I would go to bed at night, put my hands under my pillow and find litter crusted cat poop. My doggie left me a gift @ bedtime. He's 12 now and hasn't done it for years, and I don't recall any tricks. He just grew out of it, and knew the meaning of "you better not!"

From time to time, he will, however, be left inside too long and when I come home, he has tried to use the litter box himself. I figure at least he knows where to go, but like any man, he misses =) Good luck! Linda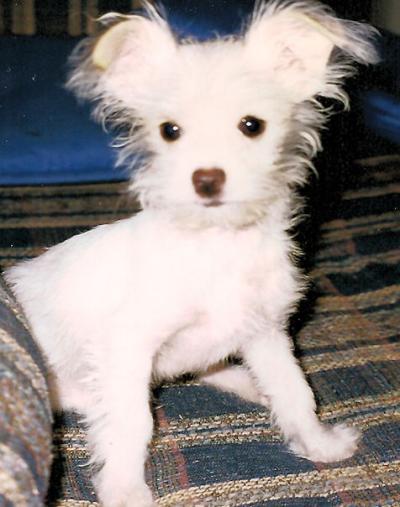 By Maryeileen [76]06/22/2007
Just an aside to the person who puts baby powder in the litterbox. Make sure that it is NOT made with talc. Talc will wreak havoc on the respiratory system (feline, canine, or human). A safer (and cheap) alternative is to use baking soda.

By Babette [35]06/22/2007
My neighbor had a similar problem, what we did was to put the litter box in a large cardboard box on top of a couple plastic storage containers the cats can get in and out with no problem whatsoever and the dog doesn't even try, for years I have put baby powder in the litter box every time I scooped, about a teaspoon is all you really need. No odor whatsoever.

By Karen. (Guest Post)06/22/2007
My Mom has a Yorkie and he would crawl into the hooded box, so it didn't do her any good to buy one of those. But she solved this problem easily - she put her cat's litter box on top of a small table in the laundry room. (She adapted this from her neighbor who keeps her cat's litter box on top of her dryer - but Mom thought that was gross and opted for a table instead) There is enough room for the cat to walk in front of the box for getting in and out without tipping the box over. And her stubborn Yorkie can't jump that high!! Good luck to you!

By Margie Minard (Guest Post)06/22/2007
I use a hooded cat box and face it toward the wall. If you put an old terrycloth towel under the part with the hole, litter will not scatter!! Just throw the towel in the washer after you shake it out. We have two dogs and three cats. So far, this is the best solution we have ever come up with.

By (Guest Post)06/22/2007
This is interesting to me, we had a dog that would find it outside and eat it...never knew how to cure this, but just watching her and stopping her
. A Yorkie however, can pretty much fit anywhere, so that is a problem.
This is funny, my friends had a dog that would eat his own poop, the vet told them to sprinkle Adolph's meat tenterizer on his food before he ate it and that then he would not eat his poop. My question was this...Who discovered that!?!??!
Good Luck!!

By LaDonna Koenig [1]06/21/2007
Depending on how big the cat is. We have a Yorkie also and a cat box, and nowhere to hide it. I took a box that the litter box fit in and just cut the top off. The side are about 14 inches high, so the cat can still get in, but the dog doesn't even try. Has worked great for us for 6 months.

By Kathy (Guest Post)06/21/2007
I agree with Laura. Our dog got deathly ill from eating kitty poop, so we bought the hooded cat box that we put in our downstairs bathroom wedged in between the wall and the toilet, facing the wall by only a few inches so doggy can't get in!

By pam2cats (Guest Post)06/21/2007
You can put up a baby gate (or something similar) in a doorway. A cat can get over or through things that dogs can't. Pam in RI

By Laura06/21/2007
Hi Joanie,

We have the hooded litter boxes (2) we have three kitties. Our lovely doggie thinks they are snack boxes. A very disgusting snack as far as I am concerned. Anyway we have the boxes in our spare room behind two kitchen chairs and they are facing the wall and have maybe about 10 inches or so of space in front of them. This is enough room for them to jump up on them and to jump down in front of them and it keeps big yapper out of them.

You could keep them in garage and install a cat door. So the dog cannot fit only the kitty. Or put it in a room or closet and put a entry door chain up so it can only open the 6 or 7 inches of the chain.

Good luck,
Laura

By Cheryl (Guest Post)06/21/2007
Hi-
This tip will only work if you have a basement or perhaps a closet where you can put the litter box.
My husband cut a 'cat hole' out of the bottom of the door to our basement. He routered the edges & we get compliments on it all the time...weird!
The dogs can't get to the box & if we're a day or two late cleaning the box, no one smells it!
Good luck-
Cheryl
Answer This Question
Add your voice to the conversation. Click here to answer this question.