Wine Bottle Lights
I am looking for directions with illustrations to make these for gifts. I do not want to cut the wine bottle.
Thanks,
Joanne from Northbridge, MA
By mimie
Answers: Wine Bottle Lights
Read answers for this question below.
Instead of having the cord come out the top of the bottle, I drill a 5/8" hole in the back near the bottom.

It is a simple task with a good diamond drill bit.

http://www.ameriglasco.com/Glass-Di ... -Drill-Bits/Diamond-Drill-Bits.shtml

Here is another link to a How-To page that has lots of glass drilling tips:

http://www.ameriglasco.com/Glass-Di ... -Core-Drill-How-To-Drill-Glass.shtml

I've made hundreds of different bottle lights and glass block lights over the years. They are very simple projects if you have the right drill bit.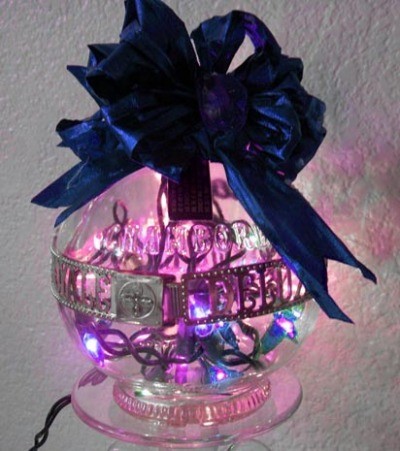 How do you fasten the "garnishes" to the bottle without the stems, etc showing?
Every Christmas I fill a gallon glass jar with Christmas balls, tinsel and a string of tiny Christmas lights. Then I stuff some green wrapping paper in the top and plug in the lights.

Here's a wine bottle version for you:
We made these by putting the lights inside the bottle with the plug hanging out the top. Take the wine cork and cut a V out of the cork so that the plug cord can come out the top with the cork in the bottle. Usually these lights are placed on a counter close to a plug, so it works great and no drilling of glass!
Answer This Question
Add your voice to the conversation. Click here to answer this question.
Related Guides
Related Posts