I bought 8 pairs of patent leather shoes. There's glue around the tip of the shoe from when they were made; how can I get rid of it? I have already tried Zippo lighter fluid, vinegar, and eucalyptus oil. Nothing works. Thanks.
Ad
---
By PENNY K 15 562 03/22/20100 people found this helpful
I don't know if this will work, but when I was a kid, patent leather was polished with a little vaseline and buffed. I'm thinking if you put some vaseline near the glue, and then put a shoe [for testing] in the freezer for an hour in a grocery plastic bag of course. Then take it out and using a soft rag [like old t-shirt piece] see if the glue hasn't raised a bit where you could shove the vaseline under the glue and softly work glue loose using vaseline.

Not sure if glue will raise up, but things freeze differently and I thought it might and you'd want something harmless and non scratchy to ease it off. There are things which take off glue, but I think they would take off patent finish as well, though nowadays patent finish is probably plastic, and baked on from the beginning. How noticeable and large is the glue?
Questions
Here are questions related to Cleaning Patent Leather.
How do you clean nailpolish off of patent leather? I have heard to use nail polish remover, but won't that ruin the leather? and acetone or non acetone?
By Adriana from CA
I am trying to get a white mark off a patent leather purse, how do I continue?
By Janet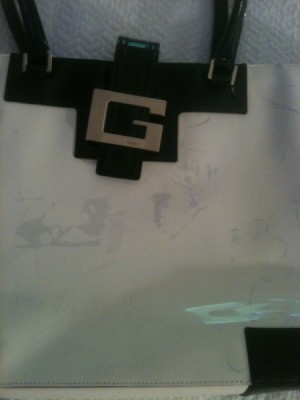 How can I get rid of these blue discoloration marks (not pen marks) that are on one side of my white patent leather handbag? I think they came from storage. I don't really know how they got on the bag. I would love to know how to remove these marks. Thank you.
By Nancy
Archives
Thrifty Fun has been around so long that many of our pages have been reset several times. Archives are older versions of the page and the comments that were provided then.
How do I clean black patent leather children's shoes?
jg
---
RE: Clean Patent Leather Shoes
Next time you make biscuits, save a little dough for you patent leather shoes. Rub patent leather shoes with raw biscuit dough and then wipe off the shoes with a cotton cloth. Then rub a dab of petroleum jelly into the shoes for a glistening shine. (06/23/2005)
By Stan
RE: Clean Patent Leather Shoes
Milk will clean the shoes. (06/24/2005)
By cindy
RE: Clean Patent Leather Shoes
Rubbing vaseline on the shoes causes them to have a nice shine. (06/25/2005)
By Sara
Does anybody know how to get stains out of patent leather? I have what appears to be a dye stain from the red trim of my tan handbag. Thank you!
Linda from Minnesota

---
Polishing Patent Leather Shoes
As "Mr. Conductor" on the PA Trolley railway south of Pittsburgh, PA, I invested in a pair of old-style shoes to go w/my old time uniform. Working on a railway means never being 100% clean. Getting off the trolleys on the rural tracks or holding the many children and ladies for photos, leaves the polished shoes worn day after day. A tiny bit of Olive Oil helps them stay spiff-n-shiny for all of you--my public. Important--no oil on the bottoms of the shoes. (07/07/2007)
By Bryant "Mr. Conductor" Schmude
RE: Cleaning Patent Leather
Try nail-polish remover. (08/14/2007)
By erika
RE: Cleaning Patent Leather
I have a white purse with yellow stains. The purse is patent leather. Neither Clorox, mineral spirits, nor alcohol will take out the stain. Is there some solvent I can use that may minimize the stain without ruining the patent leather? (02/27/2008)
By Orqui
RE: Cleaning Patent Leather
Vaseline helps keep shine as well as petroleum jelly, and wash with warm water to keep appropriate moisture levels. (10/09/2008)
By Jester From Cairns, AUS
***
*** How do I get smudges out of a patent leather designer bag? Any suggestions? Thanks!
By liss21
---
RE: Cleaning Patent Leather
Have you tried Vaseline? I used to clean my patent leather shoes with it. Just rub it on, let it set awhile, then wipe it off. (07/10/2009)
RE: Cleaning Patent Leather
I was always able to get smudges off of patent leather shoes with fingernail polish remover. You might test it on the purse before putting a lot on it, but it worked wonders on getting black smudges off the shoes. (07/13/2009)
RE: Cleaning Patent Leather
I haven't tried this on patent leather, but I wonder if Goo Gone would work. If you try it, try a small section on the bottom of the bag first. Some people say vegetable oil works as well as Goo Gone. Good Luck! (07/13/2009)
By peg2911
RE: Cleaning Patent Leather
Is that food markings or what? Have you tried just a simple pencil eraser and erase them all away? I do that when black shoe marks get put on our kitchen and bathroom flooring. Good luck and keep us posted on what you end up doing. (07/13/2009)
RE: Cleaning Patent Leather
I use what the military wives used, Miracle whip. My grandmother shined my grandfather's dress uniform shoes, and she did mine as a little girl. Be careful of solvents, patent leather is man-made and will turn to jelly with most anything but soap and water. (07/13/2009)
By damaged05170
I have marks on my patent leather handbag. I made the mistake of storing it in the closet without a sleeper bag and now it has transfer marks from another (black) bag. I have tried the Magic Eraser, nail polish remover, toothpaste, Goo-Gone, leather cleaner, hand sanitizer, and a Brillo pad. All with no luck. Please help.
By nutmeg7 from Harrisburg, PA
---
RE: Cleaning Patent Leather
A Brillo Pad on patent leather? Perhaps try coating the marks with Vaseline and letting it sit for days. Then rub vigorously off. (09/20/2009)
By skf620
I have a patent leather bag that attracts marks and discoloration just being stored. How can I clean the marks and prevent this from happening in the future?
Thank you.
By Carol from Bonsall, CA
---
RE: Cleaning Patent Leather
Try Vaseline and a soft cloth. Worked for years long ago. Good luck. (12/03/2009)
By 2oma