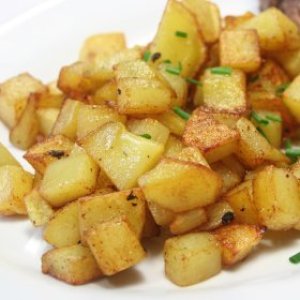 Making your own hash browns at home is easy. You can freeze them and cook them later too. This is a guide about freezing hash browns.
Ad
---
Solutions: Freezing Hash Browns
Read and rate the best solutions below by giving them a "thumbs up".
I dehydrate my hash browns. Grate, put in cold water with some lemon juice added so they don't turn brown. Peel or scrub skins very well.
Remove from water and dry on tea towels. Put over boiling water to steam until opaque. Pace in dehydrator until crisp and dry. You can get about 20 lbs. of potatoes in a gallon jar, give or take.
To use, rehydrate in water first. Then squeeze out the water and pan fry as usual.
Enjoy!
Source: This from my canning group canning2 where Darlene Sharples taught me how to do it.
By Artena from Tahsis, BC
Give a "thumbs up" to the solution that worked the best! Do you have a better solution? Click here to share it!
Questions
Here are questions related to Freezing Hash Browns.
What is the trick to freezing your own hashbrowns?
By Sandra from Sinai, SD
AnswerWas this interesting? Yes No
Ad
---
---
Most Recent Answer
By Babette 36 232 10/10/20110 people found this helpful
Freeze Your Own Hash Browns, French Fries Or Potato Wedges

First scrub your potatoes cut your raw potato in desired shapes skin on skin off doesn't matter cubes for Hash Browns strips for French fries in wedges for wedges potato. You need to blanch potato no matter how you cut them so bring a large pot of water to a full boil blanch for 3 minutes and plunge into ice water cool completely, remove from water and pat thoroughly dry than place the potatoes in a plastic bag. Add just enough oil to coat the potatoes lightly by tossing around in the bag. Then spread out a single layer on a cookie sheet and freeze after frozen put them in a bag and they're ready to be prepared as you would fresh.
---
Can you freeze potatoes to make hash browns?
By Gail
AnswerWas this interesting? Yes No
Ad
---
---
Most Recent Answer
Archives
Thrifty Fun has been around so long that many of our pages have been reset several times. Archives are older versions of the page and the comments that were provided then.
Has anyone ever made their own frozen hash browns? If so, can you please tell me how you did it?


Teena from IN
Feedback:
RE: Homemade Frozen Hash Browns
This recipe is from www.recipezaar.com
#128380
Frozen Hash Browns
5 lbs potatoes
oil, for coating
seasoning salt, to taste
Directions:
Peel and cut potatoes into 1/4 inch dice. I have a bowl of cold water to dunk them into well cutting them.
Drain and dry. Since I do so much I have an old bath towel I use in the kitchen, for canning and drying food with.
Put on a cookie sheet in one layer, coat with oil and season with seasoning salt.
Bake in 450 F oven for 15-20 minutes, until tender. Take out of the oven and cool to room temperature. Put into the freezer, either on a cookie sheet or a bowl if you are doing lots. If in a bowl then you will have to stir every couple hours to make sure they don't stick together in one big lump.

When I am pressed for time that day or too tired I freeze in a lump and then I want to use them I just take a meat mallet and start pounding away. It helps relieve frustration.
To use I just place a handful per person (for my family it is almost 2 cups) in a microwaveable container and slightly defrost in the microwave (about 1 minute), then add to a preheated frying pan with oil and cook until well browned and hot. I tried to cook from frozen, but I found they seemed to start burning before they were defrosted.

You can go to the site and check out the reviews of people who have tried this recipe. Just type in the # in the search and press go. (10/29/2007)

By PICO
RE: Homemade Frozen Hash Browns
I freeze hash browns by washing the potatoes, and boiling them just till tender, or until the skins will slip off. You can also peel them first then boil. Shred them with a shredder and shape them into hash brown patties. Freeze them on a cookie sheet first then wrap with aluminum foil and put into the freezer bags. This way you can pull out as many patties as you want. I hope you try it. (10/30/2007)

By Delores
RE: Homemade Frozen Hash Browns
Boil 5-7 baking potatoes until soft enough to pierce through with a knife. Refrigerate potatoes over night. Cold potatoes are easier to grate.

I leave the skins on, but you can peel them if you like. Grate potatoes, to cook I heat up my iron skillet, but any skillet will do. Using butter I saute onion and peppers until soft. Add hashbrowns and cook until brown and crispy.

I freeze mine as well, when freezing I cook the hashbrowns about half the time of cooking browns for a meal. (10/30/2007)

By Kimberly A