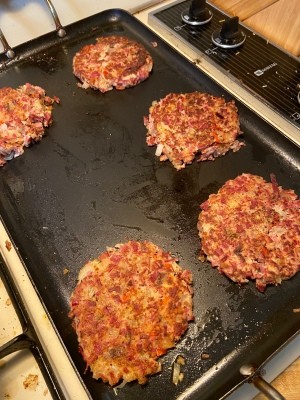 I recently searched for something to bind corned beef hash to make patties. A series of blog answers came up via this website. Of the few I read, there were suggestions but many still seemed to have difficulty with crumbling. I want to share what I did that worked for me:
Into about one quart of the hash mixture, I added about half a cup of sourdough breadcrumbs that I made from leftover bread I saved in the freezer, then an egg wash of two eggs and about half to three-quarters of a cup of coconut milk (not water, milk). I would suspect that any creamy milk product would work (almond, oat, soy, actual milk or cream, etc.)
I then hard pressed the mix into patties using a patty forming tool. Though I still had to be somewhat gentle handling them at first, they came out great. Topped with over medium eggs, they were delicious!